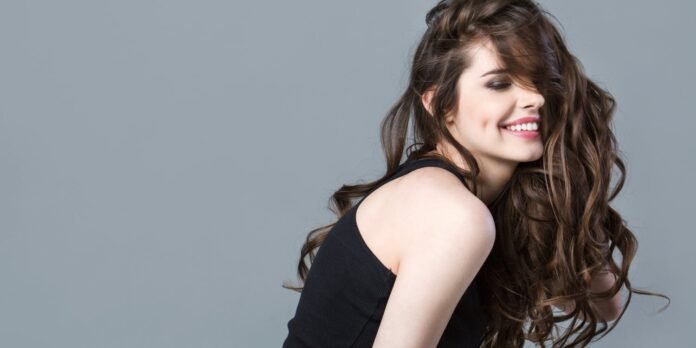 11 Best Shampoos for Keratin Treated Hair
Want to know how to maintain and style your hair after a keratin treatment? For lasting results, and to get the most out of your new silky smooth frizz-free hair, you should consider using the right shampoos and products for keratin treated hair, whether it's a shampoo, conditioner, and other styling products.
Read on out full Post-Keratin treatment guide with tips on how to keep your hair full of its new-found protein, and our in-depth reviews for the best shampoos for keratin treated hair.
Best Shampoos for Keratin Treated Hair Reviews
1
Moroccan Argan Oil Shampoo and Conditioner, SLS Sulfate Free
When it comes to keeping your keratin treated hair looking its best, you will want to use a sulfate and sodium free product. The Moroccan Argan Oil Shampoo and Conditioner Set is one of the best keratin treated hair products out there. It is natural and enlists the help of Argan oil and vitamin B5 to give your hair a boost without any synthetic chemicals. These products work wonderfully on any kind of hair type without weighing it down or making the roots greasy. And the best part is, that although the set of Moroccan Argan Oil products are a bit on the pricier side, a little goes a long way! Just put a little bit into your hand and work into wet hair; it lathers up well and cleans the entire head without wasting a bunch of product. If you are looking for a shampoo and conditioner that can get the job done and do it well, then you may very well fall in love with this set.
What We Love
Great for all hair types (color treated included)
Won't weight the hair down (even thin hair)
Made from Argan oil and natural chemicals
Vitamin B5 helps to strengthen the hair
Contains no sulfate, parabens, sodium chloride, gluten, or phthalates
Cruelty free
100% money back guarantee
Dislikes
Slightly scented for those who do not like scent (orange)
2
Art Naturals Organic Moroccan Argan Oil Shampoo and Conditioner Set
If you are looking for a shampoo and conditioner set that is packed full with vitamins and natural oils, then the Art Naturals Organic Moroccan Argan Oil Set may be just what you are looking for. It's ingredients list is full of vitamins, natural oils, and botanical extracts that are both gentle and kind to the skin while providing your hair with softness and extra shine. While there is a slight scent to this product, if you are sensitive to smells there should be no need for concern. The smell is subtle and does not linger, so it shouldn't be enough to create an issue. Overall, the Art Naturals Shampoo and Conditioner is an excellent buy for those who may not be able to afford something like the Moroccan set mentioned above. Art Naturals is excellent quality, great for all hair types, and completely paraben and cruelty-free.
What We Love
Affordable
Paraben, sulfate, and cruelty free
Made with lots of vitamins, botanical extracts, and natural oils
Great for all hair types (Color treated included)
Dislikes
May weigh hair down
May be drying
3
Ogx Brazilian Keratin Therapy Ever Straight Shampoo
This sleek bottle is full of great stuff for your hair! Ogx Brazilian Keratin Therapy Shampoo is safe for color-treated hair and is rich in keratin and coconut oil; both of which are excellent for helping to strengthen hair and provide it with a healthy shine. In fact, if you are looking for a product that has a lot of natural oils in it, the Ogx has quite the extensive list which includes: avocado oil, coconut oil, and aloe leaf extract. While this product has an excellent price value, it may have a tendency to dry out hair if not accompanied by a very good conditioner. However, with that detail in mind, the overall quality of this product is rather good and will work wonderfully for anyone who is on a budget and just wants a great cruelty, sulfate, and paraben-free product to keep their hair looking on point.
What We Love
Affordable
Natural oils
Paraben, sulfate, and cruelty free
Does not make hair feel greasy
Great for all hair types (color treated included)
Dislikes
4
Advanced Hair Repair Shampoo and Conditioner Set
Made with Argan and Macadamia oils, you can be sure that the Advanced Hair Repair Set by Arvazallia is sure to make your hair feel completely pampered. This set is a professional sulfate-free treatment that is safe for colored and keratin treated hair. It includes a shampoo, conditioner, and deep conditioning hair mask system that works best on damaged and dry hair. With the help of this kit you will be able to keep your hair looking shiny, smooth, and healthy without too much difficulty at all! While the whole kit may be a bit more expensive than most of the items listed here, when you consider just how much product you are getting within the set, it really isn't too bad. It is important to note that as a hair treatment this product may not smell very pretty, at least not the deep conditioning mask! If smell is very important to you, this kit may not be on your to-do list. However, overall, this is a great professional style kit that is designed to help dry hair come back to life again with a boost of moisture and natural oils.
What We Love
Natural oils used for moisture
3 in one kit
Best for dry hair
Works fast and efficiently (results after about 2 uses)
Does not weigh the hair down
Dislikes
Mask may have a strong smell
5
Keratin Complex Keratin Color Care Duo – Shampoo and Conditioner
If you have a hair complex, the Keratin Color Care Duo is here to help you solve it! The shampoo and conditioner set come in attractive 13.5 oz. bottles and are formulated to gently cleanse the hair while also providing moisture and smoothness to your locks. The Keratin Care Duo is great for all kinds of hair and won't fade any color that you may have currently acquired. If you are looking for a product that is free of sodium chloride and sulfates as well as great for strengthening keratin treated hair, then you may love this product. It may be a little pricey, but easily affordable as a little bit of the product will go a long way.
What We Love
Great for all hair types (color treated included)
Sodium chloride and sulfate free
Gentle and effective
Dislikes
6
Natural Argan Oil Infused Sulfate Free Shampoo and Conditioner
Now that your hair is looking fabulous from your keratin treatment, it is time to think about the aftercare. The Natural Argan Oil Shampoo and Conditioner Set is a great option for protecting your hair and keeping it silky soft long after your treatment is over. This is a sulfate free shampoo and conditioner that is designed to be used daily and is gentle enough not to damage or dry out your hair. While this is a relatively affordable product, there are more effective and high-quality products that enlist the use of all natural ingredients to take care of your hair. Overall, this is a great mid-level shampoo and conditioner set that isn't too expensive, adds extra shine and protection to your hair, and does not contain any sodium chloride or sulfates.
What We Love
Affordable
Sodium chloride and sulfate free
Great for all hair types (color treated included)
Lightweight
Dislikes
7
L'Oréal Paris Ever Pure Sulfate-Free Color Care System Smooth Shampoo
L'Oréal is a very trusted and well-known brand in the beauty community. Their affordable Color Care System Smooth Shampoo is one that sulfate free and infused with Rosemary and Juniper, giving it a natural scent. Unfortunately, fragrance is used in the ingredients list, however if this does not bother you the smell is pleasant and not too overpowering. Although this product is not as chemical free as some of its competitors, the chemicals that are used do not tend to dry out hair and work well to keep hair looking shiny and frizz free. If you are someone that constantly deals with frizzy, unmanageable hair, you may really love this product from L'Oréal.
What We Love
Affordable
Lightly scented
Sulfate free
Infused with Rosemary and Juniper oils
Great for all hair types (color treated included)
Lathers well
Dislikes
8
Global Keratin Moisturizing DUO Shampoo and Conditioner
After using this product, you will probably want to tell the whole world how great it is! The Global Keratin Moisturizing Duo is frequently recommended by stylist due to the fact that it is an affordable set that preserves and protects the hair while gently soothing and moisturizing the scalp. While the Global Keratin set is not chemical free, it seems to do an excellent job of keeping the hair moisturized and does not dry out your scalp. There is a subtle scent that is alluring and beautiful which is just enough for you to enjoy without being overpowered. If you are someone who is looking for an effective product that will treat your hair well, this may be a great option for you.
What We Love
Effective
Works best for damaged, thin hair
Soothes and moisturizes the scalp
Safe for color treated hair
Dislikes
9
Argan Oil Shampoo by Maple Holistics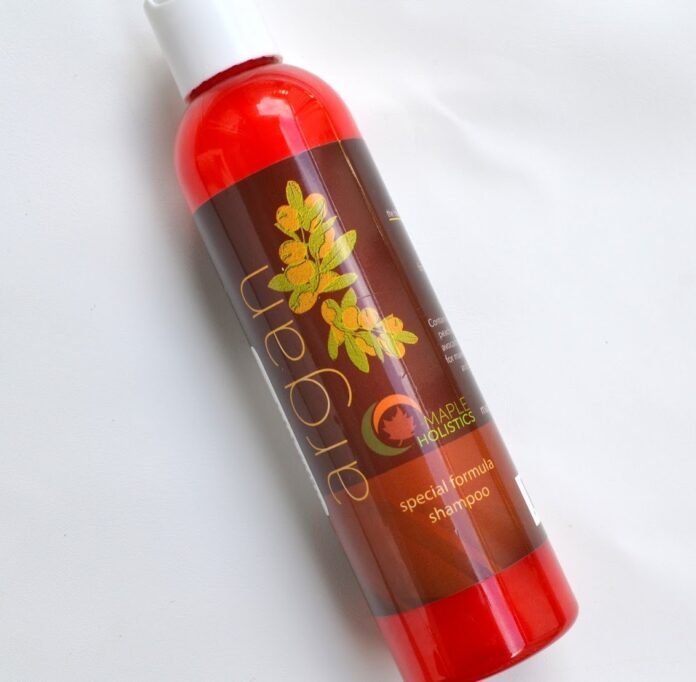 Get ready to be swept away with a wash of amazing natural oils. This Argan Oil Shampoo by Maple Holistics is full of natural oils such as almond, peach kernel, Argan, jojoba, Camilla seed, and keratin. With all of this natural moisture, your hair will be looking shiny and full of life in no time while nourishing the scalp and banishing dryness! On top of the oils, this shampoo also has tons of vitamins including A, D, and E which will provide your hair with lots of nutrients and strength; making your trip to the salon last you much longer. If you are looking for an action-packed shampoo of goodness, look no further!
What We Love
Natural oils and vitamins nourish and strengthen hair
No artificial coloring
Silk proteins promote frizz repair
Great for all hair types (color treated included)
Dislikes
May be slightly drying without a conditioner
10
Silk18 Natural Hair Conditioner For Keratin Treated Hair
Our first product from the brand Silk18 is all about that natural Argan oil goodness. The Silk18 Natural Hair Conditioner is designed to reduce static, eliminate frizz, and soften the hair so that your locks can be way easier to manage. What makes this conditioner so special? Well, it's all in the name! Silk18 is formulated with silk amino acids which are real MVP's when it comes to hair conditioning. If you are thinking that silk amino acids must make this product pretty expensive, you may be thrilled to hear that it totally isn't! This conditioner is affordable, effective, and ready to make your hair be the softest and healthiest it can be. So, if you are looking for a product that will add softness to your hair, reduce frizz, has no artificial fragrances, and is great for all hair types, the Silk18 Natural Hair Conditioner may be your new best friend! Just keep in mind that cheaper products may be cheaper in overall quality, but if you are on a budget this may work great for you.
What We Love
Affordable
No artificial fragrance or coloring (vanilla provides natural scent)
18 silk amino acids
Good for all hair types (color treated included)
Natural oils protect and strengthen hair
Works with any shampoo
Dislikes
May leave hair slightly greasy or heavy
Cheaper quality
11
Argan Oil Shampoo from Majestic Pure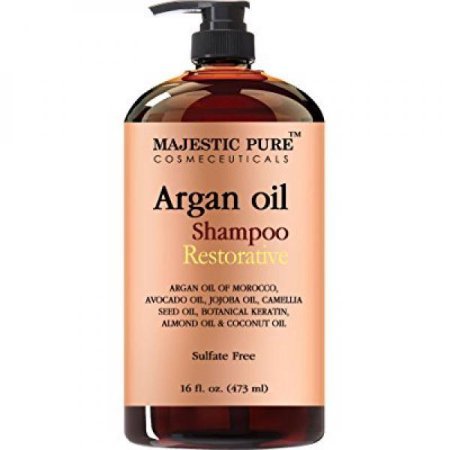 Our final Argan Oil Shampoo of the day is one that may or may not be majestic. At an affordable price and in a large pump bottle (16 fl. oz.) there is no doubt you will be intrigued to use every single drop! This product contains 100% pure Moroccan Argan Oil as well as Almond oil and vitamin E. The combination of these natural products provides your hair with a boost of moisture, nutrients, and a shine that just won't quit! As a very potent product you can be sure that the Majestic Pure shampoo is going to have a kick, however, to be sure you don't' have an allergic reaction to any of the ingredients apply a small amount of the product to the inside of your elbow to test for any reactions. If all is good, you can dive into your new hair care product!
What We Love
Affordable
Great for all hair types (color treated included)
Wide range of natural oils for moisture and nutrients
Cruelty free
Restorative hair support
Dislikes
Pump is poor quality
May be drying
Very potent, test for allergic reaction
12
What is a Keratin Treatment?
Now that you've had a chance to read through all of the products above, you may be wondering what a keratin treatment really is. Thankfully we have the answer for you! First of all, keratin is a protein that makes up your hair, so if you don't have enough of it your hair can become to porous; thus resulting in frizzy and tangled hair. A Keratin Treatment is a treatment that fills in those pores in your hair and replaces any lost keratin that might have been lost due to age or too many chemical treatments (like dying your hair). Once the keratin treatment is done, your hair will once again be full of protein and be shiny and soft!
13
Why Do You Need Special Shampoo for Keratin Treated Hair?
It may seem silly to get a specific shampoo for your hair right after you just came back from pampering at the hair salon. But honestly, purchasing a shampoo like the ones listed above can help to ensure that your keratin treatment lasts longer and your hair goes undamaged another day more. Using shampoos that are specific for keratin treatment upkeep is also really great if you have colored hair. This is because more of these products and sodium chloride and sulfate free, and instead use natural oils and chemicals to help protect and nourish the hair. Sodium and sulfate are two big culprits when it comes to damaged and faded hair, so removing them from the equation really makes your hair look and feel healthier, longer! So, while a few of these keratin shampoos and conditioners may seem a bit expensive or labor intensive, they really are worth it in the long run.
14
Benefits and Protection Offered: Benefits of Shampoo for Keratin Treated Hair and How Does It Protect the Hair
Moisture and Nutrients are a couple of benefits that these special shampoos and conditioners have to offer. The difference between the moisture and nutrients offered by these products and your regular everyday products is that, more often than not, you receive them through natural ingredients as opposed to synthetic fillers which can irritate the skin.
Faded Hair Color isn't something that you will need to worry about if you get the right type of keratin shampoo and conditioner. As mentioned above, if you get a product that is sulfate and sodium chloride free, you can make your hair color and keratin treatments last much longer.
Strength and Protection will be offered to your hair through natural oils and vitamins. These awesome ingredients will strengthen your hair so that it can stand up to heat, breakage, and every day wear and tear. Make that expensive trip to the salon count and protect the work that was done there through a special shampoo that's chock full of natural boosters for your hair.
15
How to Use Keratin Treated Hair Shampoo
While each product is going to have slightly different instructions on how to use their products, the basic principal of use is the same:
Wash your hair with your keratin treatment shampoo under warm water.
Massage the product into your hair from root to tip in a gentle circular motion.
Rinse completely.
Use a conditioner (either keratin treatment or regular, whatever you prefer) and massage it into the lower section of your hair, careful to avoid the roots.
Allow the product to sit for a few minutes before rinsing.
Rinse hair and towel dry before styling normally.
Depending on the strength of the product you may use it every day or every other day.
16
How to Choose the Right Type of Post-Keratin Treatment Shampoo
When it comes to choosing a shampoo for your hair, a lot of it comes down to personal preference. Do you want something that is all natural? Are you ok with a bit of chemicals in your hair? Do you need a heavy or lightweight product? Once you have answered these questions, the rest is relatively simple. Avoid purchasing products that contain sulfate or sodium chloride, especially if you have color treated hair. Try to look for products that contain natural vitamins and oils that will provide your hair with plenty of strength, moisture, and nutrients. If you follow those two simple rules, you are sure to find a hair product that will make your keratin treatments and color last for weeks to come.