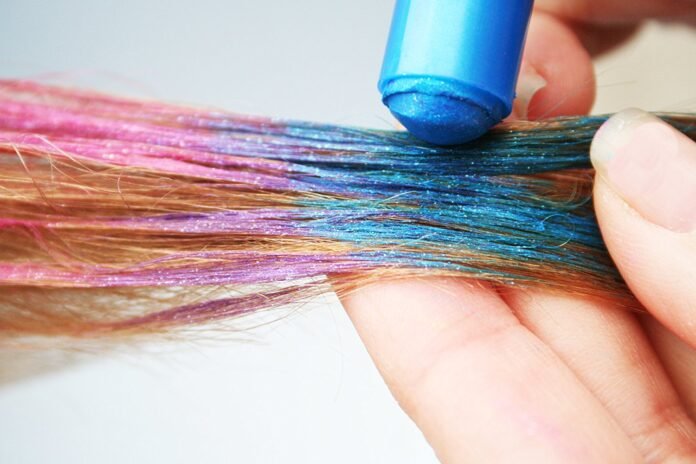 Advertisement
Hair Chalk Reviews | How to Chalk your Hair Tutorial
Crazy hair colors have been trendy for the last few years, making familiar sights out of everything from teal underlights to all-over rainbow color. But unless you were born with light blonde hair, getting rainbow shades usually requires chemical lightening and lots of commitment. If you're dying to try a crazy hair color that doesn't require bleaching and won't stick around for months, hair Chalk offers up a perfect way to get fun hair colors without the commitment. Whether it's a first time experience for young girls or a wild hairstyle that's only meant to last one weekend, these innovative hair products let you try on bold styles and wash them out just as easily. If you're ready to dive deep into the world of hair chalk, read on for reviews of some of the most popular products, and hair chalk tutorials that are chock-full of insider tips!
Best Hair Chalk Reviews
Splat Hair Chalk offers up temporary hair color at a reasonable price, and this high-quality hair chalk comes in a powder consistency that packs a big color punch. Each shade is sold separately, and comes in a compact that you could easily mistake for your favorite new eyeshadow. While that packaging might seem strange, Splat comes with an applicator sponge to help you apply chalk to your hair. Squeezing strands of hair between the Splat compact and your applicator sponge will deliver lots of color, but this can be a messy process that gets powder more places than just your hair.
While that mess may be annoying, this highly pigmented product makes a big impact on your hair. Splat is meant to be applied to dry hair, but can brush out easily if you don't seal it in. This ultra saturated chalk provides intense color on light or bleached hair, but holds its own on dark strands too. Splat comes in seven different shades that can satisfy your urge for both pastel and more saturated tones. Colors like Dusty Rose and Mint Candy can give you a chic and trendy style without the commitment of semi-permanent dye, while deeper shades like Midnight Blue and Sugar Plum can be a great highlight for darker hair.
Pros: 
Saturated, high-pigment color.
Good powder for dark hair.
Cons:
Application can be messy.
Small product size.
Hot Huez Hair Chalk is an affordable way to try hair chalking for the first time. Similar to Splat, this powdery hair chalk comes packaged in a compact. But unlike Splat (that comes with an applicator sponge) Hot Huez is meant to be applied by pressing strands of hair in the compact and sliding through to apply color. This method is great in theory for applying chalk without making a mess, but chalk falls out of the applicator quite easily. If you're looking to create an intensely vibrant style or chalk darker hair, you'll have to apply quite a bit of pressure and repeat several times.
Hot Huez Hair Chalk comes in a set of four shades: hot pink, purple, blue, and lime green. They're all quite bright, meaning this isn't the chalk for creating subtle or muted pastel styles. This set makes a good gift for kids, but may not hold up to the standards of an adult wanting to mimic the look of an epic hair trend that's all over Instagram.
Pros: 
Affordable.
Easy applicator packaging.
Good gift for kids.
Cons:
Isn't highly pigmented.
Limited color selection.
Chalk tends to fall out of the applicator.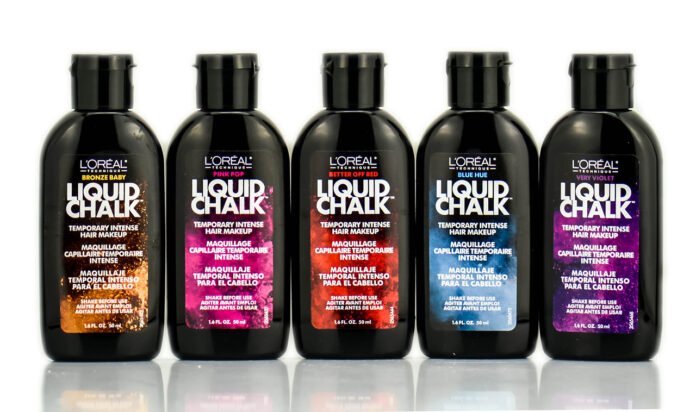 Unlike powder products that are more true to the hair "chalk" moniker, L'Oreal Hair Chalk is actually a liquid product. Each bottle is full of 1.6 fl oz of intensely pigmented color that you can apply to your hair directly or with a cotton pad. If you've only got sponges handy, keep in mind these applicators will absorb some of your product and may affect how long a single bottle lasts. For those who decide to apply directly to your hair, prepare for mess by wearing gloves, but rest assured that this hair chalk will come off your skin with soap and water. Once you've applied this hair chalk, blowdrying is an essential step in drying and setting the color. It's surprisingly resistant to color transfer after blowdrying, but skip this step and you'll be bleeding color.
If you're looking for a full head of saturated color for an intense style or a Halloween costume, the liquid consistency of this product goes farther than its powder and cream competitors. If you're looking for a longer-lasting color that can withstand a busy day or night of partying, this product is a good choice, but it can take more than one wash to fully remove from your hair. The liquid also tends to show up well on darker hair, and can be applied in coats to create a more vivid look on dark brown or black hair.
L'Oreal Liquid Chalk comes in 5 separately sold colors (Very Violet, Bronze Baby, Blue Hue, Better off Red, Pink Pop) that are fairly saturated shades as opposed to dusty pastels. Once you apply this liquid chalk it can feel thick and cakey, but gently brushing it through your hair and blow drying will help to even out the product. If you use L'Oreal liquid chalk all over your head, expect your strands to feel quite dry, and take care to avoid breakage by being gentle with your hair after chalk is set, and treating your strands to a deep conditioning treatment after it's washed out.
Pros:
Long-lasting.
Saturated color even on dark hair.
Easier for full-head application.
Minimal color transfer once dry.
Cons:
Tangles hair.
Can feel dry and cakey.
If your mission is to get a gorgeous head full of blended rainbow colors, Edge Hair Chalk is the product for the job. This hair chalk has a creamy consistency that's delivered straight to your strands in a handy marker format that feels more intuitive than powder compacts or straight liquid. Best of all, Edge Hair Chalks blend like a dream, making this the best option for getting a trendy colombre hair color style that you can wash out at the end of a crazy weekend. This long-lasting formula will survive for up to three days on your strands while easily coming out in one shampoo, making it perfect for festivals, Halloween, or theme parties (as long as you don't get caught in the rain).
If you're after a crazy rainbow look, Edge chalk comes in a 6-pack of classic rainbow colors and an ultra glitzy Metallic Color set is also available. With its creamy consistency, Edge hair chalk is longer lasting than most powdery chalk products, but it can also leave your hair feeling a touch on the sticky side. You can layer on this hair chalk to adjust the intensity of your shade, but wearing several layers of chalk tends to transfer color if you touch your hair a lot. For our favorite hair chalk look, use Edge Hair Chalk to create a gorgeous blended rainbow then set in your favorite braided style to show off your color.
Pros:
Blendable colors.
Long-lasting.
Vibrant shades.
Cons:
Color transfers.
Can be dull on dark hair.
Somewhat sticky.
5
ALEX Spa Deluxe Hair Chalk Salon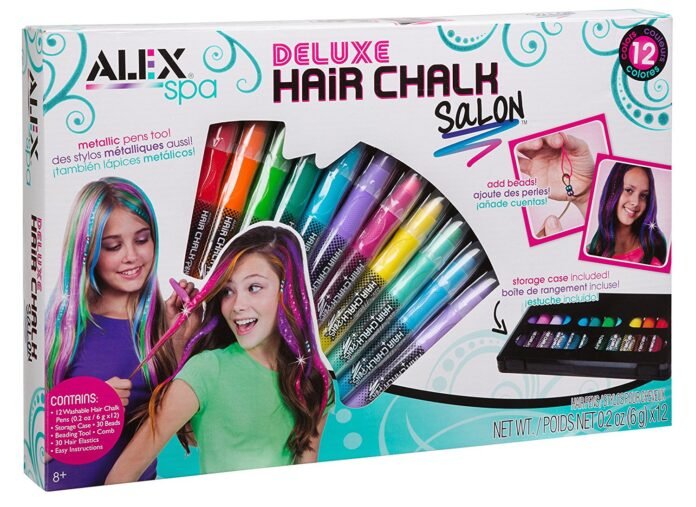 The second creamy hair chalk on our list that comes wrapped up in a cute marker-style applicator, ALEX Spa Deluxe Hair Chalk Salon  comes packed with a ton of color choices. Boasting 12 bright rainbow colors including some glittery metallics, this hair chalking set makes a great gift for young girls who are dying to experiment with their hair. The fact that it comes with so many color options makes this a perfect gift to be shared by many girls, and is perfect for breaking out at birthday parties and sleepovers.This all-in-one kit also comes with beads and beading accessories, meaning it can keep hair-obsessed girls occupied for hours.
While this hair chalk salon is a great bang for your buck with lots of product included, the consistency of this hair chalk makes it more difficult to apply than a similar brand like Edge. This hair chalk doesn't go on as easily as putting a marker to a sheet of paper, and wetting hair beforehand with water or hairspray is fairly essential if you're trying to get a vibrant look. Although the metallic shades look the most impressive in the packaging, some of their shine doesn't transfer to hair, and you'll find that the regular colors are often the favorite choices from this kit. Like other creamy hair chalks, ALEX can have a sticky consistency once it's on your hair. Applying more product to try intensify the color will also increase the sticky factor, and you'll likely prefer wearing hair in a braid rather than loose with lots of this chalk in the mix.
Pros:
Good gift for kids.
Wide color variety.
Comes with other hair accessories.
Cons: 
Difficult to apply.
Not vibrant on dark hair.
Sticky consistency.
6
How to Apply Hair Chalk – Steps on How To Use Hair Chalk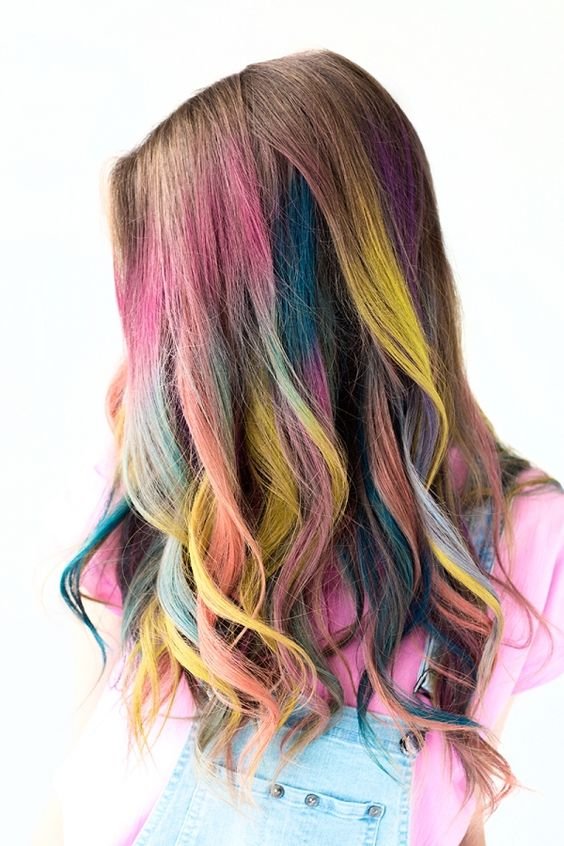 1. Before you begin chalking your hair you'll want to prep the area you're working to protect against mess, which includes wearing gloves and covering light-colored surfaces. While most hair chalk is easily washed out with soap and water, it may stain white clothing or towels.
2. Your hair should be dry, free of product, and thoroughly detangled prior to chalking.
3. Isolate the section or sections of hair that you'd like to chalk, which will help prevent transfer onto other parts of your head. Some brands advise you to use hairspray on the sections you're going to chalk, which can help more powdery products stick to your hair. If you've got very smooth, straight hair that's resistant to heat styling, using a bit of spray before you chalk can make a big difference in how much color transfers on to your strands. Spraying hair with water can also help chalk to adhere, but women with blonde hair should avoid this step.
4. Once your hair is prepped, apply hair chalk evenly from roots to ends. If you're using a powdery product like Splat or Hot Huez, you'll probably see some loose powder falling as you apply. Liquid hair chalk can be applied using a sponge, cotton pad, or even a paintbrush for extra precise work. For marker-style chalk, you may need to push quite firmly to get enough color adherence on your hair.
5. After you've applied chalk there are a few different methods for sealing your color. Liquid products like L'Oreal Hair Chalk can be blowdried to set, while hair chalk with a more powdery or gel-like consistency can be sealed in with heat from a flat or curling iron, followed by another coat of hairspray.
6. Once you've sealed your hair chalk, you're ready to wear your vibrant colors out in the world!
7
Best Hair Chalk for Dark Hair
Women with darker hair will need to go for a high-quality, saturated product to get the most vibrant results.
L'Oreal's Liquid Chalk  is great for use on dark hair, as the product's consistency allows you to thoroughly coat strands with color. Another major advantage to using this hair chalk is that you can use a blowdryer to set the product and then apply another layer of color to yield more vibrant results.
If you're looking for an easier applying chalk to go on darker hair, Splat Hair Chalk comes in very saturated pigments that are surprisingly vibrant when applied to dark hair. This powdery product does tend to brush out easily, and you may notice that most of the color has left your dark hair by the end of the day, especially if you don't seal the hair chalk.
8
How to Chalk Blonde Hair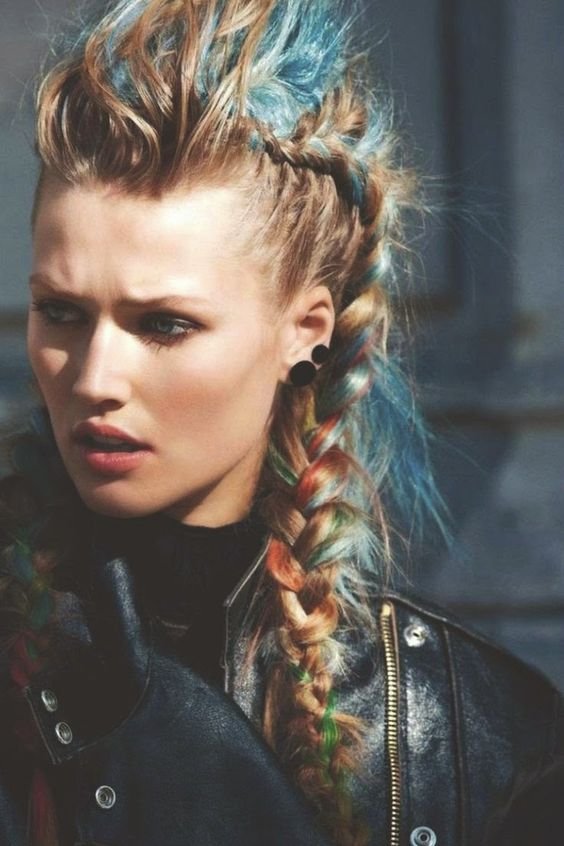 Blondes have lots of freedom when it comes to chalking their hair, as most shades will show up on lighter strands. If your blonde hair has been bleached or chemically lightened, even better! Your porous strands should make applying hair chalk a breeze.
Although other ladies may find it helpful to wet their hair before applying chalk, blondes should always work with dry hair. Wetting blonde hair before using hair chalk will cause pigment to be absorbed into your strands, leaving you with a longer lasting stain that may take several shampoos to completely remove. So unless you're purposely going for a stained chalk look, we recommend working with dry hair.
Most blondes only need one coat of hair chalk, but you can add more if you're looking for a deeper or more saturated style. If you've got yellowy blonde hair, some shades of blue might show up as green or teal once you've applied them; if your mane is platinum or silvery white, you can expect hair chalk to be true to shade. Sealing your style with heat or hairspray will help your color last longer, and you'll be able to show off vibrant streaks of color all day.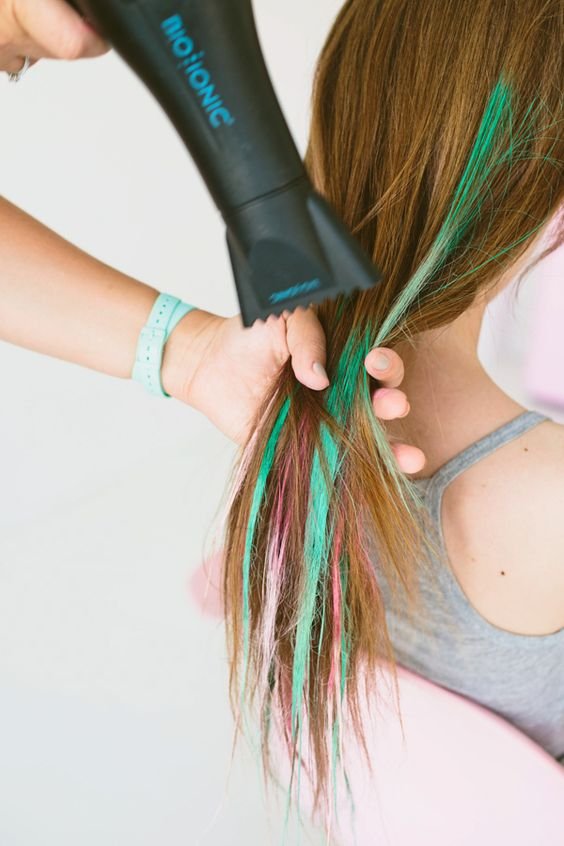 Chalking brown hair takes a little more effort than blonde, but this technique can still leave you with a vibrant looking style. Choose your product depending on how dark your hair is. Lighter shades of ash brown will see results from most brands, while deep espresso or chocolate hair will do best with L'Oreal Liquid Chalk or Splat Hair Chalk.
Before applying chalk to your brown hair, spray your sections with a water bottle until they're damp but not soaking wet. Apply chalk to your damp hair working from roots to ends, then dry hair with a blowdryer to set the color. If you're using a liquid hair chalk, applying another coat after blowdrying can help you achieve a more vibrant shade over dark brown hair, and will make for more saturated tones over medium and light brown strands. Once hair is dry, style with a flat or curling iron, and use a quick touch of hairspray to further set your color.
While you may be dying for pastel streaks in your brown hair, it's difficult to create this look on brown hair using hair chalk. Opt for deeper shades for the most vibrant results, or try a highly pigmented product like Splat.
10
How to Chalk Black Hair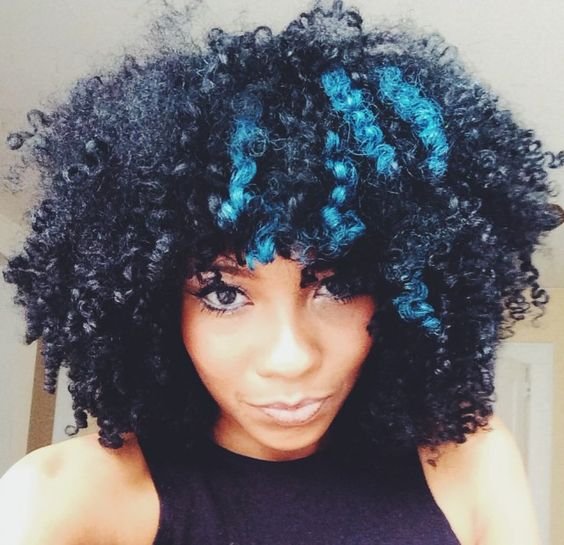 Chalking black hair is totally possible, and we recommend going with a high-quality product in a liquid consistency for the best results. We love ultra-vibrant shades on black hair, which can give you the opportunity to play with new styles without chemically lightening your black hair.
Dampening your hair before applying a creamy product will help your hair chalk stick to your strands better. For ladies with non-porous black hair that's incredibly silky with flat cuticles, a blast of hairspray beforehand can also make a big difference.
The biggest consideration when it comes to chalking your red hair is color choice, as red hair can significantly alter the shade of hair chalk once it's applied. Think about mixing paints to determine how each shade of chalk will look when combined with your red hair. Yellow or gold will turn out orange, while blue will mix with red tones to create a purple style. If you've got red hair with green eyes, an intense purple hair chalk will look amazing, while vibrant green chalk can provide a brilliant pop of color against red hair and brown eyes.
Depending on your exact shade of red, you can work with either wet or dry hair before chalking. Lighter shades of red like strawberry blonde or pale copper are better left dry, as chalk may stain your strands for longer than desired. If you've got a deeper red base color like auburn or burgundy, spraying hair with water beforehand will help your hair chalk to look vibrant and bright.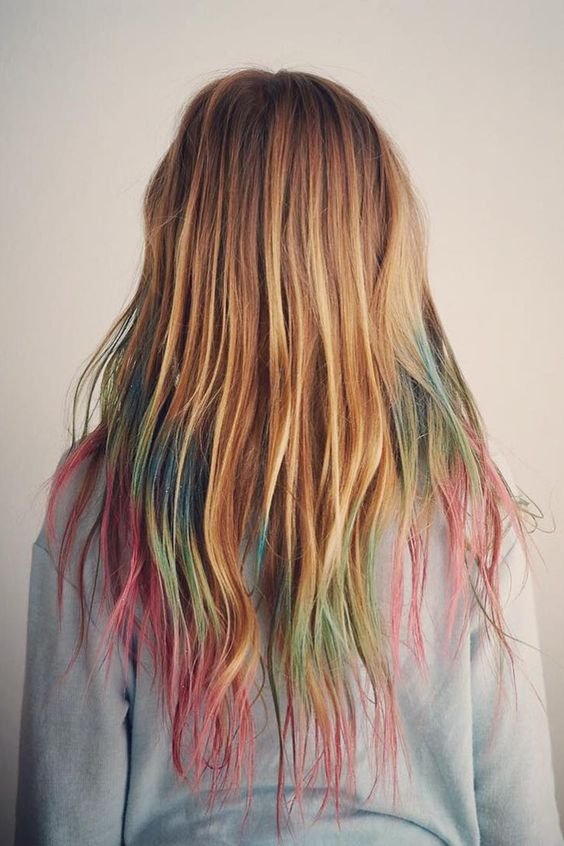 Plan to wear your hair in a style that will keep you from constantly touching your hair and rubbing off color. We especially love braided looks for showing off streaks of color while keeping your strands secure.
The more porous your hair, the better chalk tends to work. If you've got non-porous hair, opt for a more intense liquid chalk for more vibrant color results.
Planning on using hair chalk to create an all-over color effect? Liquid hair chalk is probably your best bet for bigger color jobs. Powder products tend to come in small package sizes that you'll go through quite quickly. Creamy marker-style hair chalk is great for streaking, but can be tedious if you're trying to apply color to an entire head of long or thick hair.
Don't apply chalk to light colored hair when wet unless you want the color to last for more than one wash. This is especially true for blondes.
Don't apply hair chalk with any product in your hair other than a light coating of hairspray just prior to chalking. Waxy products like pomades or styling creams can prevent chalk from being evenly distributed on your strands.
Don't plan to chalk your hair on a rainy day or one that might involve swimming! Unlike hair dye, chalk will begin to bleed once it's wet, which can leave streaks of color all over your clothes.
Don't wear light clothing during or after chalking. Even chalk that doesn't appear to transfer might leave some color on your clothes if your hair comes into contact with any moisture.
14
Where to Buy Hair Chalk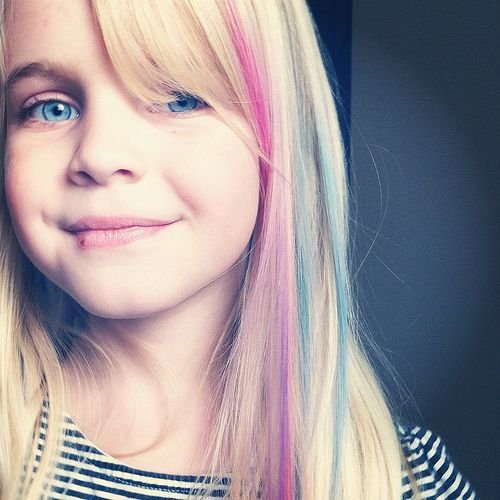 Head to your favorite beauty supply store if you're looking to buy a hair chalk like L'Oreal or Splat that's geared towards long-lasting looks. Hair chalking kits that are great for gifting young girls can be found at crafting stores or in the toy section of superstores like Walmart and Target. If you're looking to buy a wide variety of chalking products to try them all out, online retailers like Amazon are your best bet.
Happy chalking!
Advertisement