Hair Color Trends 2015-2016: 

All You Need to Know About Hair Colors
When it comes to self-expression, hair color is a common choice for an outlet to communicate personality and sense of style. Even though you can't know everything about someone based on their hair color, many hair colors are associated with certain characteristics. Since your choice in hair color is one of the first things people notice about you, your choice in hair color may be influenced by how you want people to perceive you.  For example, blondes are often assumed to be very bubbly and outgoing, brunettes are thought to be more introspective and edgy, and redheads are thought to be fiery and feisty. And if you dare venture beyond this range of hair colors that can occur in nature, people might assume you are artsy or a rebel!
Hair Color Tips
Generally speaking, your most flattering hair color will be within 2 shades lighter or darker of your natural color. Your skin tone and overall coloring determine which shade of hair will be most flattering on you which is why it is very uncommon for people to look amazing with drastically different hair colors. For example, a girl who has an olive skin tone would look amazing with rich dark hair, but she might look washed out with very light blonde hair. Unless your skin tone changes drastically throughout the year, you will generally look noticeably better with either light or dark hair. This is not to say that a natural blonde can't pull off jet black hair, but usually such a drastic change will also require substantial changes to makeup and eyebrow color in order to ensure that the hair color doesn't look strange. Having said that, sometimes how "natural" your hair looks may not be the most important factor to you. If you are dying to experiment with a crazy new color even if you think it won't flatter you, there's nothing wrong with trying out something new just for fun!
Although it is a lot of fun to experiment with changing your hair color, it is important to remember that changing your hair color is a chemical process that damages your hair every time you do it. The amount of damage your hair undergoes depends on the type of chemicals used and the state of your hair when you color it. If your hair is naturally strong and healthy, it can uphold more color changes without experiencing too much damage, but if your hair is more brittle, coloring it will dry it out. To counteract the damaging effects of coloring your hair, it is a good idea to invest in a deep conditioning treatment to use a few times a week. In terms of daily care, using heat protective sprays before blow drying and straightening will make a big difference in keeping your hair strong and healthy between color treatments.
Hair color ideas for brunettes

Blonde hair color ideas

Auburn hair

Dark brown hair color

Light brown hair color

Dark blonde hair color

Brown hair color ideas

Medium blonde hair color

Ash blonde hair color

Red hair color ideas

Light red hair color

Dark red hair color

Strawberry blonde hair color

Chestnut brown hair color

Dark chestnut brown hair color

Ombre hair color

Red ombre hair color

Blonde ombre hair color

Pastel hair color

Rainbow hair color
Black, Blonde, Red and Brown hair color ideas:

How to Tell Which Hair Color Will Look Good on You
Determining which hair color will flatter you best can be difficult, but assessing your skin tone and overall coloring is the best place to start. If you have cool-toned coloring, you will look best with shades that are also cool-toned. Similarly, if you are warm-toned, you will look best with warm shades. As a general rule of thumb, sticking to a hair color that is within 2 shades of your natural color will be your most flattering choice. Plus, keeping your color close to your natural shade means that your roots will not look super noticeable when they grow in.
If you're thinking about changing your hair color, but don't know what color would look good on you, there are a lot of online tools you can use to virtually try on different hair colors when you upload a picture of yourself. Of course this method is not perfectly accurate, but you can get a rough idea of the shades that may look good on you. When in doubt, a surefire method in finding your perfect hair color is consulting with a professional colorist. They are trained to identify how hair color can be used to enhance your natural coloring and facial features.
Cute Hair Color Ideas 2016
Blonde hair color ideas:

Dark ash blonde hair color
One of the hottest colors right now is a lovely neutral dark ash blonde color. Thanks to high-profile celebrities like Taylor Swift, this color is all the rage right now because it looks extremely natural, but also a little bit edgy. The most awesome part about this trendy hair color is that it is universally flattering!
Strawberry blonde hair color toes the line between red and blonde hair. Strawberry blonde is a popular choice for girls who are interested in having red hair, but don't want to take the plunge and go full ginger. Strawberry blonde is very flattering on pale skin tones and blue eyes. Although strawberry blonde is a super gorgeous color to have, keep in mind that hair colors that have any red in them do fade more quickly than other shades. But, since strawberry blonde hair looks so great, going to the salon more frequently is a small price to pay!
Gray hair color
While gray hair used to be something that older women tried to cover up, now it is something that hip women are actually paying for! Gray hair is a surprisingly flattering choice because the lack of pigment contrasts so strikingly against your skin and eye color. If you do take the plunge and participate in the gray hair trend, don't be surprised if you get some double takes from people who might have first thought you were someone's grandmother!
Best Long and Short Hair Color Ideas
The best hair color idea for you depends on what you're looking for your hair color to do for you. If you are primarily looking for your hair color to flatter and enhance your facial features, it is generally recommended to keep your hair color within two shades of your natural color. If, however, you are looking at your hair color more as a means to express yourself, the world is your oyster! You should go for whatever color you are in the mood to try out, and are willing to maintain! Some fun colors take a lot more work to keep looking fresh, so you need to weigh how much you want a fun color with how much time and energy you are willing to devote to keeping it up. Remember, even if you don't like the results of your hair coloring, you can always change it later!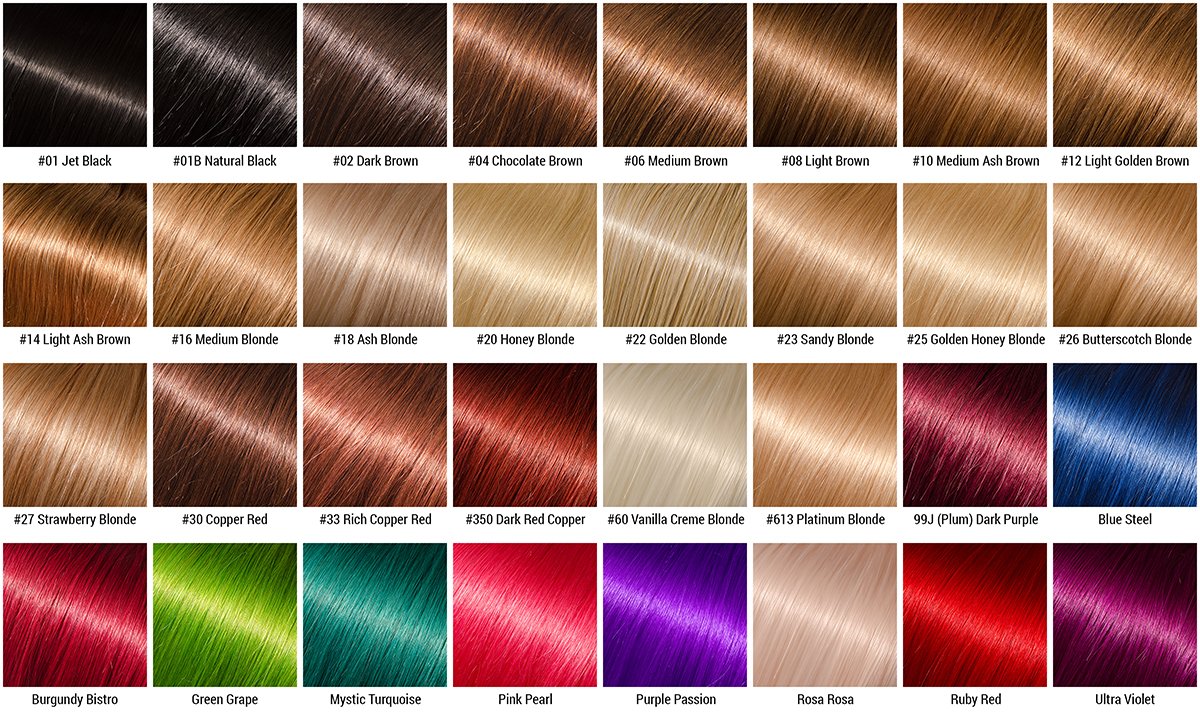 Celebrity Hair C
olor Ideas 2015-

2016
Amber Heard: Dark Ash Blonde With Highlights

Why we love this hair color: Amber's brown hair with ash hair color ideas is super on trend right now. The ash hair color ideas give her hair a soft natural looking glow and ensure that her color does not look mousy and boring. The highlights around her face make her eyes sparkle and make all of her features look brighter. Overall, this is a very stylish and sophisticated hair color choice, and the perfect option for girls who want to wear hair color ideas in an understated way.
Agyness Deyn: Strawberry Bronde
Why we love this hair color: Strawberry blonde and bronde are two super popular categories of hair right now, so this strawberry bronde hybrid is stunningly stylish! We love this color because it is understated and natural looking, but it is also a very unique color. This color will be most flattering on girls with similar coloring to Agyness, but slightly tanner complexions can also pull this color off!
Cara Delevingne: Gray hair

Why we love this hair color: Cara is super edgy and stylish so it's no surprise that she pulls off hte gray hair color trend so effortlessly! The gray hair looks gorgeous against her skin and complements her icy eye color flawlessly. We don't know how long this gray hair trend is going to last, but we think you should definitely give it a try before it goes out of style since it looks so awesome!