Advertisement
Best Pin Curls Hairstyles for Short Hair
Pin curls were a hair styling staple of the 1940s and 1950s, and there is no better way to create the look than to mimic the technique they used back then. After all when something isn't broke, there is no need to fix it. The technique itself is relatively simple, but it does take some practice to master and get those perfect defined curls. So, lets first start with the basics.
What are Pin Curls?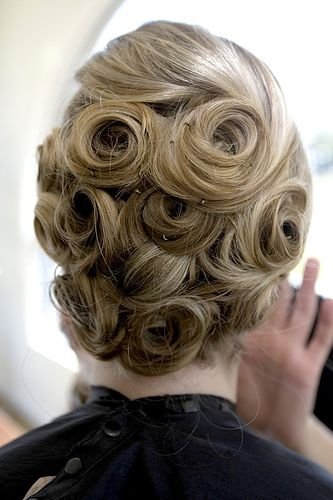 A pin curl is a strand of hair that has been rolled around in a loop from the tip to the roots, in concentric rings that lie inside each other. The ends are tucked into the center and the curl is pinned into place with hair grips. You start with wet hair and remove the grips once the hair is dry, and beautiful corkscrew curls will be revealed.
You can choose the direction of the curls and how the curls will fall if you just take in mind if you want a parting and where you would like it to be. Once your curls have dried you can remove the pins and instead of letting the hair loose, use some concealed hair grips to hold the curls in place, to create a vintage up-do.
How to Pin Curls On Short Hair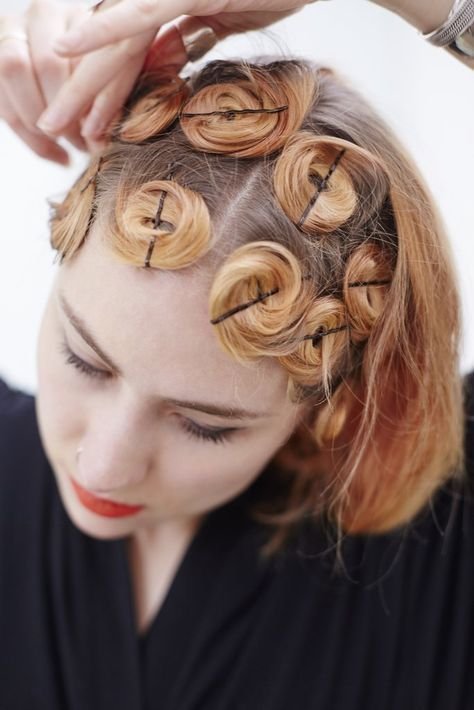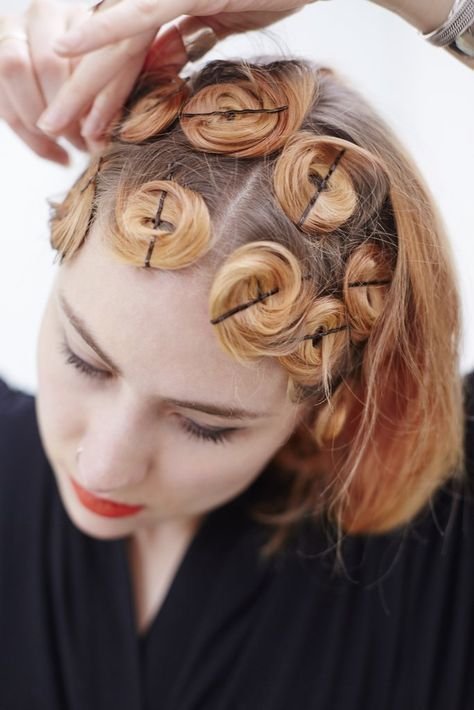 If you are tempted to create your own vintage styles at home, we have an easy pin curl tutorial for you, so you can get practicing.
Starting with towel-dried hair, part the hair and clip away sections you are not working on.
Section an inch square of hair and apply a fine mist of setting spray or a small amount of curl cream.
Comb through the section of hair to ensure an even distribution of styling product. Wrap the section around two fingers (1 finger if you want a smaller curl, three fingers if you want a larger curl) and roll the hair up to the root. Using fingers will keep your curls a consistent size
Be sure that the loops are wrapped inside one another and don't twist the hair as you might end up with frizzy curls.
Tuck the ends of the hair into the curl and secure on the open side i.e. opposite the roots of the hair.
Allow the hair to dry. You can apply heat to the curls, just make sure they have cooled fully before removing the bobby pins.
Style your pin curls however you like.
Types of Pin Curls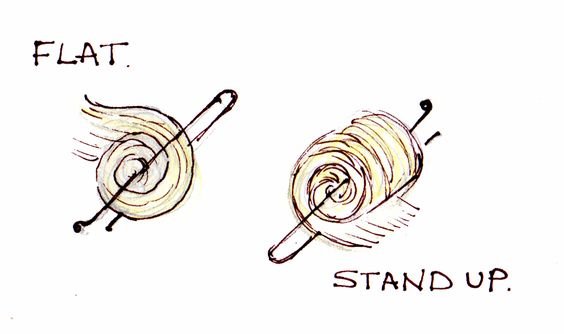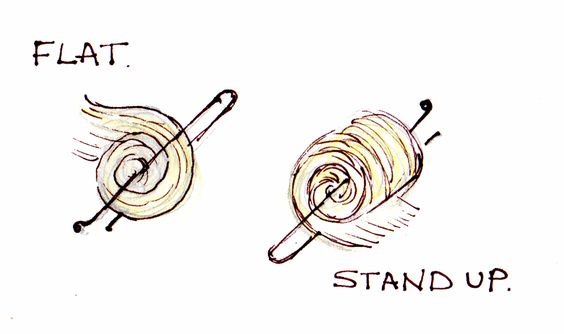 There are two types of pin curl. The first is the flat curl, which are curls that are pinned flat to the scalp. The second is the standing pin curl (also known as a barrel pin curl) that are pinned to stand away from the scalp on an upright position.