Rosemary Essential Oil Reviews | Rosemary Oil For Hair Growth
Any conversation surrounding the topic of growing hair through natural methods that fails to mention rosemary oil is shockingly incomplete. This impressive oil, considered sacred by the ancient Greeks, Romans, Egyptians, and Hebrews, contains the nutrients necessary to make sure that your hair grows back thicker and more luxuriously than before. You can expect great results from the regular incorporation of rosemary oil into your beauty regimen, the oil that has withstood the tests of science, markets, and perhaps most importantly, time.
Naturally, before you start buying out shelves of rosemary-infused products, you should know a bit more about where it comes from, how it's made, and what it contains. Rosemary oil is steam-distilled, derived from the flowering plant of the same name. It has the signature rosemary smell that so many love, except even stronger and more concentrated with notes of evergreen. It is part of the mint family and has meritorious benefits that extend far past the hair care industry.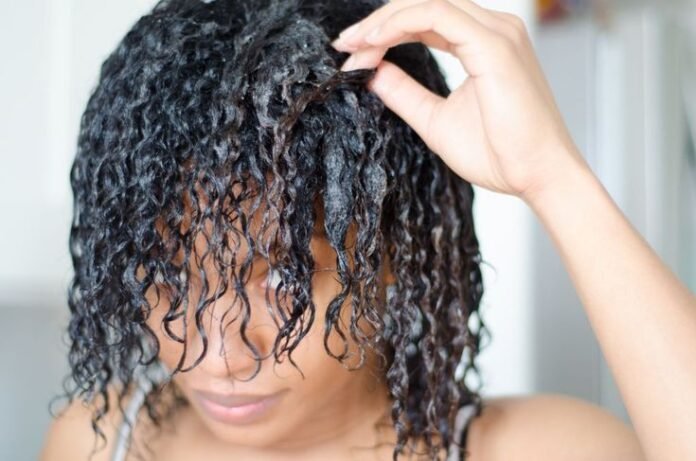 Dandruff Protection: Rosemary oil is a champion of cleanliness, having antimicrobial, antibacterial, antifungal, and antiseptic qualities. These work in conjunction to smooth out skin afflictions on the scalp, such as dandruff, flaking skin, scalp acne, or other conditions which may lead to hair fall.
Healthy Skin: Many people suffer from inflammation (resulting from refined foods) and don't even know it because it may only be able to be detected from under a microscope. Inflammation, among other side effects, can cause hair fall. Rosemary oil has anti-inflammatory characteristics that can reduce inflammation and, in turn, better preserve your hair.
Balances Oil Level: Oily scalp can prevent hair growth because it is more likely to attract dirt particles, grease, and dust which will clog up hair follicles, thus putting a halt to hair growth. With the use of rosemary oil, the oily parts of your scalp will be evened out in order to create a healthy environment for the growth of new hair.
Inhibits Premature Graying: Due to unhealthy diets and manufactured pollutants, people are getting gray hairs at progressively younger ages. Rosemary oil can help sustain the color in your hair through its amazing array of antioxidants present within the product. Regular use can prolong your hair color's life.
3
Rosemary Oil For Hair Growth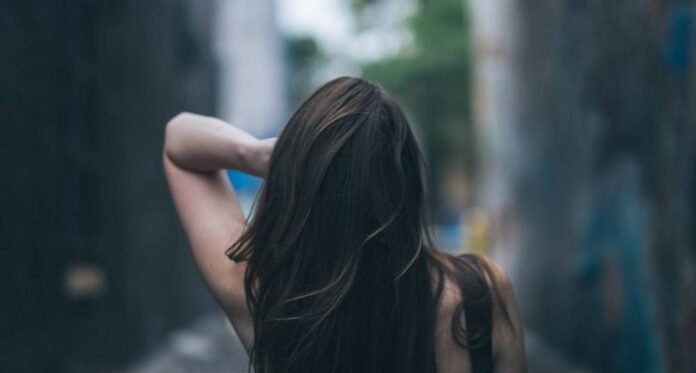 It's frustrating to try product after product with different ingredients in attempts of finding the one that will actually work for your hair. Hopefully, rosemary oil will be the timeless solution. Rosemary oil is extremely beneficial for those who have It contains ursolic acid which improves scalp circulation, allowing each hair follicle to receive more oxygen and nutrients, therefore growing stronger and more plentifully.
Antioxidants within the rosemary oil help to attack and eliminate free radicals which can inhibit hair growth and cell production. Another aspect of rosemary which aids in the acceleration of hair growth is its classification as a natural stimulant which works to maintain optimum conditions for new hair to grow.
Best Rosemary Oil Products For Hair
4
100% Pure Rosemary Essential Oil by Maple Holistics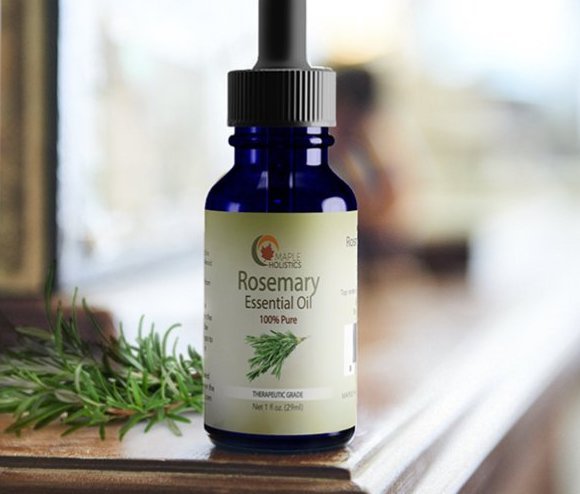 The 100% Pure Rosemary Essential Oil by Maple Holistics is a very highly-rated product that is a great addition to your current beauty regimen. This product is meant to be added (one or two drops per use) into other shampoos or conditioners that you already use. This is an efficient way to make sure that you don't use too much and end up wasting your product. This option is a high-quality option for anyone looking to just try out rosemary oil products without making too large of an investment.
Why We Love This Product:
Proven to effectively regrow and thicken hair
A little goes a long way
Anti-aging and healthy scalp
Mixes well with other products
Chemical-free, paraben-free, cruelty-free
Dislikes:
You cannot use this by itself. Must be diluted by carrier oil or other product.
It's an essential oil, so this is not for people who are put off by strong smells.
5
Biotin Shampoo For Hair Growth, Rosemary, Aloe Vera, Coconut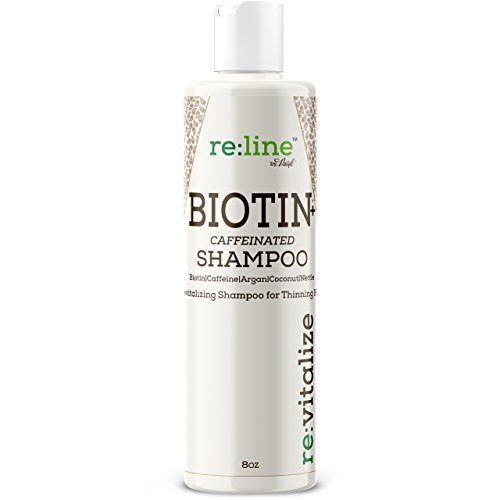 The Biotin Shampoo by Paisle Botanics is the #1 best-seller on Amazon for its criteria. Users are incredibly satisfied with the unique combination of rosemary, aloe vera, and coconut, which all serve to lengthen, strengthen, and soften your locks. It is safe for all hair types, including natural and colored hair, and is sulfate-free to be gentle enough for regular use! This is a good "no-compromise" purchase.
Why We Love This Product:
Blocks DHT for anti-hair loss
Full of essential vitamins, along with rosemary oil, aloe vera, and coconut
Gently cleanses hair due to lack of sulfates
Shown to thicken hair over time
100% money-back guarantee
Dislikes:
Some users haven't noticed much of a difference in hair thickness
Dries some users' hair out
6
Radha Beauty Therapeutic Grade Rosemary Essential Oil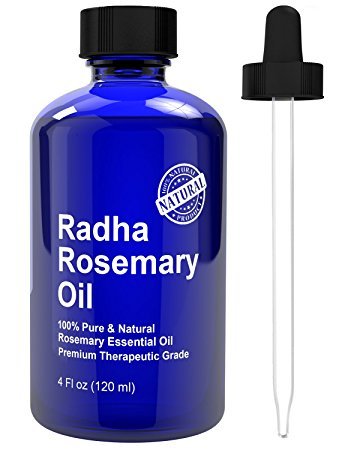 The Therapeutic Grade Rosemary Oil by Radha Beauty is another dropper product which should be added as one or two drops to another product or carrier oil. Rosemary oil is incredibly strong and users have enjoyed hair growth along with aromatherapy through this product. It is 100% pure with no additives, so you can be certain that it is of the highest strength.
Why We Love This Product:
Not specifically a hair product, so multi-purposed
100% pure rosemary oil
Lasts very long; inexpensive price for sustainability
Soothes the scalp
100% money-back guarantee
Dislikes:
Some users have had trouble with the dropper
Weaker smell than other rosemary oil brands
7
Peppermint & Rosemary Strengthening Shampoo by Natural Escapes
The Peppermint & Rosemary Strengthening Shampoo by Natural Escapes marks its benefits as restoring your hair's health and shine, regrowing your hair, preventing hair loss, producing softer, fuller, and more moisturized hair, and pH balancing perfect for all hair types. Additional star ingredients include jojoba and rosehip oil, lavender, chamomile, vitamins B-5 and E, and wheat protein. This hit line-up is sure to whip your hair into shape and add great texture, moisture, and length.
Why We Love This Product:
Shampoo that cleanses thoroughly without stripping hair of natural oils
Contains a multitude of heavy-hitting ingredients for gorgeous hair
Supports hair follicles
Pleasant minty aroma
Safe for all hair types
Dislikes:
Dried some users' hair
Doesn't spread as easily as a sulfate shampoo
8
Tropic Isle Living Jamaican Black Castor Oil Leave-In Conditioner & Detangler with Rosemary & Shea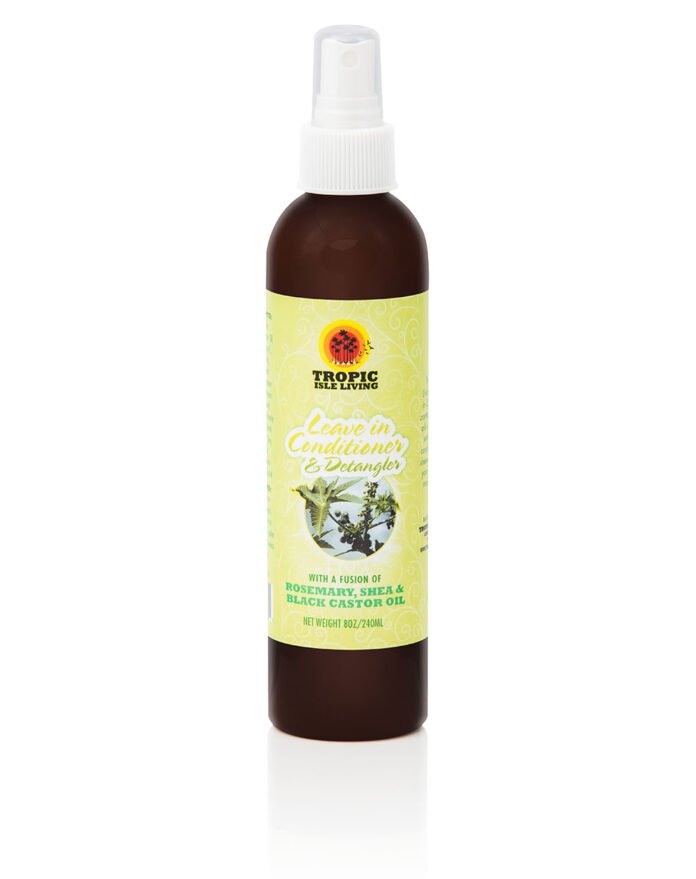 The Jamaican Black Castor Oil Leave-In Conditioner infused with rosemary and shea by Tropic Isle Living is a product specifically designed for curls. It's low-maintenance and easy to use; simply spray on dry hair to calm tangled hair and brush before continuing on with your normal hair care routine. It is adored by its users and the product sees many return customers. This may be a smart option for anyone who wants to reap the amazing benefits of the JBCO and shea butter while still profiting off of the rosemary oil.
Why We Love This Product:
JBCO, shea butter, and rosemary oil are all proven to add countless benefits to your hair
Specifically designed for curls
Has an enchanting citrus aroma
Makes hair soft without build-up
Detangles and tames hair very efficiently
Dislikes:
May take time to see major results
Contains alcohol
9
Other Rosemary Oil Uses and Benefits
Memory: The incredible impact that rosemary oil has on memory has not been lost on civilization; there are references to the effects of rosemary on memory from works as well-known as Hamlet by Shakespeare. A study conducted in Newcastle stated that Rosemary "produced a significant enhancement of performance for overall quality of memory and secondary memory factors."
Aromatherapy: The benefits of rosemary oil in stress relief doesn't stop merely at the intake of the scent. Rosemary oil has been proven to actually decrease the amount of cortisol, one of the body's main stress hormones, in the saliva. A 2007 study notes that inhaling smelling lavender and rosemary for five minutes reduces the amount of cortisol in saliva, naturally lowering the chances of being affected by chronic stress.
Indigestion: Just as rosemary oil increases blood flow in your scalp for hair to receive more nutrients, it does the same for your digestive tract, allowing your body to absorb food more rapidly and efficiently. It also reduces bloating.
Mouth Care: Because rosemary oil is a disinfectant, it is helpful in removing bad breath germs and can prevent common dental conditions such as gingivitis, plaque buildup, and cavities.
Skin Care: While not as popular of a solution, rosemary oil can also be used to ameliorate common dermal conditions such as dermatitis, eczema, oily skin, and acne.
Pain Relief: Chronic conditions such as headaches, muscle aches, and even arthritis can be alleviated by the regular use of rosemary oil. Massaging the area with the oil can bring quick and much-needed relief to the problem.
10
How To Apply and Use Rosemary Oil For Beautiful, Healthy Hair
Read this section to discover how to apply one of the most popular oil methods, the hot oil treatment!
1. Pour 2 tsp. of coconut oil and 2 tsp. of castor oil into a small pan.
2. Heat the pan on a low flame for 1-2 minutes. It is essential that you keep the mixture on low heat because you might overheat the oils to their smoking points, which will ruin the mix.
3. Take the pan off the heat and add 4-5 drops of the rosemary essential oil. Stir gently for a few seconds with a spoon.
4. Test the oil with your fingers to make sure that it's warm but not too hot. When it reaches the temperature of your liking, dip your fingers in the mixture and massage the oil into your scalp. Don't wait too long or else you will be unable to handle the oil.
5. Continue throughout the rest of your scalp. Wait 15 minutes for the oil to be absorbed into your hair, and then wash off.
6. For the best results, continue this treatment every 3 days or once a week.
11
How To Choose The Right Product For You
Rosemary oil is a tried-and-true method for hair growth and has been a staple of a myriad of cultures for hundreds of years. With this, most products will be advertised as "Safe For All Hair-Types," even if it's not 100% the case. The best advice to follow would be to read up on product reviews and see if there is someone with your same hair type who recorded their experience with the product. This way, you can see if a product is worth your time to try and you can even reach out to the reviewer to see how they used it.
You should also decide whether you'd like to look for an oil dropper or a rosemary-infused hair care product. Both are viable options and have various pros and cons discussed in the product reviews section of this article.
12
What To Look For In Rosemary Oil Products
100% pure and organic rosemary oil
Proven to accelerate hair growth and thicken hair
Products that can be loved for a long time
Products containing ursolic acid and antioxidants
13
What To Avoid In Rosemary Oil Products
Refined rosemary oil. The real essential oil without the additives is worth the slightly higher price.
Products that don't have a strong smell. Essential oils are incredibly potent and if the product you use doesn't have that, it may not be as high-quality as it claims.
Dropper products that are acclaimed more for other benefits of rosemary oil rather than hair care; there's probably a better rosemary oil for hair out there.
14
Our Conclusion on Rosemary Oil
Rosemary oil is incredibly beneficial to the well-being of your hair and can allow it to have a longer, healthier life. It decreases hair fall and is a fantastic addition to your regular beauty care products. It's not necessary to switch shampoos to a rosemary oil shampoo, but there are exclusive benefits, such as an increased focus on hair growth.
A bargain multi-purposed purchase would be a brand like Maple Holistic, which has proven results and can be easily mixed into shampoo or carrier oils.
A great "no compromise" purchase would be Biotin Shampoo by Paisle Botanics, which is the #1 product in its niche on Amazon. It's an ideal rosemary-infused, sulfate-free shampoo to implement in your regimen.