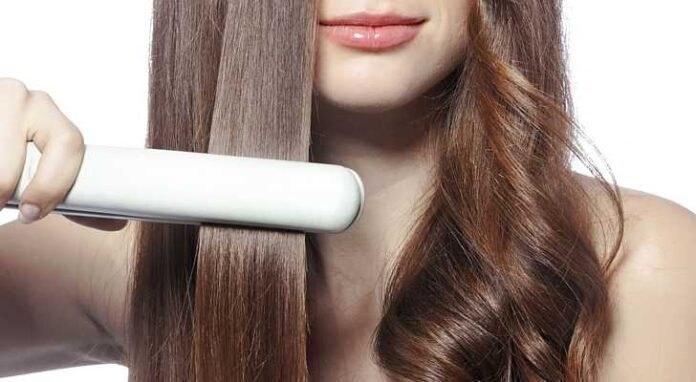 10 Best Dual Voltage Flat Irons
If a hair straightener is one of your must-pack items for your vacation, a dual voltage flat iron is the perfect choice for your travels. Whether you're a frequent traveler or simply planning your next summer vacation, We have gathered and reviewed 10 of the best dual voltage flat irons on the market in varying price ranges, along with tips and recommendations. Here are our top dual voltage flat iron picks.
Dual Voltage Flat Iron Reviews
HSI Professional Ceramic Tourmaline Ionic Flat Iron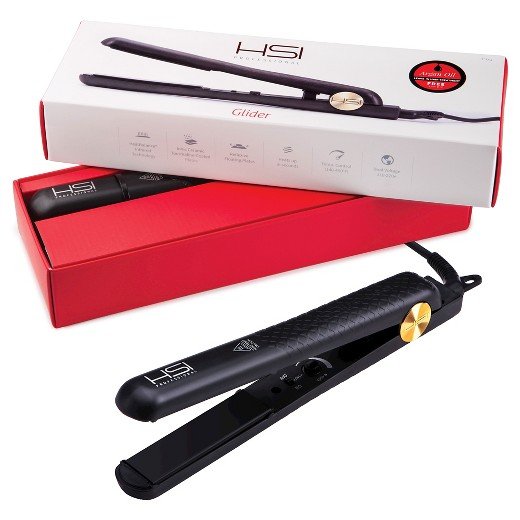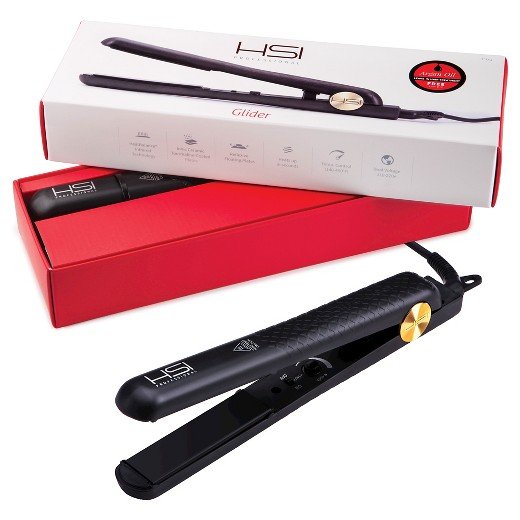 Get ready to straighten hair like the professionals with the Ceramic Tourmaline Flat Iron by HSI . Featuring 1" ceramic tourmaline plates and infrared technology, your hair will straighten quickly and efficiently with evenly distributed heat. These type of plates are great for all types of hair, as the metal doesn't snag or get hot spots that may cook one section of your hair more than another. On top of this, the HSI Iron also includes some Argan oil leave-in hair treatment with your purchase that will act as a protectant for your hair, as well as a smoother for any fly aways! If you think that isn't enough, then you will adore the packaging that this amazing straightener comes in. Protected by a silky red drawstring bad, the dual voltage iron is placed in a gorgeous red box and is accompanied by a heat protectant glove; this feature is great for anyone who may just be starting out in the business of styling their own hair. While this tool is a bit more expensive than some of its competitors, it is well worth it if you aren't worried about sticking to a budget. With adjustable temperatures and a worldwide compatibility for 110-220v, you are going to be looking fabulous no matter where you decide to go.
What We Love
1" ceramic tourmaline plates
Professional 360-degree swivel cord
Works with 110-220v
Includes Argan Oil protectant
Free heat glove included
Adjustable temperature from 240 to 400 Fahrenheit
Has automatic shut-off feature
Great for all hair types
Dislikes
Higher price tag
May be a bit heavy at 1.6 lbs.
Conair Instant Heat Ceramic Straightener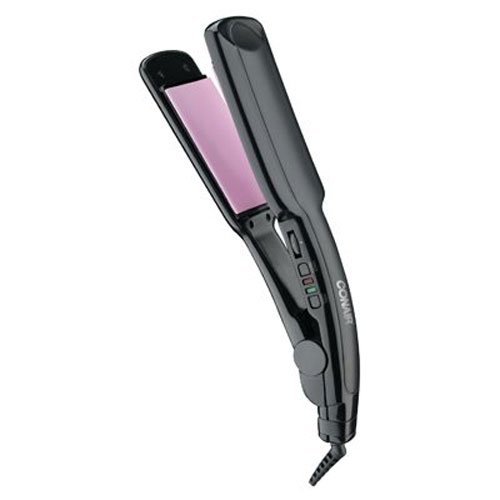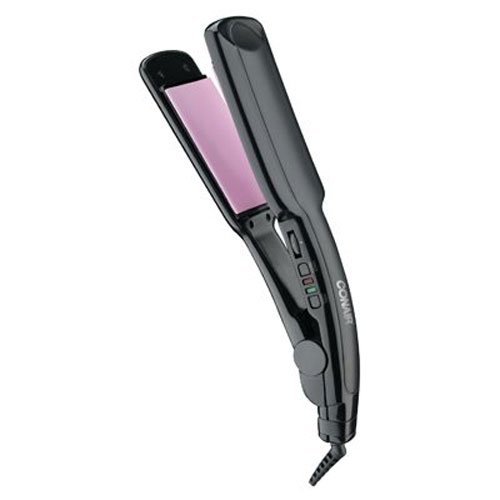 Conair strikes again with an affordable, yet efficient, 2" dual voltage straightener. The Conair Instant Heat Straightener features 25 variable heat settings for all different types of hair, ceramic coated plates that gently distribute heat evenly over the hair and a quick 30-second heat up time that ensures you don't need to wait forever to get your gorgeous on! The body is slightly curved in a unique shape to allow you to get as close as possible to your roots and straighten, smoothly, all the way down to the tip. All of these features, combined with the fact that it is dual voltage, makes this straightener a prime choice for the traveling woman. It is lightweight at only 13.6 ounces and can easily fit into any traveling bag or backpack. Never again will you need to worry about leaving a bulky straightener at home and having no tool to help you accomplish your hair goals. If you are looking for an affordable, effective, and easy to pack away dual voltage iron, the Conair Instant Heat may be the perfect one for you.
What We Love
Affordable
25 varying heat settings up to 400 Fahrenheit
Great for all hair types
2" ceramic coated plates for even heat distribution
30-second heat up time
Automatic turn-off feature
Lightweight
Works with 120-240v
Dislikes
You will need an adapter for some places in the world (100v)
Curved handle may be uncomfortable for smaller hands
Jose Eber Wet & Dry Flat Iron Straightener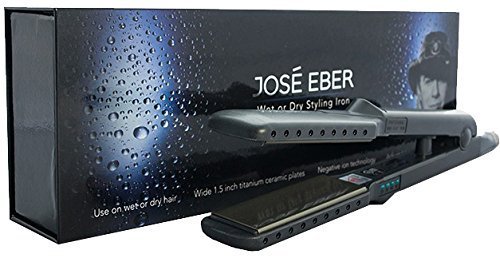 There is no need to wait for completely dry hair with this straightener! The Jose Eber Wet and Dry Straightener allows you to style your hair while it is still slightly damp in order to save you time. Thanks to this tool, not a single second of sight-seeing will be wasted. Featuring 1.5" wide floating tourmaline coated plates, the Jose Eber straightener is great for all hair types and evenly distributes the heat to ensure that no frizz makes its way into your luscious locks. It also has four heat settings that can be adjusted easily with a convenient one-touch temp setting, so that you can heat it up and go without wasting any time! If you are looking for an efficient, all-around great tool, this one is definitely going to fit the bill. Just keep in mind that it is a little bit more expensive than some of the other straighteners listed and definitely bulkier, so be sure to bring a big enough suitcase!
What We Love
4 heat settings with a range of 320-430 Fahrenheit
1.5" tourmaline coated plates
Works with 110-240v
Professional 360-degree swivel cord with hook
Can be used on damp hair
Great for all hair types
Dislikes
Higher price tag
Bulky
No automatic turn off feature mentioned
Herstyler Colorful Seasons Ceramic Flat Iron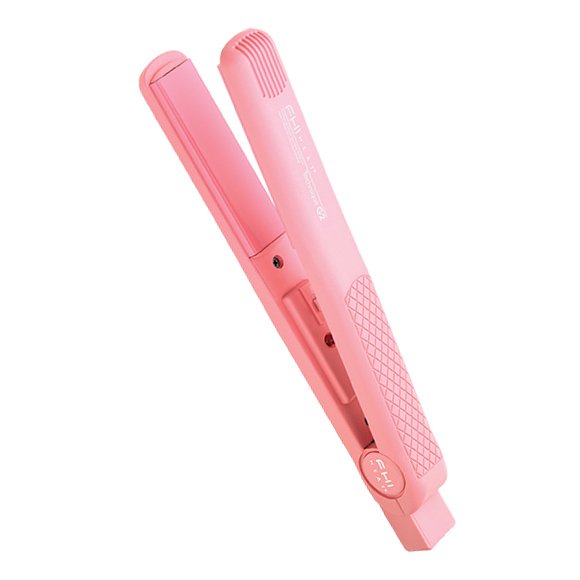 The Herstyler Colorful Seasons Flat Iron is a stylish pink tool that suits all hair types from thick and curly to fine and thin. If you aren't a pink person, however, there's no need to worry, as this tool comes in a range of five different colors: blue, green, pink, purple, and red! With a nice, easy to grip handle and a sturdy body, straightening your hair will be a total breeze with the Colorful Seasons iron. And the best part? This straightener features floating ceramic plates for safe heating, adjustable temperature knob, 360-degree swivel cord, and a 1-year warranty. This dual voltage straightener will work with 110v-120v as well as 220v-240v, making it a great product for taking on those worldwide adventures. Just keep in mind that it does not have an automatic offsetting, and a few places may still need an adapter to fit the plug. Besides those couple of minor details, the Herstyler Ceramic Flat iron is compact, stylish, and ready to see the world!
What We Love
Affordable
Works with 110v-120v and 220v-240v
Heat range of 180-450 Fahrenheit
1.25" wide floating ceramic plates
Easy grip body
Professional length 360-degree rotating cord
Great for all hair types
Dislikes
Does not have an automatic shut-off
Adapter may still be needed in some locations
May be a bit heavy at 1.7 lbs.
BaBylissPRO Nano Titanium Mini Straightening Iron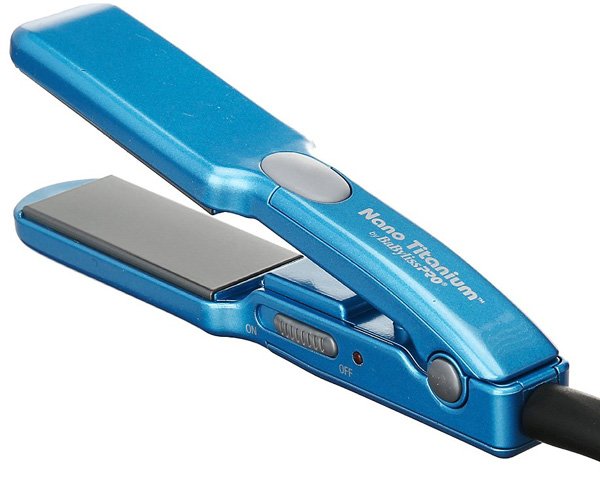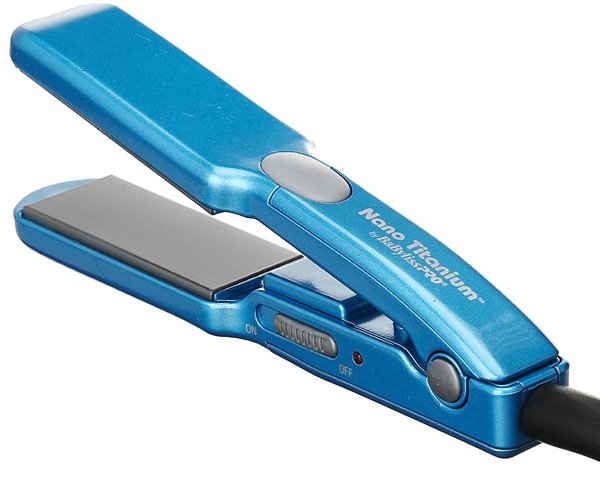 The Nano Titanium Mini Straightening Iron is the perfect tool for traveling abroad. It is lightweight, compact, and features 1" or ½" titanium ceramic coated plates that will make your hair shiny and straight in no time. While this may not be the heaviest duty straightener on the market due to its small size, it can still heat up quickly to 440-degrees Fahrenheit, which should be more than enough to do simple styling sessions while traveling. If you are searching for a simple, effective, lightweight straightener to toss in your bag and go, you may fall head over heels in love with this little tool!
What We Love
Lightweight at 9.1 ounces
Heats up to 440 Fahrenheit
Available in 1" or ½" ceramic coated plates
Works with 110v-220v
Great for any hair type
Only 4.8" long
Dislikes
Higher price tag
No temperature control
KIPOZI 1 Inch Pro Nano-Titanium Flat Iron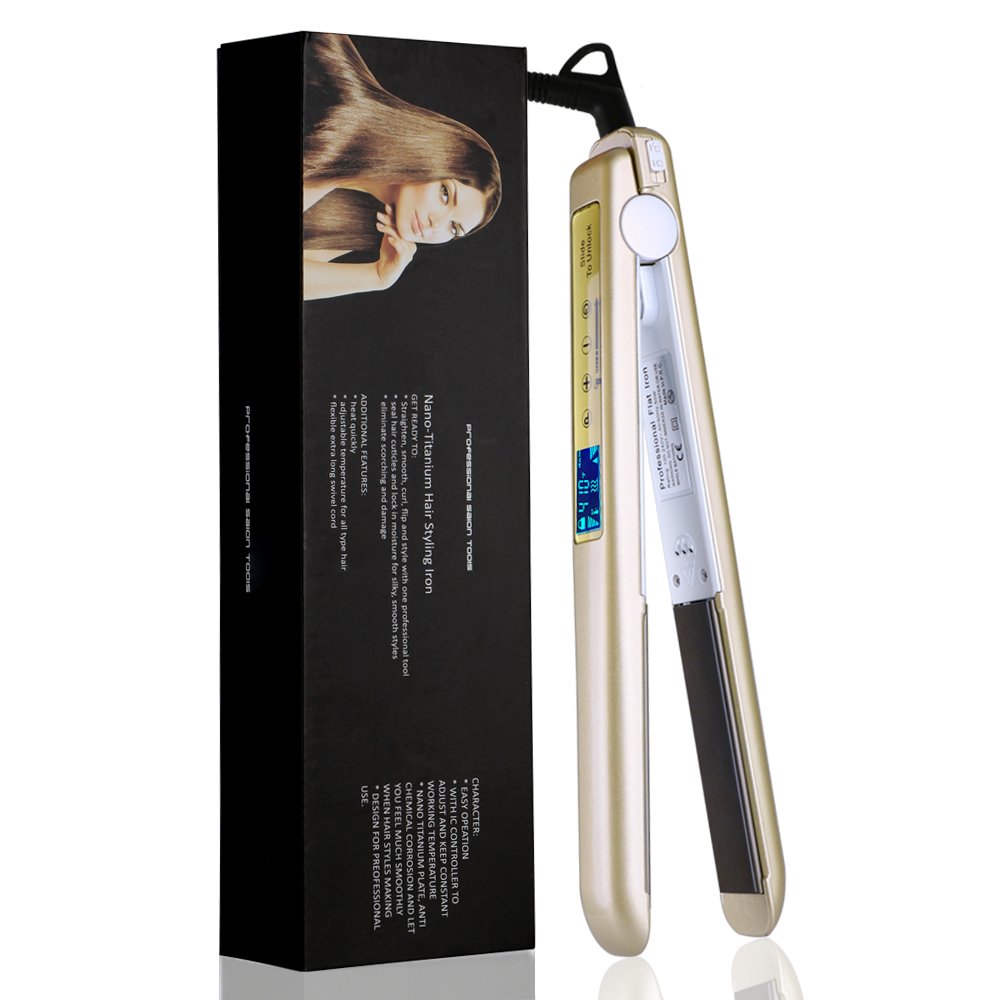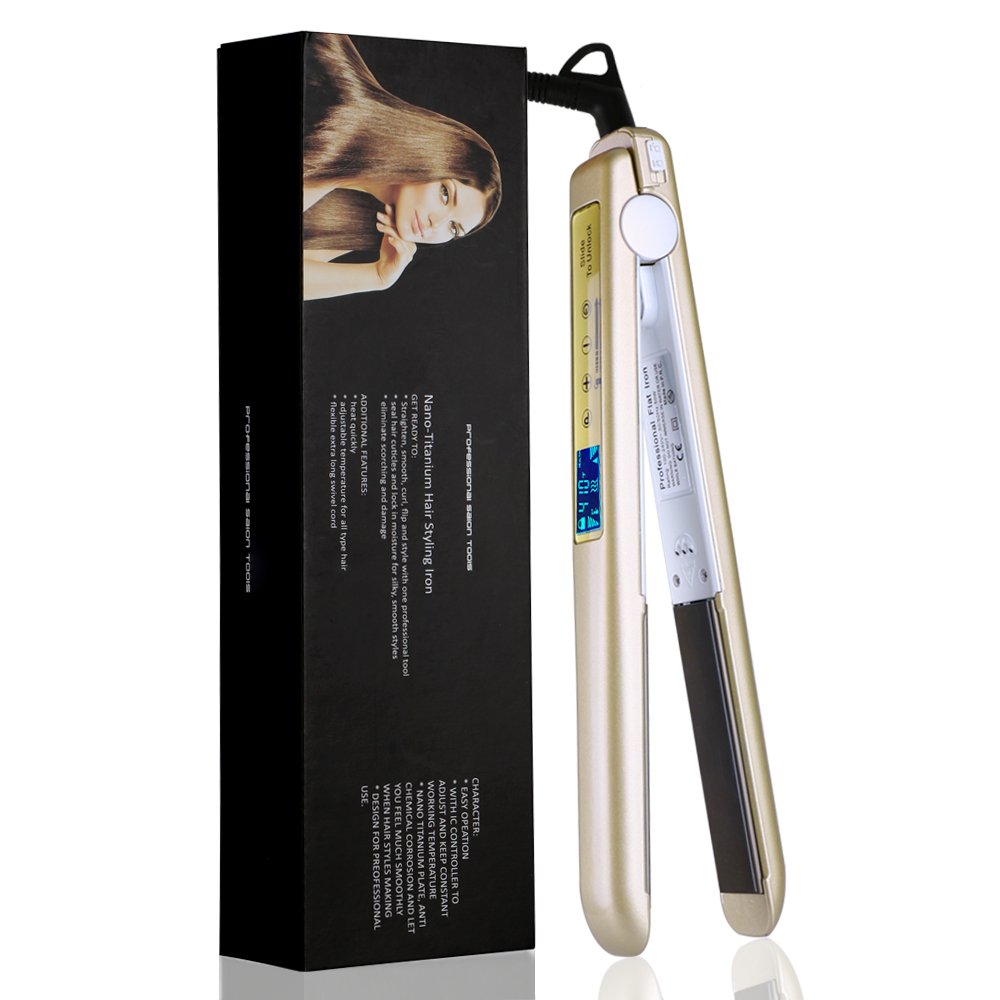 If you have hair that needs a little extra oomph in order to behave, you may want to look into the Kipozi Nano-Titanium Flat Iron. This tool heats up quickly to 450-degrees Fahrenheit and features contoured floating plates that are designed to glide through your hair smoothly and free of any snags. The LCD touchscreen display and slide to unlock features will have you feeling like you stepped into the future as opposed to just another country! There is no doubt that this professional grade 1" dual voltage straightener is well worth its weight in gold; just wait until you give it a try.
What We Love
Nano titanium contoured floating plates
LCD touchscreen and slide to unlock feature
Works with 100-240v
Multiple heat settings from 170-450 Fahrenheit
Professional 360-degree swivel cord
Automatic turn off
Great for all hair types
Dislikes
Slightly bulky at 1.5 lbs.
LCD touch screen may wear out quickly
2-in-1 Mini Hair Straightener Travel Flat Iron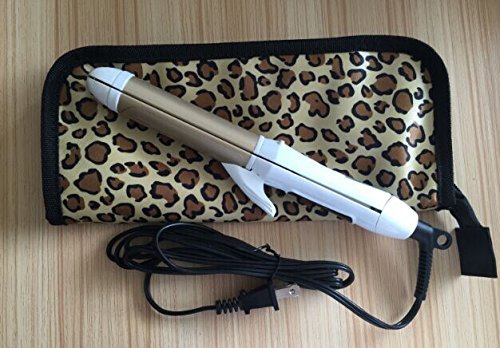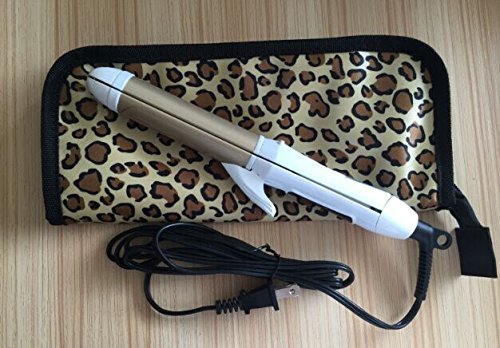 You may very well feel like the queen of the world carrying this sexy little flat iron around. The 2-in-1 Mini Hair Straightener is every traveling girl's dream as it is lightweight, easy to pack, and features not only the ability to straighten your hair, but also to curl it! That's right, this adorable little tool has a straightener and curling iron packed into one and also offers quick heating up to 374-degrees Fahrenheit. The only downside to this flat iron duo is that while it is a dual voltage tool, you may need an adapter in certain parts of the world. This is an easy to flaw to overlook considering all of the great traits this product has. However, it is important to equip yourself with everything you need so that you'll be ready no matter the situation!
What We Love
Affordable
2-in-1 straightener and curling iron
Heats up to 374- degrees Fahrenheit
Nano silver and tourmaline technology, 1" plate and curler
Comes with heat resistant carrying case
Lightweight at 10.4 ounces
Best for thin or fine hair
Will work with 240v
Dislikes
Only one heat setting
No automatic turn off
Xtava Gloss Factor Titanium Flat Iron
The Xtava Gloss titan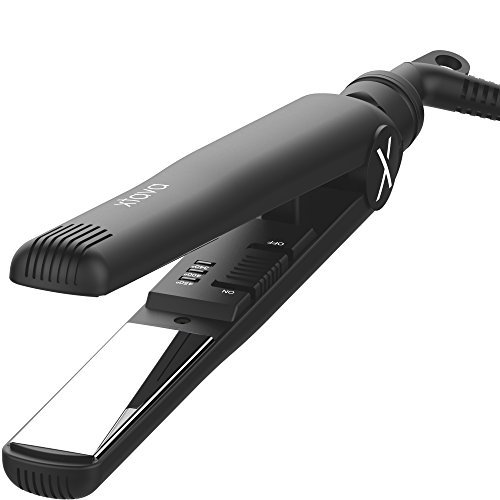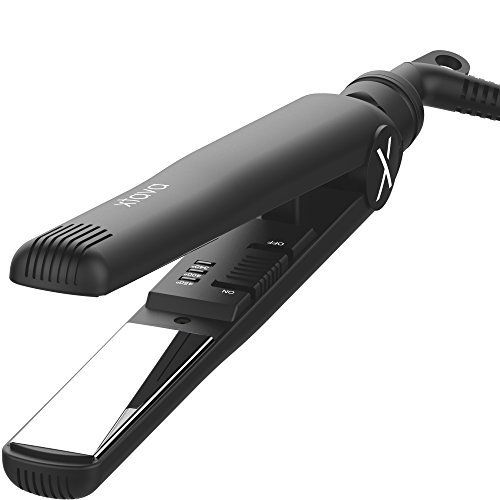 ium hair straightener features 1" titanium plates with rapid heat technology that will have you styling your hair in under 60 seconds! Featuring three heat settings, the Gloss Factor is great for all hair types and can be adjusted to temperatures of 300-450 Fahrenheit. On top of this, you get an automatic shut-off feature and a tool that will work no matter where you go by being adaptable with 110-240v. The only downside is that anything below this will require an adapter, but, it's a good idea to have one on hand anyways just in case. This flat iron is great for those travelers on a budget who want a travel-friendly tool that won't slow them down on their adventures.
What We Love
Affordable
Works with 110-240v
Quick heat in 60 seconds
1" titanium coated plates
3 heat settings up to 450-degrees F
Great for all hair types
Automatic turn off
Dislikes
Slightly bulky at 1.6 lbs.
Salona Professional 1″ Titanium Flat Iron Hair Straightener
Never forget what temperature setting you are on again with the Salona Professional Titanium Flat Iron Hair Straightener. It has an LED screen that tells you exactly what temperature setting you are on as well as an auto shut-off feature, and super smooth titanium plates that will smooth and straightened your hair easily. If you have been bitten by the traveling bug, then you will definitely enjoy this tool as it is equipped with a heat resistant travel bag and 3 travel adapters; so you can pack up and get moving the moment your hair is at its best. The only real downside to this straightener is that it is a bit more expensive than some of its competitors. But, when you consider its overall quality and the adapters that are included with the tool, the price may be well worth it!
What We Love
LED Screen
3 adapters for 110-240v
Titanium coated plates
1-hour automatic shut off
Temp settings from 255-400 Fahrenheit
Heat resistant travel bag included
Dislikes
Higher price tag
A little bulky at 1.4 lbs.
INVERTO Pro 1″ Ceramic Tourmaline Titanium Plates Flat Iron Hair Straightener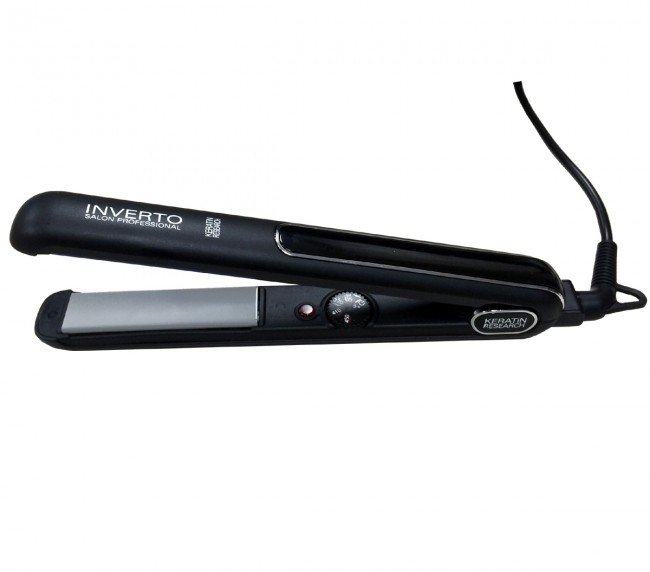 With features like ceramic tourmaline and titanium blue/silver plates, you can't help but fall in love with the INVERTO Pro 1" Hair Straightener. This tool is designed to make your hair sleek, straight, lightly curled, and always free of frizz in a short and efficient amount of time. The 1" body is perfect for getting larger sections of hair done quickly, yet still small enough to do delicate curls or style bangs. The dual voltage will work with 110-220v and will have no problem with heating the straightener up to 450 degrees Fahrenheit. You may need an adapter for certain parts of the world, but for the most part, this is an affordable straightener that you can take with you anywhere without any issue!
What We Love
Works with 110-220v
Heats up to 450 F
Ceramic tourmaline titanium plates
Non-slip design
Free Euro Adapter included
Lightweight at 1 lb.
Dislikes
Slightly squeaky
No automatic turn off
What is a Dual Voltage Flat Iron?
A dual voltage flat iron simply means that is able to work with both the 110-120v (United States) and 220-240v (international countries). Most of the time, whenever you want to plug in an appliance that has a United States plug in an international country, you will need to have an adapter. The adapter will then allow your US plug to fit into the international plug without frying or destroying your technology. The best part about a dual voltage straightening iron is that most of them have a feature where the correct voltage is already built into the system. You may not even have to press a button in order for the tool to recognize the voltage; some can just do it on their own! However, if you get an iron that cannot tell which voltage is being used, you may need to press a button manually to tell it, or get an adapter for the plug that will then manually change it that way as well.
Dual Voltage Flat Iron for International Travel – Why Use Dual Voltage Hair Straightener for Travel?
It may seem silly to get a specific hair tool just for traveling, but trust us, you will love it when you don't need to haul a bunch of adapters around with you! Just being able to plug in your straightener and do a quick touch-up will be well worth the money that you put into a good dual voltage hair iron. On top of that, there are some really great miniature dual voltage straighteners that take up less room in a bag and allow you to pack more of the essentials without giving up on fabulous looking hair!
How to Check if a Flat Iron Supports Dual Voltage or Not
If you are wanting to check a styling tool to see if the voltage is dual or not, (whether a new product or one you already own) you can simply check the nameplate of the product. An example of what you will see there will most often be:
The name of the product
Model number
Voltage available (such as 110-120v)
When traveling internationally, you will want to look for a voltage number that says "110-220v". If it does not say that, then you will definitely want to look into getting an adapter that has that range. Doing so will ensure that you don't accidentally fry your styling tool by using it on too high or too low of a voltage. If you can't seem to locate the voltage number on a product for some reason (box is lost and nameplate has worn off), be sure to research the product online or call the customer service for that particular brand. It will only take a moment to discover what voltage your tool is and it will save you a lot of trouble later on down the road.
What to Look for When Shopping for Dual Voltage Flat Irons
Voltage: The first and most important thing that you will want to look for when searching for a dual voltage tool is the range of said voltage. For instance, you will want voltage that is in the range of 110-220 or 240v. This is going to cover all of your bases and keep your tools safe. Avoid getting a product that is under this range unless you have an adapter to accommodate for it.
Size: If you are going to be traveling around, you won't want a large straightener taking up room in your bag. Avoid purchasing a straightener that is over 1.5 lbs. and try to look for one that will pack up conveniently. A heat safe storage bag or case would be a great feature to consider.
Heat Settings: If you are getting a smaller tool to save space, then you may want to look for a straightener that will heat up quickly and at least to 400 degrees Fahrenheit. Avoid getting a straightener that has only low-level heat settings, especially if you have thicker hair, as it will not be able to do its job properly due to its smaller size.
[td_smart_list_end]