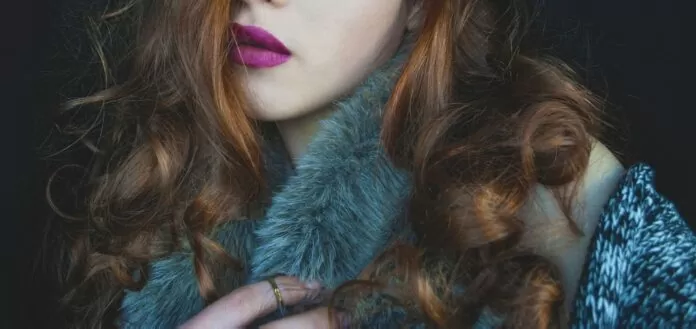 Best Hair Dryers for Curly Hair
Whether you are wanting a natural look that rings true to your inner goddess, or you want a sleek look that oozes sophistication, the right tool can help you to achieve whatever your heart desires. So let's take a look at which hair dryers have made the cut and discover what it is that makes them perfect for curly hair.
When it comes down to it, a hair dryer is all about convenience. Considering the fact that you really depend on your hair dryer to help you put your everyday look together, there is no doubt that you are going to want a tool that is efficient, dependable, and affordable. No matter what your budget may be, there are lots of great options that will help you to keep frizz to a minimum and your hair looking it's very best. There are a few important key features, you'll want to look out for when shopping for your next hair dryer for curly hair, based on your hair type, preferences, and budget amount. Getting the right hair dryer will ensure that you don't end up with frizzy strays or damaged hair from too high of a heat setting.
Best Hair Dryers for Curly Hair Reviews
1
Remington AC2015C T|Studio Silk AC Professional Hair Dryer
If you are looking for a budget friendly, yet all around fantastic hair dryer, this may be the one for you! The Remington AC Professional hair dryer definitely lived up to its name by providing elements that would make the pros proud. Featuring a ceramic coating that puts off 90% more negative ions than competing hair dryers, frizz is reduced and a silky finish can be achieved. On top of this, the Remington has an 1875 Watt motor that is perfect for drying hair extremely fast, no matter how thick it is. While all of this may sound too good to be true, it isn't! This is an affordable, high quality product that includes all of the elements you need to truly make your curly hair steal the show (in a good way of course).
What We Love
Affordable
Available in three colors (purple, red, and red with no slip guard)
1875 Watts
Ceramic Coating
Diffuser and Concentrated Nozzle included
3 heat settings + 2 Speed settings
Cool setting option
Hanging loop for easy storage
Dislikes
Overall life of hair dryer tends to be around 3 years
Cord length is a little short
2
JINRI 1875w Professional Salon Hair Dryer
This sleek and sexy hair dryer is perfect for the individual who knows exactly what they want and doesn't care about the cost. While this isn't the most expensive hair dryer listed here today, it definitely is up there on the price range. But, despite that fact, the JINRI Professional Hair Dryer is chock full of amazing features that make it worth its weight in gold. For example, the biggest benefit of this hair dryer is that it's 1875w, meaning that it will dry your hair extremely fast without batting an eye; and with less noise. On top of that, the Iconic housing allows for negative ions to break down the water droplets in your hair, speeding up the process further and calming down any frizz that might want to appear. Tack on the fact that this baby has a 9ft professional cord and accessories (diffuser, concentrated nozzle) included and you have a steal of a deal!
What We Love
1875w
9ft professional cord
Ionic Housing
Less noisy
3 heat settings, 2 speed settings
Cool Setting Button
100-125V
Hanging loop for easy storage
Accessories included (diffuser, concentrated nozzle)
Dislikes
3
Panasonic EH-NA65-K Nanoe Hair Dryer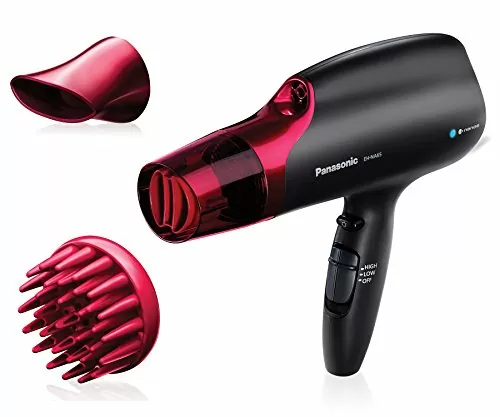 Hold onto your hats, because the Panasonic Nanoe Hair Dryer is ready to blow you away! While this hair dryer is not cheap, it does come with 3 different attachments: a diffuser, a concentrated nozzle, and a dual-flow quick dry nozzle. The Nanoe technology used in this hair dryer pulls moisture away from the air to gently infuse the hair with a little bit of extra moisture. Such a feature could be potentially beneficial to someone that suffers from very dry hair. On top of these already great elements, Panasonic has included 2 speed and 3 temp settings to make sure you have all you need to dry your hair like a pro.
What We Love
Nanoe technology
2 speed settings/3 temp settings
Accessories included (attachments)
9-foot power cord
1875w
Hanging loop for easy storage
Cool air setting
Costly
Heavy
Large handle grip
5
Xtava Double Shine Professional Hair Dryer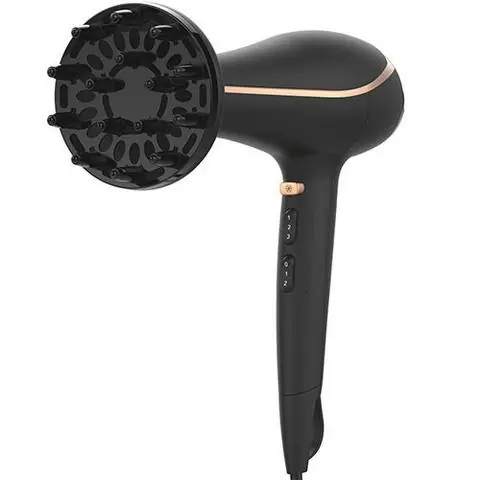 Make like the professionals and get your hands on the xtava Double Shine Professional Hair Dryer. There is no doubt that this dryer has its eyes on the prize and seriously wants to impress the competition with smart features like the Perfect Hair button. This button, marked by a "P", is a turbo speed with medium heat that is perfect for styling without damage. As if that wasn't enough, the xtava is equipped with Ionic housing to help with frizz, a cold shot button for sleek hair, and two nozzle attachments for whichever job you want to accomplish. Finally, this dryer is aesthetically pleasing with a black matte finish and copper detailing.
What We Love
Affordable
Ionic Housing with 2 settings
2 heat settings and 3 speed settings
Perfect hair pre-set button
Cold shot button for sleek hair
1800w
Lightweight
Accessories included (diffuser, concentrated nozzle)
Dislikes
Short cord
Sometimes malfunctions and only blows cold air
6
Conair 1800 Watt Curl Fusion Ionic Ceramic Hair Dryer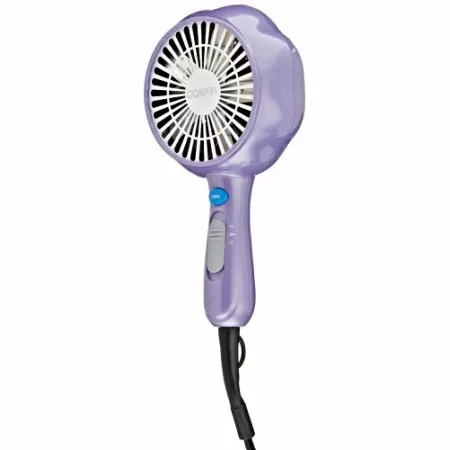 When you first see this hair dryer, it may come over as out of this world! The Conair Curl Fusion Hair Dryer comes in a lovely light violet color, but perhaps the most interesting feature is its circular shape. There is no doubt that this hair dryer is meant to be a statement piece, but on top of that, it also functions quite well for its price. As a lower end hair dryer, Conair has worked to give you an affordable tool that works like a dream. Featuring a ceramic housing, 1800w of power, and 2 heat speed settings, the Curl Fusion has everything that you need to make your curly hair manageable with a unique twist.
What We Love
Affordable
Unique design
Ceramic Housing
1800w
2 heat speed settings
Cool setting button
Accessories included (Diffuser)
Dislikes
Short Cord
No concentrated nozzle can be attached
7
BERTA Professional Hair Dryer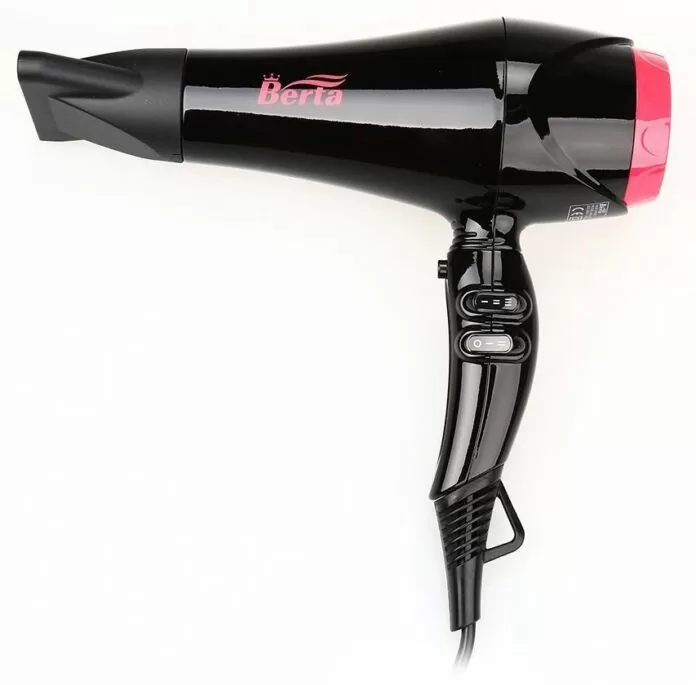 Encased in a lovely rubber black coating, the Berta Professional Hair Dryer not only looks great, but feels great as well. You probably won't want to stop touching its velvety surface, and once you see how well it works for curly hair you may just fall head over heels in love. This hair dryer features 1875w and durable motor that should last you a very long time. Throw in the finishing touches of a nice long cord and an Ionic housing to make this hair dryer one that is well worth the money. Speaking of which, the Berta is a bit pricier than some of our other contenders, however, it does have infrared heat which heats the hair from the inside out for faster drying, so that may make up for it.
What We Love
Rubber coating for non-slip hold
Ionic Housing
1875w
2.65 meter, or about 8ft, long cord
Infrared heating
Concentrated nozzle included
2 speed and 3 heat settings
Cool setting button
Hanging loop for easy storage
Dislikes
On the heavier side
Does not include a diffuser attachment
8
Berta Folding Blow Dryer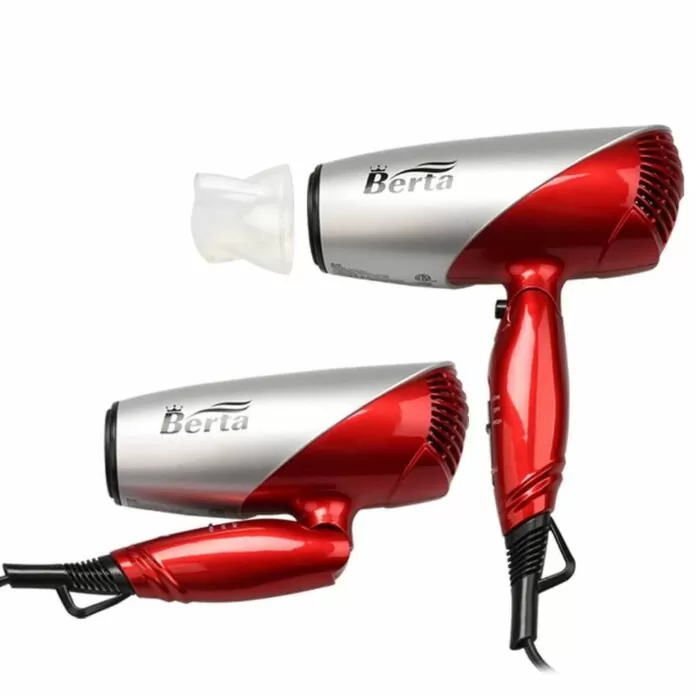 If you are someone who likes to travel often, the Berta Folding Dryer may be the perfect tool for you. This awesome dryer is able to conveniently fold up on itself and is lightweight, weighing in at about 1.5 lbs. While this is the perfect situation, it is important to note that if you travel abroad you will most likely need an adapter for this tool in order to keep the product from burning out. The Folding Blow dryer features tourmaline housing, 1875w, and is accompanied by a concentrated nozzle tool.
What We Love
Affordable
Lightweight
Compact for travel, folds
1875w
Tourmaline housing
2 heat and speed settings
Hanging loop for easy storage
Concentrator nozzle included
Dislikes
Short cord
No diffuser included
9
VAV 1875W Negative Ionic and IR Ceramic DC Hair Dryer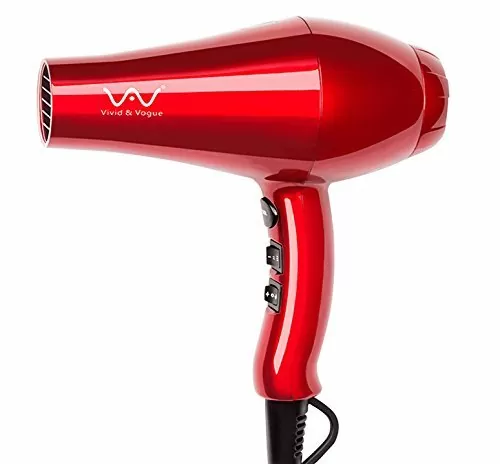 There is no doubt that the VAV Hair Dryer has it going on! With it's gorgeous gloss red design and matte black concentrator nozzle, this dryer has serious modern vibes. Featuring 1875w, Ionic housing, and multiple heat settings, you can be sure that with this tool, your hair will be looking sexy in no time. The only downside is that you'll need an adapter for anything over 125V and the cord is relatively short. Other than that, this is an affordable dryer that has some really great features to offer.
What We Love
Affordable
1875w
Concentrator nozzle included
Ionic housing
2speed and 3 heat settings
Cool setting available
Infrared technology
Hanging loop for easy storage
Lightweight
Dislikes
No diffuser included
Short cord
10
Solano Super Solano 3500 Lite Professional Hair Dryer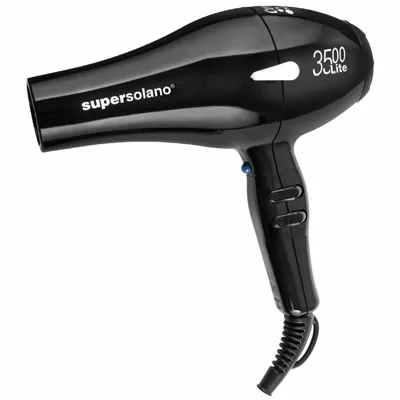 Solano is, without a doubt, a brand that knows what they are doing in the hair grooming business. When it comes to the Super Solano Professional Hair Dryer, they have included 1800watts for quick drying and a Ceramic housing to reduce any frizz. This is one of our lightest reviewed products coming in at just 1 lb. which is perfect for those who don't want to heft around a bulky tool until their hair is dry. Besides the extremely high price tag, the only other downside with this product is that it does not come with any attachments. In this case, you are paying for the brand; which isn't always a bad thing if you don't have too tight of a budget!
What We Love
1800w
Ceramic and Tourmaline Housing
Lightweight
Infrared technology
Quiet
Dislikes
Costly
No Accessories included
No details about the cord length
Wavytalk

Hair Blow Dryer
This hair dryer is perfect for anyone on a budget. The WAVYTALK Hair Dryer includes a diffuser, concentrated nozzle, and a straightening/lifting comb pick to help you style your hair like a professional. It also features 1875w of power with 3 heat setting and 2 speed settings. This will give you plenty of variety depending on your hair type. Through in the fact that this dryer has ceramic housing to help banish any frizz and we have a winner that will make any hair routine complete.
What We Love
Affordable
1875w
Accessories Included (diffuser, concentrator, comb pick)
3 heat/2 speed settings
Ceramic Housing
Quiet Motor
Long Cord
Dislikes
11
Features of the Best Curly Hair Dryers
There are a lot of really great elements that make up a hair dryer, from excellent technology to appealing colors and designs. While each element is extremely important, there are a few that rise above the rest when it comes to determining which hair dryer is best for your individual hair such as the type of hair dryer, the wattage, and the accessories included. Let's take a closer look at what each of those elements is and how they differ slightly depending on the type of curly hair.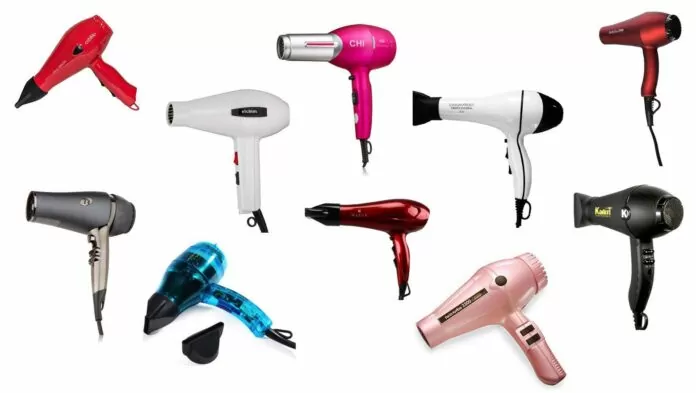 Ionic or Tourmaline: This is in regards to the material used within the housing of the dryer. When Ionic or Tourmaline hair dryers are used, negative ions are released that help to break up the water droplets within your hair. This speeds up the drying process and decreases the chance of frizz after your hair is dry. A hair dryer like this may be perfect for someone who tends to have frizzy hair often.
Porcelain or Ceramic: This is in regards to the material within the hair dryer housing. If you are someone that has dry hair which tends to dehydrate easily, this may be the best choice of hair dryer for you. The reason that porcelain or ceramic is so great for dry hair is because they provide more consistent heat that is less harsh than some other versions. They also put out a few negative ions as well to help with any frizz.
Titanium: This is the material used within the housing of the dryer. If you have a lot of hair on your head, this is most likely the best choice of dryer for you. With titanium dryers, the heat is provided at a steady temperature. This means that it tends to get hot very quickly, making it great for someone who needs a lot of hair dried quickly, but not so great for those with fine or damaged hair.
Wattage
Many people, especially beginners to the grooming world, can tend to overlook the importance of wattage. Wattage simply means a measurement of how fast and hard the motor of something works. It's a rule of thumb that the higher the wattage may be, the faster something goes; meaning, in the case of hair dryers, you can dry your hair much faster. However, this does come with a cost. Higher watt hair dryers will be more expensive than those with a lower wattage.
Weight
This is another area that can be easily overlooked when it comes to purchasing a hair dryer. While weight may not seem very important, in the long run it is. When drying your hair, you have to hold this tool up for a very long time (especially if you have thick, long hair)! So, when looking for a hair dryer, keep in mind your own strength and try to pick a tool that has a weight you can manage for a long period of time. Typically, the most comfortable weight for the average person to hold is around 1 lb.
Accessories Included
Probably what makes curly hair dryers actually work best is the accessories that come with it, aka, the diffuser or concentrator nozzle. If you aren't sure what either of those things do, never fear! We have the explanations for you right here:
Diffuser: This accessory is simply an attachment that can be placed onto your hair dryer nozzle which distributes the hot air in a large area without blowing it around wildly. This is perfect for those who have curly hair because it keeps the curls tame and frizz to a minimum. On top of that, it is detachable so you only have to use it when you want to and can take it off when you don't. To use this tool, you simply scrunch the curls gently in the diffuser as you blow dry.
Concentrator Nozzle: This tool is similar to a diffuser, however, it sends out the air in more of a stream form in order to aid in straightening hair. It will also help to decrease the amount of frizz on the hair after drying. To use this accessory, run a brush through your hair and allow the concentrator nozzle to follow behind in order to encourage the hair to straighten.
13
How to Blow Dry Curly Hair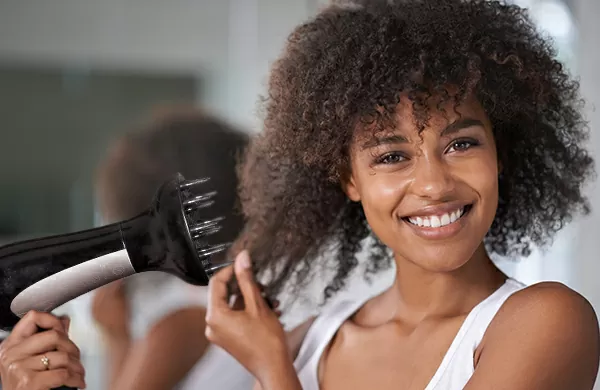 Just like any skill, learning to blow dry curly hair efficiently and free from frizz will take a bit of patience and practice. If you don't get it the first time, don't worry! The more that you do it, the better that you will get. In order to achieve a perfectly tamed and dried head of curly hair, you can follow these three easy steps:
Get Your Hair Prepped: This is a process that you most likely already do on a daily basis! Hop into the shower and scrub-a-dub that hair. After getting your locks nice and clean, you will want to apply a good conditioner to help remove and tangles that might be lurking within your curls. Apply the conditioner about an inch away from your roots as you don't want to interfere with your scalp's natural oils. Allow the conditioner to set, and then rinse with cool water. Rinsing with cool water is actually really great for curly hair and will help to promote sleek curls. After rinsing, gently squeeze the water out of your hair towel dry gently, separating the curls as you go. If you tend to have very frizzy or dry hair, you can use a leave in conditioner to help moisturize the hair.
Time to Blow Dry: Now that your hair is clean and ready to go, it's time to prep your hair drier. If you are wanting to go for naturally curly locks, the attach your diffuser.
Flip your head upside down and, using a warm heat setting (not too hot) begin to drop your hair gently into the diffuser attachment, be sure not to push the hair or scrunch it too hard.
Once the hair is placed in the diffuser lift the hair dryer up until it touches your head. This will begin to dry your roots. You can move the hair dryer in circular motions to help cover more surface area on your scalp. Once the roots feel dry, lower the dryer and repeat in another section. If your head gets tired from being upside down, you can also tilt it to the side as well.
Continue this process until the hair is dry. Try not to hold the diffuser in any one place for too long as that will cause frizz and can damage the hair by over-drying it.
Complete the Look: Once your hair is dry, it's time for styling! Perhaps you just want your natural beautiful curls to run the show. If that is the case, then you are all finished after drying. However, if you want to style the curls further, you may want to get your hands on some hair serum or gel. These products help to define the curls and keep them from getting frizzy. Simply grab a dollop of your favorite hair product and run in gently through your curls section by section. Finally, use a light hair spray if you need to give your hair extra strength through the day, and be sure not to play with your curls too much as that will cause them to pull apart and become fluffy.
14
How to Straighten Curly and Kinky Textured Hair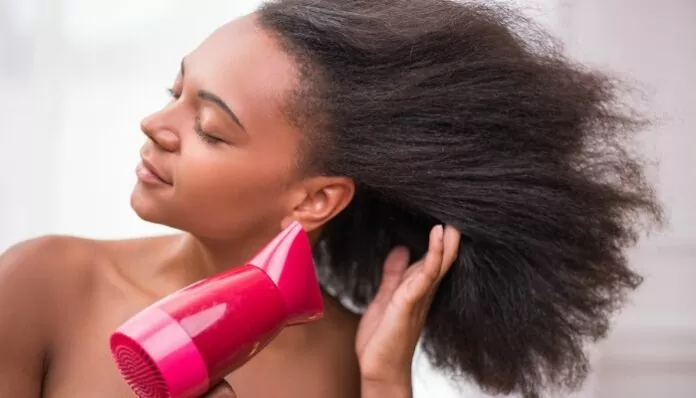 Perhaps you are feeling like tucking the curls away for the day and opt for a sleeker look. No problem! With the correct accessories, you can straighten your curly locks in no time. Following the same prep steps mentioned in the paragraph above, get your hair nice and clean. After that, the process is fairly simple and can be achieved using a concentrated nozzle.
After the nozzle is attached, take a brush and begin to run it through a section of your hair trailing after it with the concentrator nozzle. If you have thick hair, it may be a good idea to section off the hair in order to dry it more efficiently.
Continue to dry each section of your hair in this fashion until all of your hair is dry. Using a cooler setting towards the end can help to reduce frizz and produce a sleek look to the hair.
A light hairspray or even a wax may be needed to style the hair further. Simply spray, smooth, and go!
15
Things to Consider When Buying a Curly Hair Dryer
Now that you have some idea of what these amazing hair dryers can do in different situations, let's consider a few things you should know before going out and buying one.
Higher Price Tag=Higher Wattage
A lower cost can still get you great quality
Good accessories help get the job done
Reviews are key
Whether or not you are looking for a low budget or a high budget dryer, remember that quality is extremely important. Even if you are unable to purchase a dryer that is top of the line, you can still find a cheaper dryer that has excellent reviews and reliable functionality. Pay attention to what people have to say about the product when buying online. More often than not, there are quite a few individuals that review a product really well and can help you to decide whether or not it is worth your money. If you can get a tool that is within your price range and gets the job done well, then you are good to go!