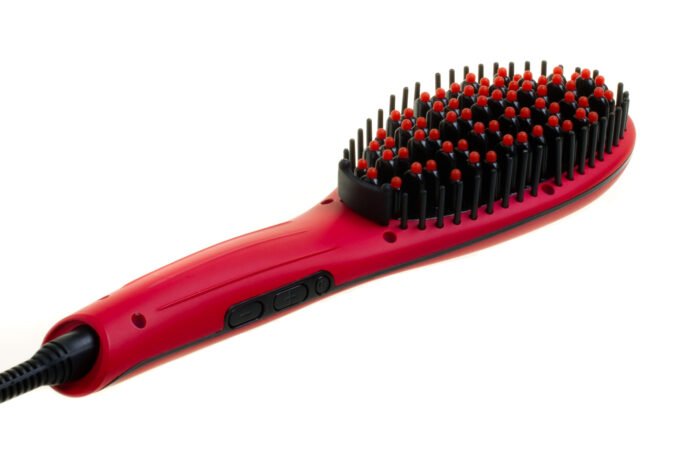 Best Hair Straightening Brushes On the Market
Looking for a brush that straightens hair? Whether you have curly hair, wavy hair, or out-of-line straight hair, a hair straightening brush can get you that smooth and glossy finish and help you achieve that perfectly groomed look. Of course, when it comes to your hair, it is important to choose a product that will treat each strand kindly. Because of this, we rounded up the best brush straighteners available.
Best Hair Brush Straightener Reviews
1
AsaVea Rose Gold Hair Straightener Brush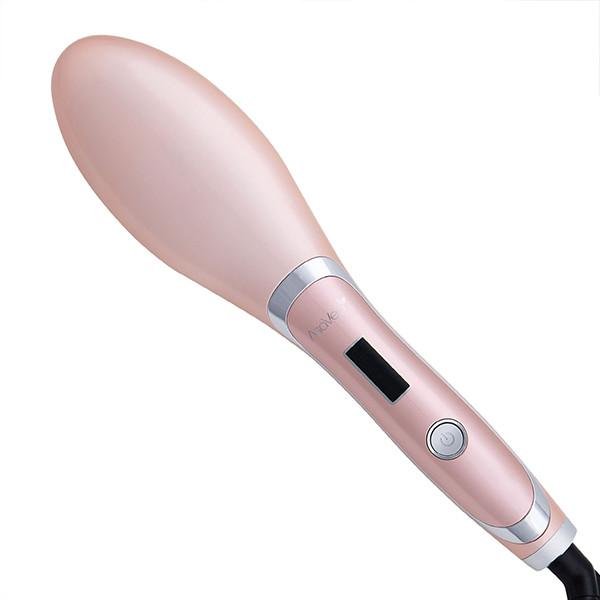 If you are looking for a brush that straightens hair and can do it all, then the AsaVea Rose Gold Brush is a product you will want to get a hold of. There is no doubt that although this brush is pricey, it is well worth its weight in gold. With a wide range of temperature adjustments (going from 330F to 450F) this tool is perfect for all kinds of different hair types. Even better, because of the universal voltage system used in the AsaVea, you can reap the benefits of this amazing brush no matter where you are in the world! On top of this, even though the brush may seem like all the others on the market, the body is actually created from a patented plastic design that prevents the user's hands from being burned; therefore, you don't need to worry about wearing any gloves while using this product.
Even though all of these features are pretty fantastic, there is one that stands above them all. When using a straightener brush, it is possible to constantly turn the tool off accidently by hitting the buttons on the handle. But, with the AsaVea brush, you no longer have to worry about that with the temperature auto lock. Simply press the button once and your brush will remain at the desired temperature (shown on the LED screen) until you decide to turn it off by pressing the on/off button two times. In order to get the best results, be sure to completely dry and brush your hair prior to using any straightener brush. This will ensure you get the best straighten possible!
What We Love
MCH (Metal Ceramic Heater) Technology
Universal Voltage (110V-240V)
Temperature Auto Lock
Quickly heats up to 450F
LED Display
Anti-Scald Design
What We Dislike
Complaints about quick malfunction
2
BearMoo Brush Straightener
Sometimes expensive isn't always the best. We know that discovering a great product at an affordable price can be daunting, which is why we have done the work for you! With the BearMoo Ceramic Straightener, you will be receiving a product that gets the job done without breaking bank. This quality brush ensures an end result you will love by releasing negative ions that would otherwise cause your hair to become frizzy. Because of this technology, your hair will not only be sleek and straight, but healthy as well!
Normal straighteners can take a long time to heat up and get the job done, but because of a brush straightener's MCH (Metal Ceramic Heater) the tool gets hot in about a minute and allows you to get the job of straightening your hair done in the blink of an eye. While this brush has a lot of great qualities that are similar to its costlier counterparts, let's take a look at what makes this budget brush so great:

What We Love
What We Love
Affordable
Heated Ceramic Bristles, anti-scald
Square head for more coverage
Auto-turn off after 60 seconds
7 different heat settings
12-month warranty
This brush has an amazing amount of positive qualities that make it the perfect choice for those ladies on a budget. However, when considering a purchase, it is always wise to take a look at the downsides of a product. Here are a few things to watch out for when considering the BearMoo Straightener:
What We Dislike
Does not work with 220V, you will need an adapter
Makes a slight hissing sound when being used
3
AsaVea Portable Electric Hair Straightening Brush 3.0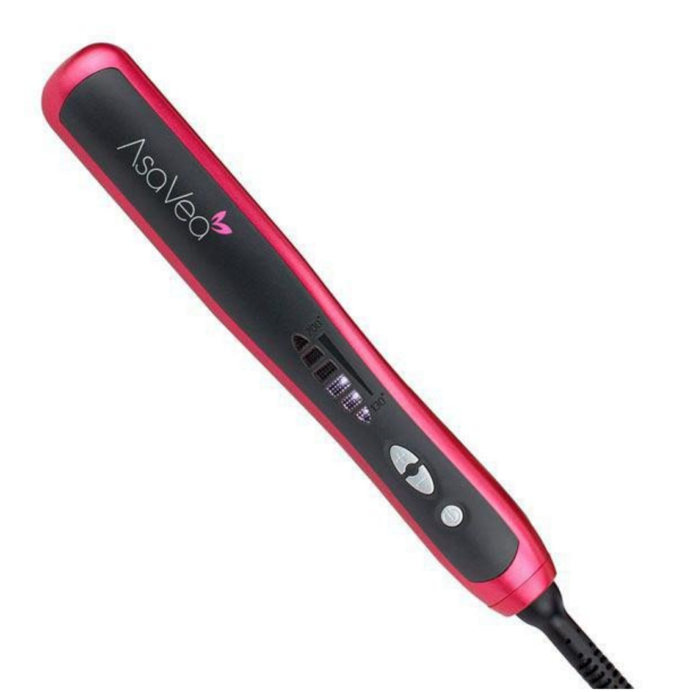 Traveling around the country is serious business, and a girl always needs to look her best. That's why the AsaVea Portable Hair Straightening Brush is a must have! This sleek and modern tool comes in a sexy red and black color design that truly catches the eye. On top of this, the next generation design ensures that you won't burn yourself while you use the straightener. While some of our other reviewed products have been fantastic for even the toughest strands of hair, the AsaVea Portable brush heats up to 365F; meaning that while it is still powerful, this brush may be better suited for those with easy to tame hair. If you are looking for a heavier duty brush, look for one that goes up to 450F, such as the MicroPure listed below.
Because this tool is small and slim, it is the perfect size for throwing in an overnight bag when traveling. Don't let the small size fool you either! The AsaVea Portable brush works with 110V, heating up its ceramic pieces in less than 60 seconds. You won't need to worry about unruly hair with this tool in your beauty arsenal.
What We Love
Affordable
23 ceramic pieces for quick heating
Anti-scald technology
Portable Size
Auto Shut Off
360 Degree Rotation Wire
What We Dislike
Heats up to only 365F instead of 450F
Smaller surface area means it will take a bit longer to straighten all the hair
Will need a converter if traveling outside of the US
4
MiroPure 2 in 1 Ionic Hair Straightener Brush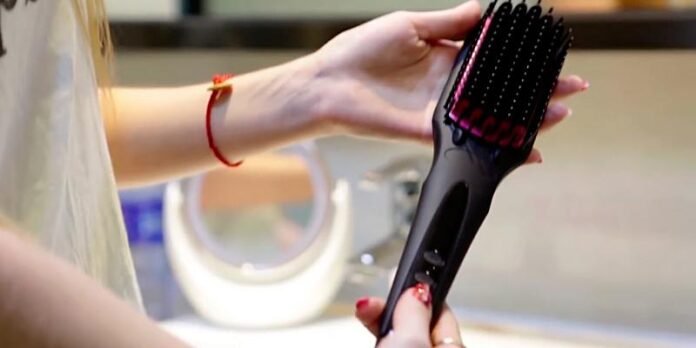 As the runner-up for the best brush on the market, it comes as no surprise that the MicroPure 2 in 1 Hair straightener is definitely a must see. Complete with 16 heat settings and anti-static technology, this tool may cause you to forget the life of regular straightening routines forever. Besides the 16 heat settings that go up to 450F, the MicroPure brush also has an automatic heat locking system that prevents you from accidentally turning off your brush by bumping a button while in use. The professional Nano comb is fit for all hair types, giving you more control over your style all while helping to tame those pesky fly-aways and frizzy strands.
With MCH (Metal Ceramic Heating) and the wide range of heat settings, you will be getting a steal of a deal with this brush. It is affordable and is sure to impress with its compact Nano comb and styling capabilities. When you purchase the MicroPure 2 in 1 straightener, you will also receive a free heat protectant glove as well as a convenient carrying pouch for your tool.
What We Love
High Density Nano Comb brush for curly hair
16 Heat Settings up to 450F
Complimentary heat protectant glove
360 days no questions asked, money back guarantee
Anti-static technology
Metal Ceramic Heating
What We Dislike
Needs a converter for 220V
5
USpicy Hair Straightener Brush
Spice up your life with the USpicy Hair Straightener Brush. This budget friendly brush has an intricate pattern of teeth that allows for maximum coverage and contact with each strand of hair. The varying sizes of each one of the comb teeth ensure that all types of hair can achieve the desired straight look. The USpicy brush has a temperature range of 250-450F and can be locked into your favorite setting for a quick and efficient straightening routine. Whether you are a well-seasoned veteran at hair styling or a newbie who's learning the ropes, this brush may be perfect for you. One really great feature is the LED screen and overall sleek, modern look of this brush. The matte black finish detailed with a subtle nude outline minimizes the amount of smudges left behind. By purchasing this inexpensive tool, you can save so much time and money by styling your hair at home.
Some people may find using electric hair straightening brushes a bit difficult at first, but if the instructions are followed carefully, you may find this technique saves you so much time and energy! This brush is no exception and becomes heated in less than a minute, getting you well on your way to styling your hair.
What We Love
Affordable
7 Heat settings, up to 450F
Auto-temp lock
Free Heat Protectant Glove
Anti-Scald Technology
MCH Plates
Good for all hair types
What We Dislike
LED Screen may malfunction
A bit heavy
Multiple passes to straighten
6
MagicTec Ceramic Heating Straightening Iron
This angelic hair straightener is bound to whisk you away on cloud 9. The Magictec brush is an all-white straightener with gold detailing. Besides the appealing aesthetics, it also features a built-in comb that is designed to massage the scalp while straightening. How nice does that sound? Even if this extremely affordable brush doesn't rub you the right way, you can always return it thanks to the 100% satisfaction warranty. Fortunately, although it is easy to return this tool, you most likely won't want to considering this brush is affordable, functional, and elegant. Just like any product though, there are a few downsides. Such as the Magictec, while affordable, only works with 110V so you will need to use an adapter in order to use it outside of the US. Other than that this product is fantastic quality for its price!
If you are on the search for an affordable, no funny business hair straightener than this may be the one for you. MagicTec has 3 heat settings, 390F, 410F, and 430F. Therefore, it is a great tool for any hair type; curly, wavy, course, straight, or fine. While this is a great brush for those with longer hair, a more squared off brush would be best for those with short hair.
What We Love
Affordable
LED Screen
Free of Parabens and Chemicals
Auto-locking feature
3 Heat Settings
Automatic Shut Off
100% Satisfaction Warranty
Built in comb for head massage
What We Dislike
Doesn't mention a MCH Technology
Less surface area means more passes over the hair
Bulky
7
Head Kandy Straightening Brush 2.0 (Teal)
This teal, square headed brush may be perfect for those ladies who are rocking short hair. Although Head Kandy 2.0 is definitely one of the higher priced items on this list, we have nothing but good things to say about this product. Let's start with the packaging. When your product arrives it will be snug inside a gorgeous teal box, complete with gold lettering. The function is top notch by offering Tourmaline infused ceramic plates that help to create silky and shiny hair without too much effort. For those who don't know, Tourmaline is a semi-precious stone, which is one reason why Head Kandy 2.0 is a high priced straightener. On top of this, the bristles are streamlined in order to reduce snagging and the brush incorporates an anti-scald technology in order to ensure that you can get close to your scalp without too much worry of burns. This brush may be perfect for those who want high quality and don't need to concern themselves with a budget.
For people with extremely curly hair, this brush may help to decrease the amount of time it takes you to straighten your mane. Simply remember to use long strokes and separate your hair into sections for best results. Those with wavy hair may be able to straighten their hair just by brushing like a regular brush! The Head Kandy 2.0 straightener is definitely top of the market for a reason; but if the price concerns you, check out the AsaVea Rose Gold Straightener mentioned above.
What We Love
No rubber tips
Works with 110V-240V
Tourmaline infused ceramic
Anti-scald
Anti-snag
Max heat of 450F
Temperature Lock
What We Dislike
International adapter needed
No LED Screen
Expensive
No automatic turn off feature
8
Revlon Perfect Heat 2" Brush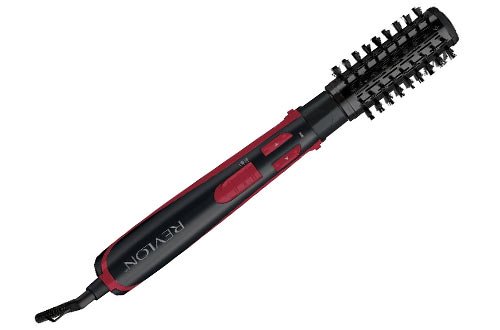 You can never go wrong with Tourmaline plates in an electric hair straightening brush and Revlon knows that. With their Perfect Heat 2" Brush, you will be receiving a product that has a multi-directional rotation head packed with 900 watts of Ceramic Tourmaline technology. Thanks to this innovative design, you can rotate the brush both forwards and backwards in order to reach your desired sleek and smooth look. On top of that fact, the Revlon brush features 2 heat settings that are the perfect amount of heat for not only straightening your hair but drying it as well! This is an amazing feature, considering that most hair straightening brushes are recommended to be used on dry hair only. But thanks to Revlon's tangle-free bristles and 2 button technology, the option of drying your hair with hot air is available.
If you are looking for a hair straightening brush that also doubles as a hair drier, this may be the perfect brush for you. A couple of downsides are that the brush is only compatible with 120V, so you will need a converter for anything higher than that or when traveling outside of the US. Also, while this is meant to dry wet hair, it will work best with slightly damp hair so keep that in mind before use.
What We Love
AffordableTourmaline Technology
Tourmaline TechnologyMultidirectional Rotating Head
Multidirectional Rotating HeadHair Drying Feature
Hair Drying Feature
Cool setting
What We Dislike
Only compatible with 120V
9
ACEVIVI 2 in 1 Ionic Electric Hair Straightening Brush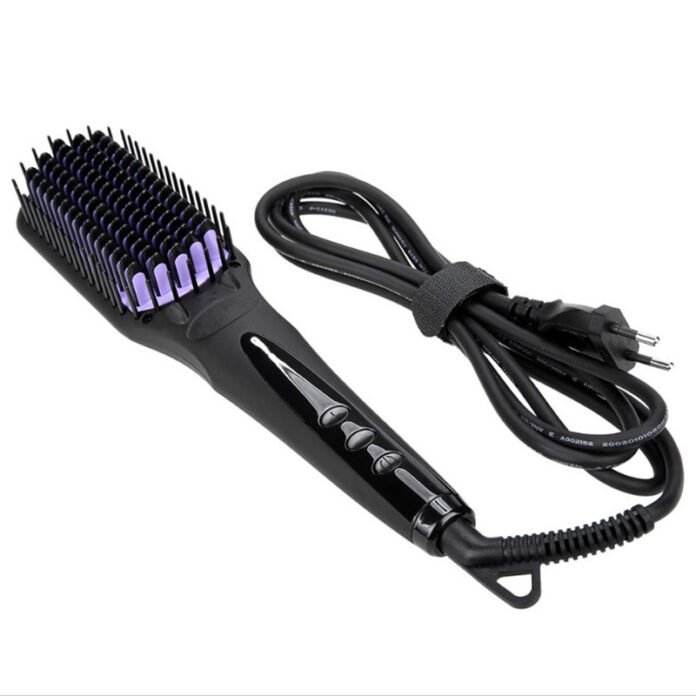 Last, but certainly not least, the ACEVIVI 2 in 1 straightener is a top notch straightener of medium cost. Because it is not overly expensive and still budget friendly, this straightener was actually a runner up to the BearMoo product mentioned above. Aesthetically pleasing with a gloss black and purple combination, this brush is full of surprises. The Nanometer teeth distribute the anions while in use in order to reduce any damage to the hair. Even though this product takes a little bit longer to heat up than some of its competitors, it can reach up to 450F without any problem at all. The only real bummer about this product is that it uses PTC plates instead of MCH (Metal Ceramic Heating), which is why it takes longer to heat up. Despite this fact, if you purchase this brush you will be receiving a great product that features temperature lock, automatic shut off, rotating cord, and 100% satisfaction guarantee.
Even though this product is lacking in a few areas, the positives outweigh the negatives. If you are looking for a good medium level brush that can help you achieve a sleek and polished style, then the ACEVIVI 2 in 1 may be the perfect tool for you.
What We Love
Affordable
Heats up to 450F
Rotating power cord
Automatic turn off
Temperature lock
Nano comb technology
What We Dislike
PTC plates
Slower heat up time
Only works with 120V
10
How to Choose an Electric Hair Straightening Brush Based On Your Hair Type
Whether you are a beginner at hair styling or a pro, picking the right product based on your hair type can be challenging. Read the topics down below to get a better understanding about which straighteners may be best for your hair and why.
Straightening Hair Brush For Curly Hair
Full of life and bouncy curls, this hair type can be a handful to tame. When choosing a product for your luscious mane, you will want to focus primarily on the maximum heat your tool can achieve. Curly hair tends to need a higher temperature, around 450F, in order to straighten your hair in a minimum amount of passes. Always be sure to use a heat protectant spray on your locks in order to keep them safe. A couple of the previously mentioned products that may be perfect for curly hair is:
Straightening Hair Brush For Wavy Hair
Unlike curly, even though this free hair type has some movement, you may not need as high of a heat setting to calm the waves down. This, of course, will vary on each individual's hair. Thicker hair typically takes more passes and a higher temperature to straighten, while thinner hair may not be as needy. Just like with curly hair, be sure to completely dry and brush your hair before using this tool as well as apply a heat protectant spray to your wavy strands. Here are some suggestions for which tool might be perfect for you:
Straightening Hair Brush For Course Hair
When it comes to course hair, you want a straightener that means business. Higher heat settings and a wider surface area will help to tame your mane in no time. Refer to the sections up above if you have curly or wavy course hair. Any of the products reviewed here may be perfect for you, but here are a couple of suggestions that may help narrow the selection down:
Straightening Hair Brush For Fine hair
You will want to be gentle when dealing with fine hair. There is no reason to say your hair can't handle the heat, but unlike course hair, you won't have to use as high of a setting to tame your locks. This is a benefit because you can get away with purchasing a slightly cheaper tool that will give you the same great look! Be sure to always use a heat protectant spray in order to protect your hair from the heat. Here are a few suggestions for fine hair:
Revlon Perfect Heat
USpicy
Straightening Hair Brush For Natural Hair
This hair type can use any number of different products. Heat range will depend entirely on the user's preference; as natural hair can lean either towards more fine or more course. Regardless of what temperature setting you decide to use, always be sure to spray your hair with some heat protectant in order to prevent any damage from occurring. Check out these straighteners that may be perfect for your natural hair:
ACEVIVI 2 in 1
AsaVea Portable
Short vs. Long Hair
Depending on the length of your hair, you will either want to purchase a round brush or a flat brush. Flat brushes (Head Kandy) tend to work best for those with shorter hair, while the rounded/circular brushes (Revlon Perfect Heat) may be better for long hair.
11
How to Use a Hair Straightening Brush
Dry and brush your hair with a regular brush
Apply heat protectant, either a spray or coconut oil
Section your hair into manageable parts and be sure to deeply pull the strands into the brush for maximum contact
Brush slowly downward in a pulling motion. Do not go too fast in order to get as much contact as possible with the bristles.
12
Things to Look for When Purchasing an Electric Hair Straightening Brush
MCH (Metal Ceramic Heating) Plates
Anti-scalding Bristles
Nylon or ball-tipped heads
120-240V
Multiple Heat Settings
Automatic Locking System
Auto Shut-off
Money Back Guarantee/Warranty
13
Things to Avoid When Purchasing an Electric Hair Straightening Brush
Incorrect shape for your hair (see above)
Uncomfortable handle
Heavy Structure
Plastic Bristle Heads
14
What to Consider Before Buying a Hair Straightening Brush
So now that you've decided to join the hair brush straightener craze, you need to decide what traits you want your tool to possess. Think about these few questions when looking into different hair straightening products:
These elements are important because they will help you to determine exactly which tool you need. If you have a low budget but want something with good quality, you may want to look into something like the BearMoo Straightener. Consider your hair type and think about what style of brush you need for your individual hair. As mentioned earlier, short hair tends to do better with a flat head brush, while longer hair may be tamed more efficiently with a round head.
Besides the actual structure of the brush itself, whenever you purchase something online it is always a wise choice to read the reviews about. While most people are open and honest with their reviews, describing the product and what they did or did not like about it, there are always some people who are willing to do dishonest things to better themselves. Some companies will bribe customers by offering a free product in return for a five-star review on Amazon; beware of these products! It is very difficult to determine which of the reviewed items may actually be worth spending your money on. If you notice that a product has practically no negative reviews, you may want to reconsider purchasing it. This is because there will always be someone who dislikes a product, no matter how good it may be. So, be a smart shopper and you'll never be duped by these phony Amazon reviews. Once you go over these very important items on what to consider, you will be on your way to finding the perfect straightener for you!
15
Buying a Brush That Straightens Hair – Our Conclusion
Overall, when it comes to choosing hair products, you ultimately want to do what makes you happy! Pick a product that best fits your budget and needs, and you can't go wrong. No matter what your budget is, some of the best affordable straighteners would be the BearMoo, Magictec, and the USpicy straighteners. Always keep in mind that regardless of what your hair type may be, taking steps to protect your luscious locks from intense heat is always a smart move. There are some really great heat protectant sprays on the market, so be sure to check them out and give your hair some love!