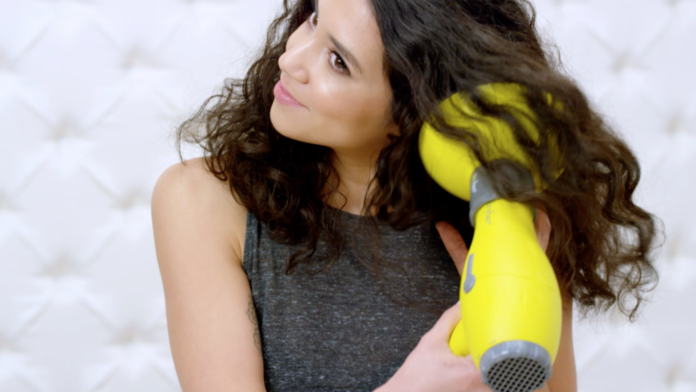 10 Best Hair Dryer Diffusers for Curly Hair
Is your hair the wild and glorious equivalent to that of Merida from Disney's Brave? Or perhaps you keep your luscious locks well tamed and composed like the newest Disney star, Moana. No matter what your hair may look like, there definitely comes a time in any curly girl's life where you will need a hair diffuser. If you are at that point and have decided to start treating your curls right, congrats! We are so excited to help you discover all of the details about diffusers and how they work. First, let's dive into the top 10 best diffusers you can buy on Amazon. You will discover which diffusers disperse heat best, are the best quality for the price, and have a shape that is perfect for styling your hair. So let's get started!
Best Blow Dryer Diffuser Reviews
1
Hair Dryer Diffuser Attachment by Segbeauty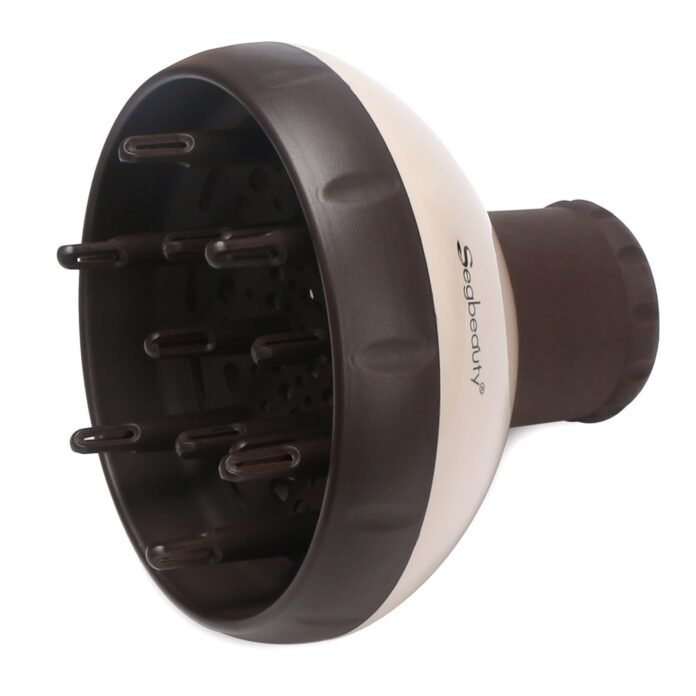 This gorgeous diffuser will not only look great on your hair dryer, but it also gets the job done perfectly! The Segabeauty Hair Dryer Diffuser is available in a number of different colors such as Ivory, Black, Transparent Purple, and a compact black folding diffuser. What makes this tool worth the price is the fact that it uses advanced ionic Nano titanium technology that dries the hair without creating a lot of frizz. And to top it all off, the Segabeauty diffuser is made from high quality, heat resistant material that will remain stable over high temperatures without releasing any unwanted toxins. While this is not a universal model, it does fit a wide variety of different sized hair dryers and the high-quality material makes this diffuser well worth your consideration.
What We Love
Nano ionic technology
Heat resistant material
Multiple color options
114 air outlets for faster, even drying
Longer hair
Dislikes
2
Hairizone Universal Hair Diffuser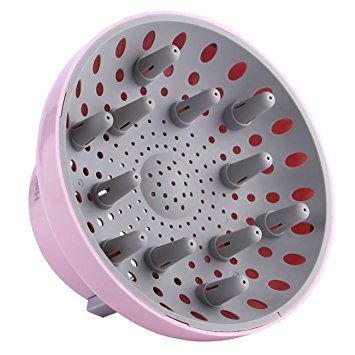 Hold onto your hats, because the Harizone Universal Hair Diffuser is about to blow you away! Although this diffuser has a slightly more expensive price tag than a few of our other options, don't let that stop you from checking it out. This diffuser has lockable buttons and a streamlined design that will lessen your hair drying time immensely, all while protecting it from unnecessary frizz. True to its name, this universal hair diffuser can fit hair dryer nozzles measuring 1.7" -2.6" and can be adapted to over 90% hair dryer designs on the market.
What We Love
Universal
High-quality material (eco-friendly)
Lockable buttons
Comes with a free nail clipper
Dislikes
May need to be adjusted often on the hair dryer
3
Solano Universal Finger Softstyler Diffuser
If you are looking for a diffuser that has a gentle touch, the Solano Universal Finger Softstylerr may be the one for you. This diffuser is a large cup that has unique finger extensions designed to create softness, enhanced volume, and great styling ability for your hair. Made in Italy, the Solano diffuser is a high-quality tool that dries hair quickly and efficiently without creating frizz or static. The size of this diffuser is best for those that have longer hair and will fit more professional dryers.
What We Love
Universal
Gentle finger extensions for softer styling
High-quality material
Attaches firmly to the dryer without falling off
Dislikes
4
The Curly Co. Collapsible Hair Diffuser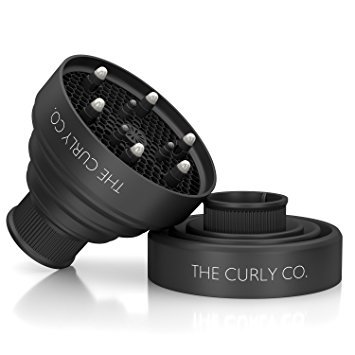 This diffuser is perfect for the lovely lady who loves to travel. The Curly Co. Collapsible Diffuser is made out of silicone that is able to fold in on itself; compacting into a small disc. Even if you don't like to travel, this is a great feature for saving more space in your bathroom drawers! The diffuser is lightweight, efficient, and will fit on most hair dryers although it is not universal (connection diameter: 2.25″ and diffuser diameter: 5.25). Just remember that this diffuser will not do well with high heat, as the silicone can melt and become deformed. The collapsible diffusers are best for those who enjoy using lower heat settings when styling their hair; larger diffuser should work well with any hair type.
What We Love
Affordable
Collapsible
Works with all hair types
Fits most hair dryer sizes
Dislikes
Silicone may become deformed if used with high heat
5
Turbo Power Universal Diffuser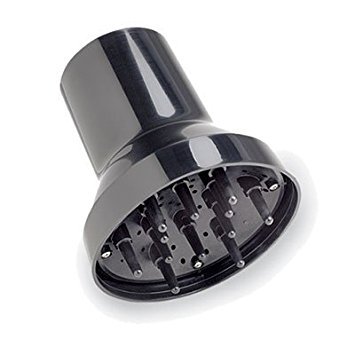 Made in Italy, the Turbo Power Universal Diffuser is a great choice for someone on a budget. While it may not be the most expensive item on the market, it does still perform well by volumizing hair and is equipped with a spring fastening system that is designed to securely attach the diffuser to the hair dryer without falling off. Since this is a larger diffuser, the Turbo Power Universal would be best for those who have and medium/long hair. The only downside to this product is that the name is slightly misleading. This "universal" diffuser isn't actually universal, as it does not fit the 3500 models. However, it is still a great beginner tool for anyone who doesn't want to spend too much money on a diffuser.
What We Love
Affordable
Spring Fastening System
Medium/long length hair
Dislikes
Not Universal
Spring system may stretch out over time
6
Xtava Black Orchid Large Hair Diffuser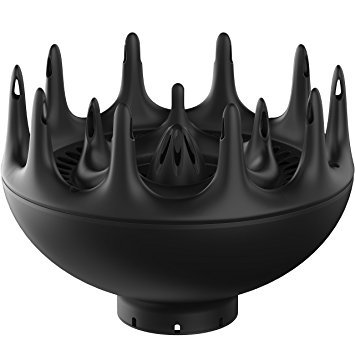 This 3D multi-prong hair diffuser is the long haired curly girl's dream. Thanks to Xtava's design, your hair can settle deeply into the diffuser and be dried efficiently by an even 360 degree dispersed air-flow. If you have thick hair, this diffuser will have it dried in no time! Although it isn't universal, the Xtava Black Orchid Large Hair Diffuser has a 6" circumference hair dryer barrel and is also compatible with the Verona, Xtava Pro and Peony hair dryers. This diffuser is affordable and means business; we are sure you won't be sorry you tried it out!
What We Love
Affordable
3D Large Cup
Great for thick/long hair
6" circumference hair dryer barrel
High quality material
Dislikes
7
BaBylissPRO Nano Titanium Universal Finger Diffuser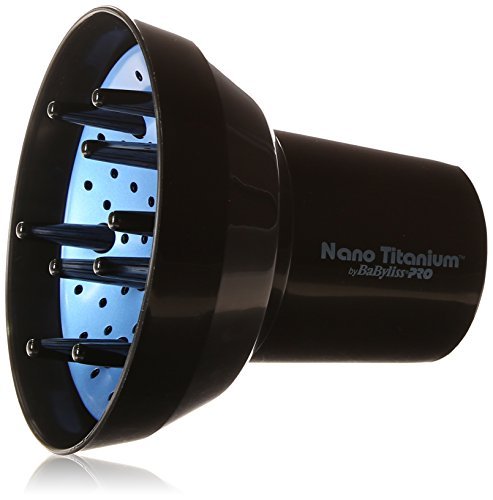 If the beautiful blue accents don't steal your heart, then the performance of the BaByliss Pro Nano Titanium Finger Diffuser will. This universal diffuser lifts the hair gently while far-infrared technology dries it quickly. This method reduces the amount of frizz and softens the curls beautifully! Don't worry about the length of hair you have, as this diffuser is a great size for any hair type. The only downside to this product is that the "universal" title seems to apply just to BaByliss hair dryers. Besides that, this diffuser works and is affordable.
What We Love
Affordable
Great for any hair type
Far-infrared technology
Nano titanium material
Dislikes
Not universal for all hair dryers
While you may be wondering if a sock actually does anything to diffuse your hair, we can tell you that the Hot Sock Diffuser really does a wonderful job! This diffuser is perfect for those who have a very delicate curl pattern that they would like to keep intact. It is perfect for traveling or stowing away in a drawer without clutter and fits practically any size hair dryer out there. If you are looking for something new, affordable, and genuinely effective, you may love a sock diffuser! When you purchase this specific hot sock, you get 2 in your order, which is a total steal of a deal for the price.
What We Love
Affordable
2 hot socks included in purchase
Great for all hair types
Fits virtually any size hair dryer
Compact for traveling
Dislikes
May have a slight odor while using
9
HairDay Care Collapsible Hair Dryer Diffuser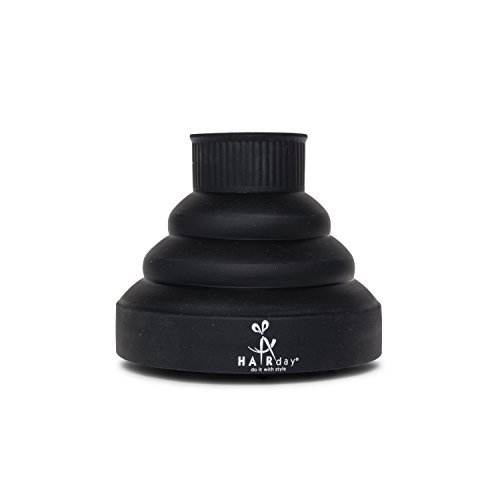 There is no doubt that the HairDay Care Collapsible Diffuser is great for those gals who love convenience. Although it can't be used on high heat, this silicone diffuser is perfect for throwing in an overnight bag or backpack on a weekend trip or vacation! It has a user-friendly slip on design that will fit most 2" hair dryer nozzles and if you aren't totally satisfied with your purchase, the company has a 100% money back guarantee with no questions asked. So give it a shot!
What We Love
Affordable
Collapsible
Fits most 2" nozzles
Money back guarantee
Dislikes
10
Ionic Nylon Mesh Diffuser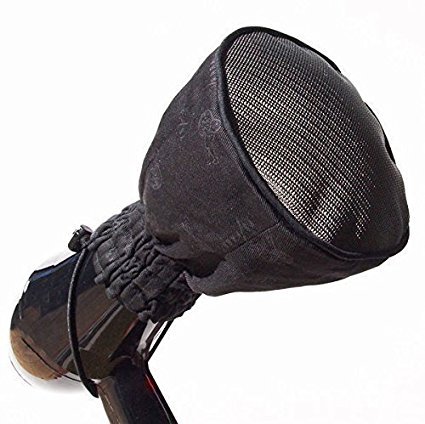 Available in either a 1 or 2 pack purchase, the Ionic Nylon Mesh Diffuser is quite the interesting contraption. It is designed to fit most hair dryers with a pull string that cinches the opening onto the nozzle of the hair dryer. Such a feature is quite convenient for those who just want a quick hair dry without all of the hassle! This compact and affordable diffuser hair dryer is really easy to use; simply slip onto the nozzle of the hair dryer and tighten the string. The diffuser will fill up with air and diffuse it gently out of the top in order to dry your hair. While this may seem like a cheaper product, it is well made with stretchy and durable fabric that will last for quite a long time with proper care. If you are looking for an easy, lightweight, and compact diffuser just to give your curly locks a bit of a boost, this may be the perfect tool for you!
What We Love
Affordable
Lightweight
Fits most hair dryer nozzles
Durable material
Works for all hair types
Dislikes
No instructions included
Odor may be present when in use
11
What is a Diffuser ANd What Does A Diffuser Do?
While a diffuser may look like some strange kind of claw-like tool for snagging your hair, it is actually a lot less intimidating than that! A diffuser is an attachment for a hair dryer that is designed with the purpose of streamlining airflow and spreading it over a larger surface area of hair. This tool is perfect for curly hair because the dispersed air helps to dry the hair thoroughly without disturbing its natural wave or curl; this then results in less frizz. When styling curly hair, this is a must have tool! It makes drying your hair a pleasure as opposed to a chore. There are a few different styles of diffuser; such as flat, mitted, and finger diffuser. Each of them has different benefits to offer the hair and we will cover each of them in more detail later on!
12
How to Use a Diffuser on Curly Hair
Using a diffuser is not difficult to do at all, and the results are definitely worth your time. While it may take a little bit of practice to master laying your hair into the diffuser correctly, once you have the method down, you will wonder how you ever survived without this tool! Here are the steps to using a diffuser attachment on curly hair:
Wash Your Hair: Using your regular shampoo and conditioner, thoroughly wash your hair in warm water. Because styling your hair with heat can be harsh on your hair, be sure to really focus on the conditioning process. Leave your conditioner in for at least 3 minutes before you wash it out in order to allow your hair extra time to soak in all the moisture. Then, rinse thoroughly with cool water.
Flip that Hair Upside Down: After washing your hair, flip your head upside down and use your fingers to shake your hair around. This will aid your hair in falling into its most natural curls and waves. You can also run some moose or styling product into your hair as well, being sure to use a gentle scrunching action on your hair. Flip your head right-side up again and finish scrunching the product through your hair.
Time to Diffuse: Now that your hair has been loosely shaped and product applied, it's time to break out that awesome diffuser. Attach the diffuser to your hair dryer and begin to diffuser by placing sections of hair into the part with the knobs. Slowly move the diffuser up towards the scalp and move in circular motions against the skull. This will dry the hair all the way to the root. Gently drop the hair by lowering the diffuser and move on to a new section until the whole head is mostly dry.
Stop at About 80%: Allowing some of your hair to dry naturally is a great way to keep it healthy as well as adding some natural volume. Stop drying your hair with the diffuser when it is about 80% dry and allow air to do the rest.
Styling: You can use a hair serum or mousse at this point if you would like to style your hair further. Your hair should be naturally bouncy and free, so don't weigh it down with too much product! Once you find a style that you like, you are ready to go.
13
Choosing the Right Diffuser Hair Dryer
No matter what kind of style you want for your hair, there is a diffuser shape to get the job done! While it may seem that just one style of diffuser would be enough to style curly hair, you may be surprised to see just how many different designs there are; and they all help to fulfill a different need. Let's take a look at the most popular types of diffusers and what they have to offer!
Cup Hair Diffuser
This style is the most common of all the hair diffuser shapes; also the most popular. Its popularity is for good reason, considering it is easy to use, a breeze to find in a store, and disperses air well in order to reduce frizz. You can't go wrong with the cup diffuser!
3D Prong Hair Diffuser
While this particular design is similar to that of the regular cup diffuser, the 3D Prong diffuser is better for those with longer hair. This is due to the fact that the high prongs and deeper bowl of this diffuser allow for more surface area and width; meaning, if you have long and thick hair, this is the diffuser for you!
Hand Diffuser Hair
This may be one odd looking tool, but it does a great job at styling your hair; with a unique twist! If you don't want a whole lot of body to your curls, and would rather a lengthening effect, this hand diffuser will be your new best friend. You just work down from the roots while gently stretching out the ends. The end result is beautiful length with frizz-free shine.
Collapsible Diffuser Hair
If you are the type of girl who travels a lot or gets excited by the idea of compact products, then you will love the collapsible diffuser. These specific diffusers are typically made of silicone material and can stretch out to a full-size diffuser or stay in a compact disk. Keep in mind, however, that this material can melt; so this type of diffuser is best for those gals who like how heat for just an extra boost to their hair.
Sock Diffuser Hair
While this diffuser isn't all about the volume, it is perfect for those ladies with delicate curls. If you have a curl pattern that you don't want to be disturbed by prongs or scrunching, the sock diffuser may be perfect for you. It is soft, compact, and does an amazing job at preventing frizz!
Compact Diffuser
If you don't like the hassle of large blow dryers attached to a diffuser, then the compact diffuser is a dream come true. This tool may be small, but it is still powerful and is well-known for being capable of styling thick, medium-length curls with ease.
14
Things to Look for/Avoid When Shopping For A Hair Diffuser
Quality Material: Since your diffuser will be constantly exposed to heat, it is very important to find one that is made of a high quality plastic or fabric (sock diffuser) that will be able to withstand whatever amount of heat you subject it to. Try to avoid products made of thin plastic that will melt under high heat exposure.
Universal Attachment: We can imagine that you aren't going to want to buy multiple different hair dryers to fit your different diffusers. That's why it is important to find a diffuser that is a universal fit. If you do so, you can keep your favorite hair dryer to use with your new diffuser! Avoid purchasing a diffuser that doesn't fit your hair dryer, unless you know that you are alright with getting a dryer that will fit that particular diffuser size.
Diffuser Style: The style of the diffuser is going to be important depending on the type of curls that you have, the thickness of your hair, and what style you are trying to achieve. Try to avoid purchasing a diffuser that is too small for the length/thickness of your hair, or one that may not distribute the air evenly enough to avoid hot spots on your head.
Reviews: Whenever you are getting ready to purchase a new product, reading reviews is always a good idea. This is because other people often give great insight on the overall quality and performance of a product. Although it may come as a surprise, avoid a product that has nothing but good reviews. While this may seem like a good thing, some companies may bribe customers with free product to leave a good review. Most products, even the really good ones, will have a few negative reviews from users as not everyone can be pleased 100%. Buy paying attention to this small detail, you can avoid spending money on something that is not the best quality.