8 Best Toners for Brassy Hair | Brassy Hair Toner Reviews
How to prevent your new highlight or blonde color from turning brassy? If you are have recently discovered that your hair is turning into this intriguing shade, or you are desperately trying to prevent it, there are dozens of fantastic products on the market that are specifically designed to help your colored hair stay in the best state possible. We have rounded up 8 of the best toners for brassy hair that you can purchase no matter what your budget may be. So let's dive into the purple shampoos and fancy hair toner containers to see which one works for you!
Toners for Brassy Hair Reviews
1
Clairol Professional Shimmer Lights Shampoo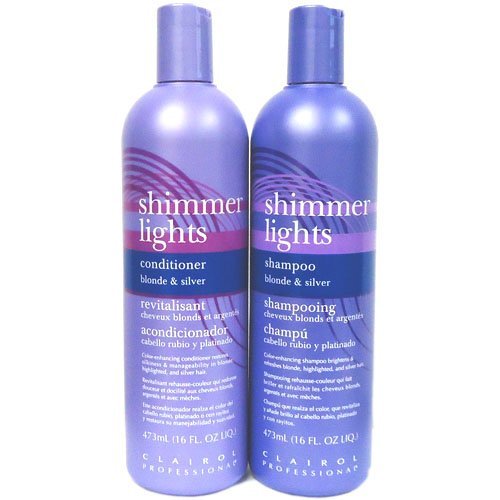 If budget isn't a concern of yours, then you will definitely want to check out the Clairol Professional Shimmer Lights Shampoo. This glorious purple liquid is specifically formulated for grey or very light, blonde hair and will enhance your desired color while clearing out any unwanted brassiness. This product is extremely easy to use and in around five minutes of leaving the shampoo on your hair, the color will have completely improved! Clairol offers a conditioner that you can pair along with this shampoo to double team your tricky brass spots, however, you don't have to use it is you prefer not to. Simply pair with your favorite conditioner and get the party started! While this product is a little bit more than some of its competitors, it's effectiveness (and large 31.5 FL oz. bottle) definitely makes the price worth it.
What We Love
Removes orange and yellow tones while brightening blondes
Can be paired with your normal conditioner
Only 5 minutes for results
Works on all hair types
Dislikes
2
Wella T18 Toner Color Charm Lightest Ash Blonde Hair Toner For Brassiness – Best Purple Shampoo for Platinum Hair
Just because a product is affordable doesn't mean that it is lesser quality! The Wella T18 Toner is all about helping you receive a long lasting, fade resistant hair color that creates shades of Platinum and Beige. If you are someone who wants to get an excellent toner for your hair without breaking bank at the salon or on name brand items, wella t18 toner may be perfect for you! Just remember to get your hair as light as possible before using and always include a developer during the process to make sure your hair comes out correctly. A developer isn't included with this product. Check out this wella t18 toner before and after picture above.
What We Love
Affordable
Turns hair both Platinum and Beige
Easy to use
Dislikes
Developer not included
May need multiple bottles for longer hair
3
Fudge Clean Blonde Violet Toning Shampoo – Best Purple Shampoo for Ombre Hair and Different Shades of Blonde
While fudge may not sound like the most hygienic thing to wash your hair with, we can assure you that the Fudge Clean Blonde Violet Toning Shampoo will definitely clean your hair; and much more! This product helps to cleanse the hair of dirt and oil while also removing any yellow or orange spots that may have taken up residence within your luscious locks. It is made up of organic proteins that have the sole purpose of acting as thermal protectors for your hair against any new damage while also repairing any existing damage. Whether you are a fudge lover or not, you may just fall head over heels for this shampoo! It works best on blonde, highlighted, and grey hair and only takes about 5 minutes for the effects to kick in. The company recommends using their conditioner for best results.
What We Love
Fast acting
Sweet vanilla fragrance
Makes hair feel very soft
Affordable
Removes yellow and orange spots from light hair
Made with organic proteins
Dislikes
May stain hands purple (very rare)
4
Purple Leave-in Toner For Brassiness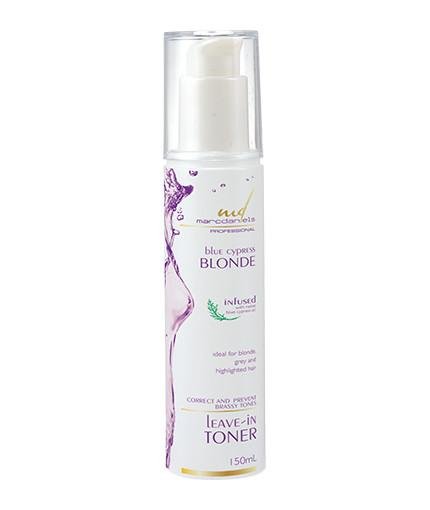 This Purple Leave-in Toner is your ticket to fresher and cleaner looking hair. Reverse damage, improve manageability and get rid of that annoying orange brassy color that just can't seem to stay away. This product is easy to use and, honestly, very affordable! With Australian Blue Cypress oil incorporated into its formula, this purple toner washes out swiftly and easily without leaving any sticky or greasy residue behind. The Cypress (which sounds super fancy) is a great ingredient that restores dull looking hair with a new shine and softness that leaves any frizz behind. Another great benefit? Rosemary oil is used to encourage hair growth and overall health, as well as prevent any new damage that might want to creep up on your hair! If you aren't satisfied with the performance of the purple leave-in toner, the company offers a full refund policy; so you have nothing to lose!
What We Love
Natural oils such as Blue Cypress and Rosemary
Easy to use
Affordable
Removes orange brass and lightens grey color treated hair
100% full refund available
5
#BlondeMoment – Best Purple Shampoo for Blondes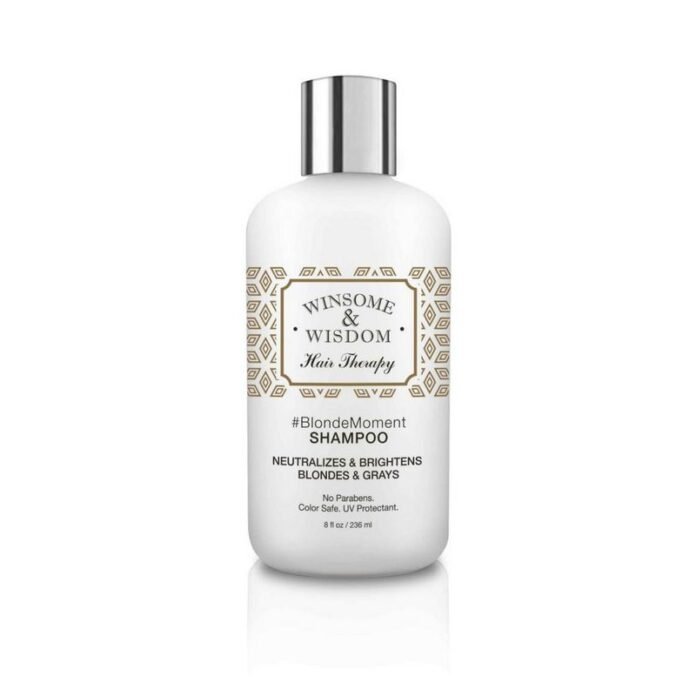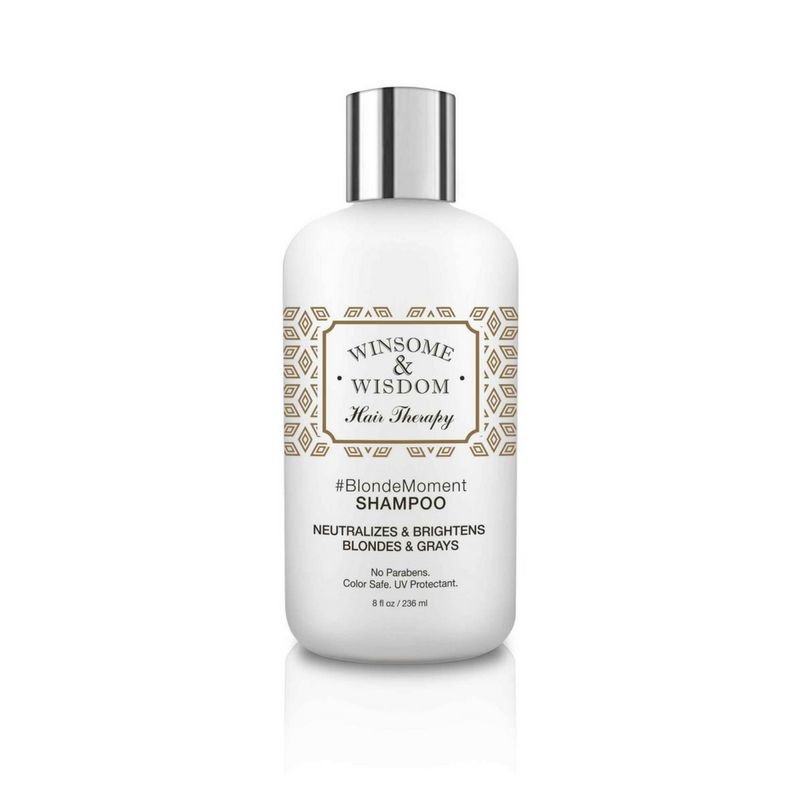 Not all blonde moments are bad moments, and this shampoo proves it! The #BlondeMoment Purple Shampoo is dressed to impress in an adorable white and gold 8 oz. bottle. It is designed to, of course, remove orange and yellow brassiness from light hair as well as cleanse and protect the hair from powerful UV rays. This protection slows natural fading so that you can enjoy your hair color for so much longer! On top of protection and brass removal, #BlondeMoment is full of natural balancing extracts and Mica which is safe for color treated hair; that way you don't need to worry about your toner causing more damage. This is a paraben free product that has never been tested on animals, so if you are someone who dislikes buying products that aren't cruelty-free then never fear! This lovely purple shampoo may be the perfect fit for you.
What We Love
Cruelty and paraben free
Protects from UV Rays- slows fading
Made with balancing extracts and Mica (safe for color treated hair)
Affordable
Made in the USA
Dislikes
May be drying, use with conditioner
6
John Frieda Sheer Blonde Color Renew Tone Restoring Shampoo
If the beautiful bottle of John Frieda's Sheer Blonde Color Shampoo doesn't impress you, perhaps the quality of the product will. For a very reasonable price, this color restoring shampoo brings a new life into your color treated hair. It is enriched with an optical brightener and lavender, which helps to neutralize any brassiness that may be living in your hair currently. On top of this, John Frieda's shampoo also adds a bit of extra protection from UV rays and creates a nice lather in the shower; because who doesn't love that? The only downside to this product is that the results won't be immediate. Typically, it takes around three uses before any lightening of the orange and yellow spots can be seen. If you are someone who wants immediate results, this particular product may not be for you. But, for the price, the results of the Color Renew Tone Restoring Shampoo are definitely worth it if you are willing to wait a few days.
What We Love
Nice Smell
Affordable
Enriches with lavender
UV Protectant
Good lather
Dislikes
May be drying
Works after about 2-3 uses
7
JOICO Color Endure Violet Shampoo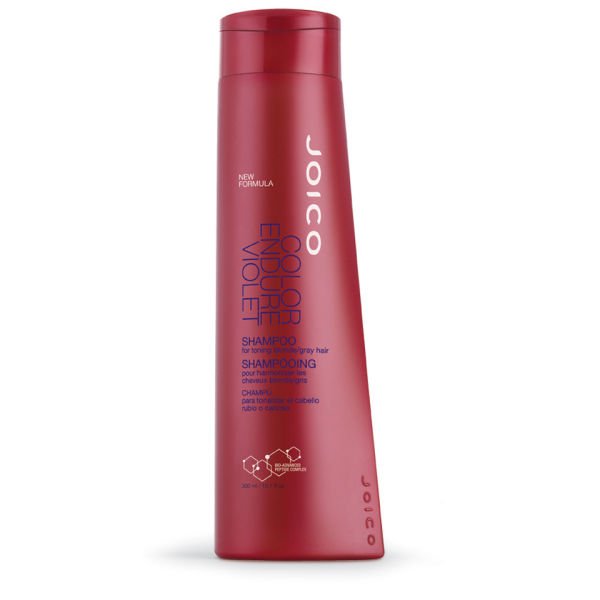 Sometimes desperate times call for desperate measures. The JOICO Color Endure Violet Shampoo is the product you will want to turn to when you want results fast! This is an extremely potent shampoo that can tone the brass orange out of your hair faster than you can blink. However, while this is a great feature, it is important to remember that very potent products have a ton of chemicals in them; so, if you are someone who wants to steer clear of a lot of synthetic ingredients and animal testing, then this product may not be for you. On the other hand, if you want results fast and don't mind chemicals, then you may love this shampoo! Most shampoos take at least five minutes for the effects to start appearing, but the JOICO shampoo shows results almost immediately upon applying the product. You will want to use a good conditioner after use as the shampoo can be very drying. Overall, this shampoo is ready to kick that brass to the curb so hold onto your hats and give it a try!
What We Love
Fast acting
Affordable
Doesn't stain
Light Fragrance
Removes orange and yellow from light hair
Dislikes
Very drying
May make roots greasy
8
PRAVANA THE PERFECT BLONDE Purple Toning Masque and Seal & Protect Leave-in Conditioner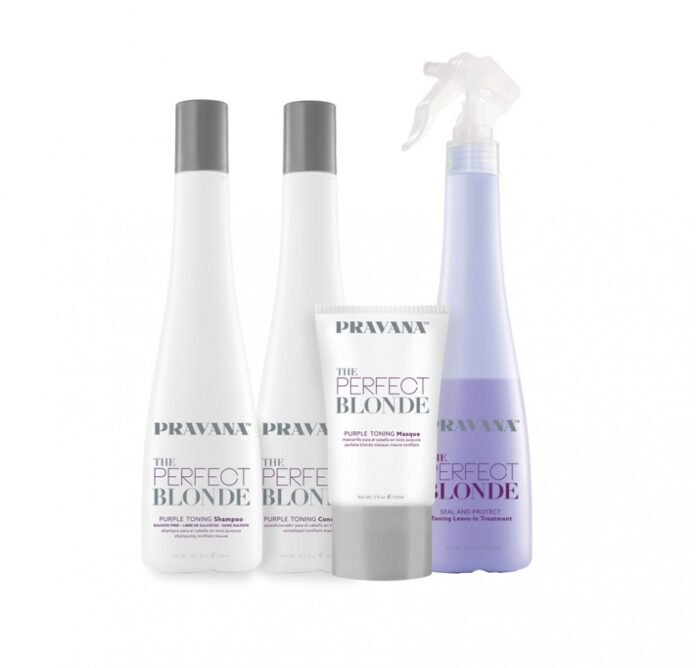 This dynamic duo is ready to start kicking butt and taking names; at least when it comes to brassy hair. The Pravana Perfect Blonde Shampoo and Conditioner Set is a little bit on the pricey side, but when you think that you are getting two hair product in one it's not too bad. Pravana has designed their products as a deeply nourishing treatment that will help to repair damaged hair and put new life back into your color. This product works best on sliver, grey, blonde, or highlighted hair but it may lighten any light brown color that has a hint of brassiness to it; so if you are not wanting your brown lowlights lightened you may want to avoid this product. Overall, this is a great purple shampoo and conditioner set that helps to remove brassiness while brightening your color, and then restores moisture and softness to the hair with added protection from the conditioner. If you are looking for a set that can do it all, then you may want to check out what Pravana has to offer!
What We Love
Conditioner included
Deeply nourishing
Removes orange and yellow from light hair quickly
Very moisturizing (you may not even need conditioner)
Lovely smell
Dislikes
May stain if not rinsed out completely
Let's face it, there is nothing more awe-inspiring than a gorgeous head of silvery locks; until they aren't silver anymore. Whether you love the pale blond look or the frosty silver style, you have probably ran into that despairingly frustrating orange or yellow color that takes over your once beautiful hair statement. For those of you who have not yet experienced brassy hair or are thinking about getting your hair colored, you may be wondering what brassy hair is and how it exists. Well we are here to provide you with answers!
Brassy hair is a little bit complicated to explain. The best way to think about it is that natural hair color has a certain degree of "warmth" to it. Whenever you get your hair dyed, whether it is to go completely blonde or even just to lift your dark brown hair to a lighter brown, your underlying gold and red tones will become visible. When you remove that natural warmth completely through canceling tones, your hair then becomes a "cool" color. Voila! You now have your desired icy silver or light blonde hair. However, those natural warm tones will come back eventually, just like roots continue to grow. So in order to cancel out those warm tones and keep them from taking over your now cool hair, you need to cancel out that color with a cool color. For example, on the color wheel, yellow is directly across from purple. Which leads us to why hair toners and shampoos tend to be a lovely shade of purple.
As mentioned above, in order to keep your lighter hair color from being overrun with warm color tones, you need to cancel them out with a contrasting color. While it may seem like your hair would always stay the color that you want it if you have an excellent stylist, the truth is that color fades and the natural colors will show through without fail. When that happens, it is time to enlist the help of hair toners. A hair toner is a shampoo that contains either a purple or blue tone which will carefully balance out and counteract any yellow or orange brassiness that might decide to show up in your hair.
Once you notice that your silvery hair has become a buttery yellow color or your lovely light blond is now bright orange, it is time to get a toner. This purple-blue product is easy to apply and takes just a matter of minutes to neutralize these unwanted tones and set your hair back to the desired color. When applied to a bleached hair, you will usually end up with an ashy, dusty, or platinum color. This type of product can either be used every day or only a few times a week depending on its strength and potency.
11
How to Apply Toner On Hair
Thankfully, applying toner is a really easy process, so you don't need to worry too much about getting things wrong. Each product is going to be a little bit different, so it is very important that you read the instructions on the bottle carefully so that you know for how long you should leave the product on your hair. More often than not, if you leave the product on for too long, your hair may become very dried out and you will need to apply lots of conditioner and give the hair a break. Here is a broken down list of steps that a typical hair toner shampoo brand would suggest for application:
Wet down hair thoroughly with warm water.
Squeeze a bit of the product into the palm of your hand and work it into the wet hair.
Lather, rinse, and repeat.
For more brightening and color enhancement, leave the product on for at least 5 minutes before rinsing off.
Depending on the product, you may be able to do this process every day if it is gentle enough. If it is a very potent product however, you may only be able to use this product on your hair every other day or just a couple times a week. Be sure to read the instructions carefully in order to avoid drying out your hair.
12
How to Fix Brassy Hair With The Best Purple Shampoo for Brassy Hair
Whether you have dyed your hair a light brown or a platinum blonde, you are going to experience brassy hair at one point of another. But the question is, how do you fix the issue when it arises? Do the methods vary depending on your hair color? The answer is yes and we are here to help you learn exactly what to do when the moment comes for you to banish brassy hair for good!
How to Fix Brassy Brown Hair:
The time has come when your beautiful light brown hair has turned against you, and now the red and orange undertones rear their angry heads. But don't worry! You can banish this brass by simply try a gloss treatment at home, or a toner meant for red and orange hues. If all else fails, visit your stylist for assistance and some tips on which products work best for fixing those pesky warm colors.
Fixing Brassy Blonde Hair And H
ow to Get Rid of Brassy Orange Hair:
Being a redhead is downright awesome if that's the color you're actually going for. But when your lovely light blonde decides to imitate a carrot all of a sudden, the change isn't really appreciated. When this happens, you can correct the color by using a purple shampoo toner for brassiness, trying a box dye kit at home, or you can even ditch the blonde at dye your hair a nice ashy blonde which hides the orange color very well. Just like with the brassy brown hair, if all else fails, speak with your stylist about recommendations and get some professional assistance!
13
How to Prevent Brassy Hair and Keep The Hair Healthy and Shiny
Well now that you've learned all about brassy hair, how it happens, and what to do to fix it, you may be wondering what you can do to just avoid the whole messy situation altogether. Luckily for you, there are actually quite a few ways that you can protect your hair from fading so that you can put off dealing with brassy colors for as long as possible.
Stay Out of the Sun
Yep, this one is pretty simple! UV rays from the sun are a big culprit in fading hair color. So, if you are planning on heading out to gather your vitamin D for the day, try wearing a cute hat or head wrap to protect your hair. Just doing this simple trick can lengthen your hair color life exponentially.
Limit the Use of Heat Tools
Just like sunlight can fade your hair, direct heat from your curling iron, straightener, and blow dryer can also suck the life out of your color. If you want to fight off brassy hair, avoid using heat tools and perhaps try some cute natural hair looks to give your locks a break. There are lots of really easy tutorials you can follow to curl or style your hair without using heat.
Use Shampoo and Conditioner Specifically Designed for Color Treated Hair
This entire article has been dedicated to reviewing some of the best toners, conditioners, and shampoos on the marker that are specifically for color treated hair. By using any of these products on your hair as a regular routine, you can help stretch out your new hair color for quite a long time and banish even the thought of those pesky brassy highlights. However, keep in mind that each type of shampoo has a different potency and some may work better than others for your hair type as everyone is different. So be patient, find one that you like, and find a routine that works for you so that your lovely locks can stay looking fabulous longer!