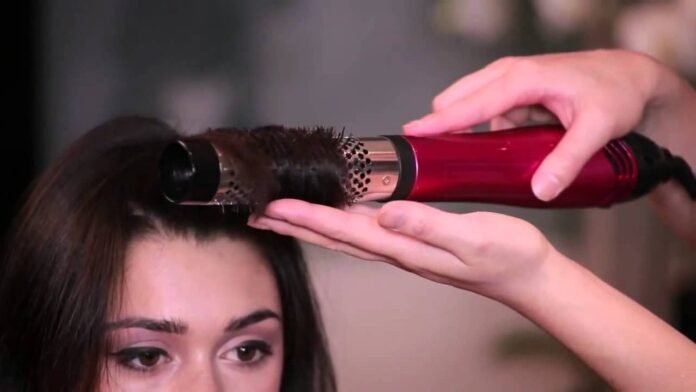 10 Best Hot Air Brushes
Don't get confused, we aren't about hot air balloons, we are talking about hot air brushes! While these tools can't fly, they are just as awesome when it comes to making hair look fabulous and fun. If you aren't entirely sure what a hot air brush is designed to do, there's no need to sweat it; we have the answer! A hot air brush works like a blow dryer and a brush combined. If you are someone who hates trying to use multiple tools at once in order to get the hair style you desire, then you are definitely going to love a hot air brush! They work wonders at giving hair volume and styling soft curls or waves with ease. Keep in mind, however, that the hot air brush isn't for wet hair. It is specifically designed to work on slightly damp to completely dry hair.
Now that we know what a hot air brush is, there are a few very important questions that must be answered: what type of hot air brushes are there? What makes a high quality hot air brush? What are the best qualities to look for when buying a hot air brush? While these questions require some research to find the answers, don't let that discourage you. We have gathered everything you'll need to know about hot air brushes right here so you know just what to look for! Let's start with some reviews on 10 of the best hot air brush tools you can purchase on Amazon.
Hot Air Brush Reviews – 10 Best Brushes
John Frieda Hot Air Brush; 1 inch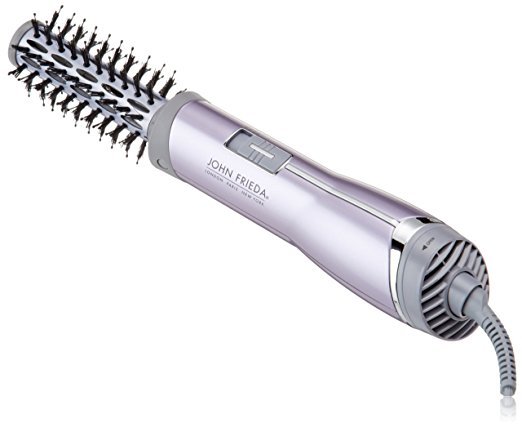 Enhanced air control and a great swivel cord are only a couple of features that this hot air brush has to offer. The John Frieda Hot Air Brush has a titanium ceramic coated barrel to help conducted heat effectively and 2 heat settings make this tool great for any type of hair. Air flow has been minimized in this design in order to aid with the styling process, so if you really like a hot air brush that has a large stream of air flow, this particular tool may not be for you. However, this hot air brush does use advanced ionic technology to create up to 50% more ions; meaning that frizz is greatly minimized and a nice shine is brought to the hair. This in itself may make up for the lack of powerful air flow. Also available in the 1 ½ "version, the 1" barrel is perfect for adding some extra volume to the hair and styling to perfection.
What We Love
Tourmaline ceramic coating
2 speed settings
Advanced ionic technology
Enhanced air control
Swivel cord
Dislikes
Vidal Sasson VS433C Tangle-Free 2 in 1 Hot Air Brush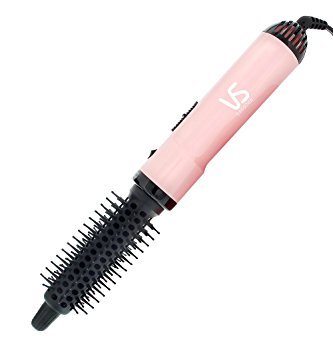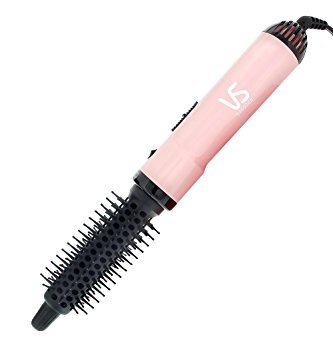 If you are looking for a well-made, budget friendly hot air brush, the Vidal Sasson Vs433c Hot Air Brush is something you will want to check into immediately. Available in three different colors (light pink, black, and teal), with a 1" barrel, and high/low heat settings, you are getting a great deal for the price. While it would seem that this hot air brush wouldn't heat up as hot as other products on the market because the body is plastic, but this just simply isn't the case. The Vidal Sasson has two heat settings that do a great job at maintaining hair for both thick and thin hair. It has a barrel switch that will lock it in place to add more boost to the hair and the tangle free bristles are kind to each strand. This tool is worth four times its price tag and is perfect for anyone who is looking for a great hot air brush that won't break the bank! If you like Vidal Sasson product, here is another recommended hot air brush, which is another one of Amazon's best sellers!
What We Love
Cool tip for holding
Two heat settings (high/low)
Barrel lock for more volume
1 "barrel
250 Watts
Removable barrel for washing
Affordable
Dislikes
Air intakes need to be cleared often to avoid motor failure.
Infiniti Pro by Conair Spin Air Rotating Styler / Hot Air Brush
Conair does it again with the Infiniti Pro Hot Air Brush . This brush rotates in both directions in order to maximize the amount of volume added to the hair and leave it looking shiny. The best part about this feature? You can choose not to use it! This means that if you are someone who truly doesn't like rotating brush heads, but still really want to try out this great hot air brush, you can. On top of this, two different head sized are available so that you can either create full luminous curls (2") or small natural curves and waves (1 ½ "). No matter what your favorite style is, the Infiniti Pro is a great tool to use in order to achieve great looking hair. While it may be a bit expensive, overall this product is dependable with 2 heat settings/cool setting, antistatic bristles, and a true ion generator that releases more ions to help protect your hair. If you aren't on a budget, the Infiniti Pro is worth considering.
What We Love
2 attachment heads (2", 1 ½")
True ion generator= 100x more concentrated ions
Optional spin brush feature
Tangle-free antistatic bristles
2 heat settings
Cool shot
Protective brush cover included
Dislikes
Too large to use on short hair
Sharkk Basics Ionic Hair Curler Curling Brush with Advanced Ionic Technology Hot Brush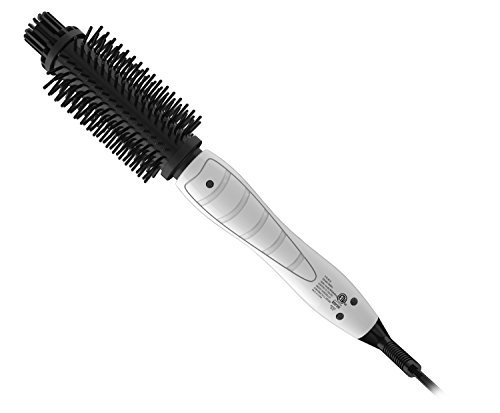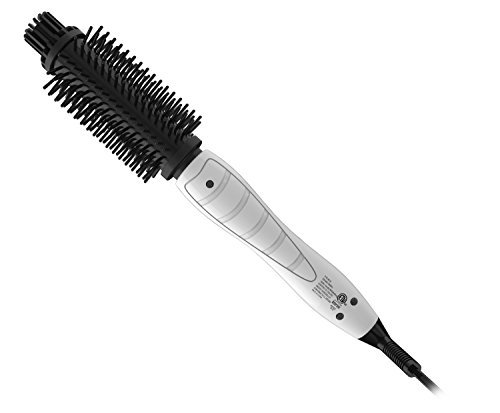 There is no doubt that Sharkk is a well-known beauty brand for a reason, and it shows with their Iconic Hair Curler and Hot Air Brush. This brush has a rounded, cylindrical barrel design that is perfect for smoothing the hair and rounding the edges in order to create lots of volume and also give an array of styling options for different hair types. It's premium heated bristles ensure easy styling and its lightweight ergonomic body design makes it easy to handle for long periods of time; no tired arms around here! The Sharkk Brush is designed with mixed bristles that detangle and grip the hair gently in order to ensure that each lock is getting a good amount of heat applied to it. While this is a costlier tool, the price is well worth it! Thanks to the genius of Sharkk, you get a tool that has the power of a dryer and the volume of a styling tool that combine to make you look and feel amazing. If you are looking for a hot air brush that provides tons of volume, then this tool may be perfect for you.
What We Love
Negative ions reduce frizz
1100 Watts
Mixed bristles for gentle grip
Oval shape for max shine and volume at the roots
Lightweight body design/ single unit build
Dislikes
John Frieda Hot Air Brush; 1 1/2 inch
Get ready to head to the stars with the John Frieda 1 ½" Hot Air Brush. This tool is stylish with a silver body and a titanium ceramic coated body. With enhanced air control, 2 heat settings, and advanced ionic technology, you may almost think you have gone to the future with this amazing tool! While that may not be the case (sadly), the 1 ½ "tool does a fabulous job of reducing frizz, creating shine, and add plenty of volume to your hair. On top of all these great features, there is also a cool shot button if you don't want to use too much heat on your hair. This may work great for those with finer hair, but if you have thick hair, you may want to keep the heat cranked up. To top it all off, the ceramic coating is perfect for evenly distributing heat and ensuring that your hair is protected for any unnecessary damage.
What We Love
Titanium ceramic coated body
500 Watts
2 heat settings
Cool shot option
Advanced ionic technology
Enhanced air control for faster drying
Swivel cord
Affordable
Dislikes
Only 110V, will need adapter for 220V plugs
Helen of Troy 1517 Tangle Free Hot Air Brush; 3/4 Inch Barrel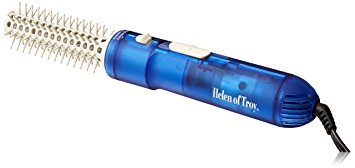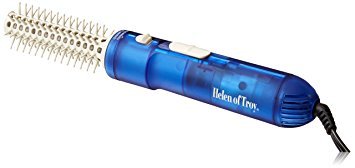 It's difficult not to be impressed with something that bears the name of a great Greek figure. Helen of Troy was much desired and so is this 1517 Tangle Free Hot Air Brush! Designed with a soft grip handles, tangle proof swivel cord, and a cool tip for easy styling, this hot air brush has your best intentions at heart. The removable rotating barrel is great for those who like to keep their tools nice and clean, although the rotating feature may be annoying to some who like a more stationary brush head. This feature is great is you get any hair tangled in the brush. Simply push a button and the brush will rotate just enough for you to pull the hair away easily! On top of this, there are 2 heat settings available and although the body is plastic, the tool heats up quickly and easily. If you are looking for a reliable hot air brush with a sleek and lightweight design, Helen of Troy may be the best tool for you!
What We Love
Lightweight
Rotating brush for easy detangling
Dual heat settings
8-ft tangle proof swivel cord
Soft-grip handle
Cool tip for easy styling
Affordable
Dislikes
May not get hot enough for very thick hair
Conair 3-in-1 Tourmaline Ceramic Hot Air Brush Combo Kit
This sleek and sexy hot air brush is bound to get your heart pumping just as fast as your favorite little black dress. The Conair 3-in-1 Tourmaline Ceramic Hot Air Brush is a combo kit that offers three attachments for more styling options, such as: ¼" tourmaline ceramic-coated thermal brush, ¾" natural boar and nylon bristle brush, and a concentrator. The Tourmaline ceramic technology really makes this tool worth-while as it helps to eliminate static all while reducing frizz and protecting your hair. If you are looking for a tool that does it all and looks amazing, then Conair definitely has you covered with this product! Just like a few of its competitors the 3-in-1 has 2 speed settings with a cool tip for easy styling and a professional length swivel cord that reduces the chance of irritating tangles.
What We Love
Three attachments included (thermal brush, bristle brush, concentrator)
1000 Watts
2 speed settings
Cool tip for styling
Swivel Cord
Tourmaline Ceramic Technology
Affordable
Dislikes
The tips become very hot and need to cool completely before removal.
BERTA Professional Hair Ceramic Hot Brush
This purple masterpiece is hyped and ready to get you looking your very best! The Berta Professional Hair Ceramic Hot Brush is definitely a site for sore eyes; with a sleek purple body and deep black bristles. Besides it's great looks, however, this product features high and low temperatures settings ranging from 200-410 degrees Fahrenheit. The brush is made with a ceramic coating and with dual ionic ceramic technology, heat is distributed evenly and effectively. Combine all of this with the fact that this brush is affordable and comes with an options two-year warranty, and you have a steal of a deal!
What We Love
200-410 degrees Fahrenheit
Ceramic hair curler brush
Long cord
Dual ionic ceramic technology
Non-slip grip
Two-year warranty offered
Affordable
Dislikes
Cord does not swivel, gets in the way
Infiniti Pro by Conair Wet / Dry Hot Air Styler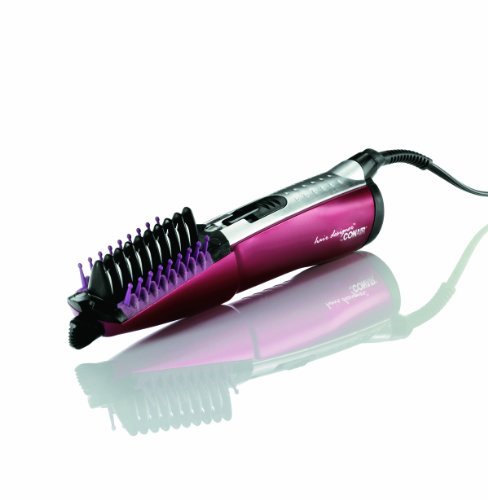 The Infinity Pro Wet/Dry Hor Air Styler is actually a very unique hot air brush. This is because it works well on both wet and dry hair! It is important to remember, however, that you won't want your hair to be sopping wet, definitely towel dry before using the hot air brush. This tool also features a large comfy handle that is easy to hold and the ability to help your hair be less frizzy and shinier. While this hot air brush may be expensive then some on the market, the fact that it can dry wet hair makes it totally worth it!
What We Love
Works on wet hair
Multiple functions
Great for all hair types. Work great on natural, coarse and relaxed hair
Compact and lightweight
Safe-grip handle
Advanced Triple action styling technology system to reduce frizz and add shine
Dislikes
If your hair is thick, better to air dry it before using this product.
Revlon Hot Air Brush Kit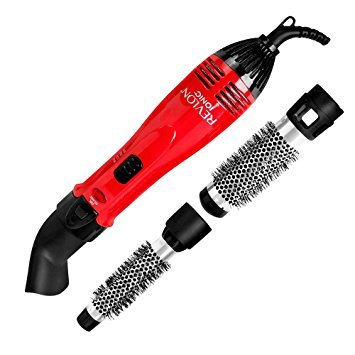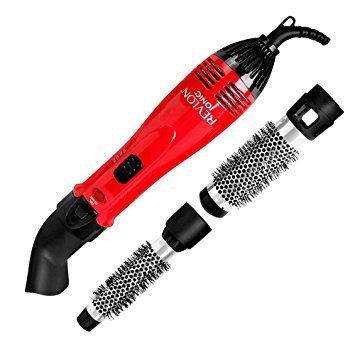 Sometimes it is nice to have everything you need to style hair in one convenient package. Who doesn't love that, right? Well with the Revlon Hot Air Brush Kit, you get everything you need to make your hair behave all in one purchase! Complete with both a 1" and a 1 ½ "thermal brush attachment, you will be able to style your hair in whichever size is most convenient for you. The attachment release button is easy to find and makes changing the brush heads a breeze! The kit has 3 heat settings with a cool shot button and an on/off switch that is illuminated with an indicator light. Throw in the fact that this tool uses ionic technology to reduce frizz and you have a great tool that does a little bit of everything.
What We Love
Two interchangeable brush heads (1, 1 ½ ")
Ionic Technology for less frizz
3 heat settings
Cool shot button
1200 Watts
Triple Ceramic Coating
Affordable
Dislikes
Cheaper material than previous Revlon models
Bristles don't grip the hair easily
How to Choose a Hot Air Brush Based on Hair Type?
Thankfully, choosing a hot air brush based on your hair type isn't a difficult task at all. This is due to the fact that all hot air brushes are geared towards multiple different hair types by including a variety of heat settings. Most of these tools have an average of two heat settings, a high and a low, but some may have a third setting that allows for a cool shot. If you are someone who has fine and thin hair, you will want to keep the heat setting low. This is because too high of heat can damage the hair and cause a lot of frizzing. On the other hand, if you have thicker hair, the higher the heat the better in most cases. Because most hot air brushes include different heat settings, you shouldn't have to worry too much about which brand works best for a certain hair type. Just pay attention to which heat setting works best for you and you'll be good to go!
Things to Look for Before Buying Hot Air Brush and What to Avoid
Body type: One of the biggest elements of a hot air brush is the way that the body is designed and what material is comprised of. For instance, a lot of the hot air brush bodies are made out of plastic and honestly do a great job of conducting heat evenly. However, titanium ceramic bodies are one of the best materials to look for; they get hot quick and evenly distribute the heat.
Bristle grip: When styling your hair, you want to have a tool with bristles that will grip your hair and hold on tight without tangling it. This is because, without good grip, your hair will not be able to mold correctly and will continuously slip off the brush head. Look for tangle free, solid grip bristles when purchasing a hot air brush. The reviews section is a great place to check for details like this.
Reviews: Avoid any product that has 100% good reviews. Even if it is the best product in the world, there is bound to be a few four stars from people that found something they didn't like completely. Reviews are a big part of purchasing any product and can save you a lot of trouble, especially when shopping online.
Heat Settings: Because hot air brushes include multiple different heat settings, they are a great tool for any type of hair. When shopping for your own, pay attention to the heat settings available and how hot those settings go to. If you have thinner hair, you will want a tool that has a cool shot option and lower heat settings. If you have thicker hair, you will want a high heat option to be available.
How to Use a Hot Air Brush
There is one really important detail you need to know about using a hot air brush; this is not a hair dryer. Therefore, don't use a hot air brush on wet hair unless otherwise specified by the tool itself. Slightly damp hair isn't an issue, but never sopping wet. Now that we know that we know this, here are the steps you can follow to style your hair with a hot air brush:
Wash your hair with your favorite products like normal.
After showering, apply a good volumizing product to your hair to provide a little boost when dry.
Towel dry hair slightly, and then completely dry with a hair dryer. Comb through your hair when dry to get out any tangles.
Plug in the hot air brush and allow to warm up before using.
Separate your hair into sections and work from the bottom up to style your hair. If you are curling your hair, you will want to wrap the bottom of your hair around the brush and roll towards the roots; then pull the brush outwards to allow the hair to fall. For
Straightening your hair, simply run the brush through the hair slowly from top to bottom of the section, allowing the hot air to add volume.
Finish by applying a smoothing serum to your hair in order to tame any frizz that may show up.
Different Types of Hot Air Brushes
The last thing you need to know about these tools before running out to get one is the different body shapes and what they do for your hair. Depending on the style that you want, these three different body shapes will help you to groom your hair with ease:
Round Air Brush: A very classic shape that is perfect for curling, adding volume, or straightening. Smaller barrels are great for thinner hair or smaller pieces and the larger barrels work best for long, thick hair.
Oval Air Brush: The oval shape is a bit more unique and does a great job at creating a lot of volume and boost at the roots. Simply tuck it under the hair and roll to give your hair the lift it deserves.
Flat Air Brush: This shape is great if you want to straighten your hair. It can work on both thick and thin hair, but it may take longer depending on the length or thickness of the hair. Keep in mind that the higher the heat setting, the faster it will straighten, but this can be damaging to fine and thin hair.
[td_smart_list_end]