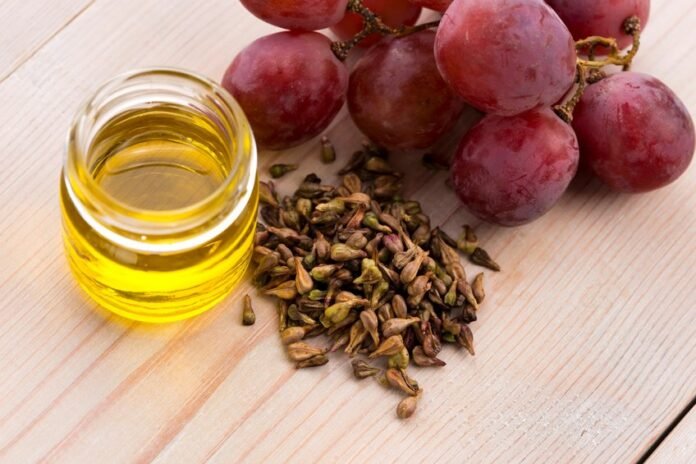 Grapeseed Oil For Hair
There are many organic methods to maximizing your hair's potential, one of which is gaining popularity among mainstream cosmetic and hair care companies: grapeseed oil. No more are grapeseeds merely considered useless byproducts of wine production as they had been for centuries; the nutrients contained within the oil extracted from the seeds have been found to be paramount in hair growth and moisturization. Rich in omega-6, grapeseed oil is proven to be beneficial to your hair for fortification of roots and regrowth of skin on the scalp. For an alternative method in your hair care routine, add a grapeseed-infused product for glamorous shine.
What Is Grapeseed Oil?
To find out what makes grapeseed oil so special, we should first understand what it is and where it comes from. Of course, the oil is made from the seeds of grapes—they're extracted during the winemaking process to be pressed for oil. It is usually much more cost-efficient for businesses and consumers for to use refined grapeseed oil, or oil that is made using chemical processes and high heat. It's not the end of the world if your product uses refined grapeseed oil, but if you are searching for the best quality, you should ensure that the oil is cold-pressed. That way, you know the oil isn't compromised of the many nutrients that make it so advantageous for your hair in the first place.
Grapeseed oil is often confused with grapeseed extract, but there is a difference in their formation processes that make it simple to distinguish the two. Grapeseed extract is made by grinding up red grape seeds, whereas grapeseed oil is merely the natural oil that is present within each grapeseed, harvested by pressing.
Truly a multipurpose ingredient, grapeseed oil is also edible. It's classified as a polyunsaturated oil and is slightly nutty in taste.  It is odorless, colorless, and gentle—perfect for everyday use.
Best Grapeseed Oil Products For Hair
The following are 10 of our favorite grapeseed oil products that we think are absolutely amazing!
1
Pure Grapeseed Oil for Hair, Face & Acne – Cold-Pressed by Maple Holistics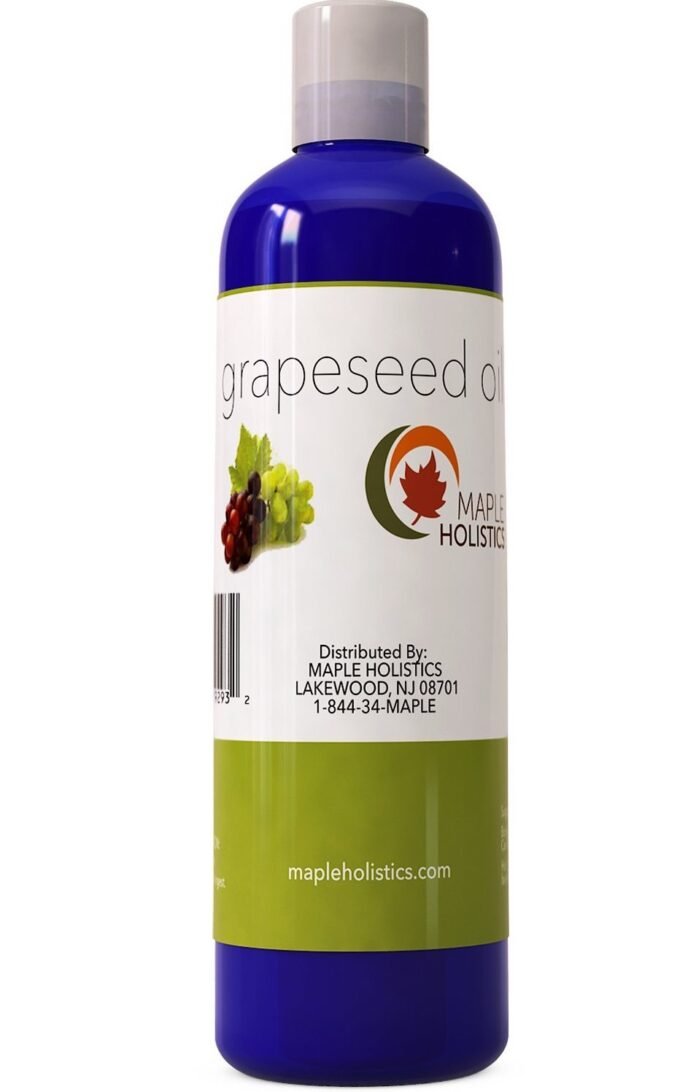 This pure Maple Holistics grapeseed oil is the best of both worlds, allowing you to receive top-quality product through its organic pressing method accompanied by a price tag that will keep you on budget. Because it's organic grapeseed oil, you can use it for a variety of purposes instead of merely your hair. Among the largest benefits presented by Maple Holistics are hair growth, moisturization, and anti-aging. It works well as a supplement to your regular shampoo or as another ingredient in a homemade mixture.
Why We Love This Product:
Premium quality grapeseed oil
Works well for hair, skin, or acne
No odor
Eliminates free radicals
100% money-back guarantee
Dislikes:
Some do not find it moisturizing on its own
Not a large amount, so you'll have to restock rather routinely
2
Nth Degree True Repair Helichrysum & Grapeseed Shampoo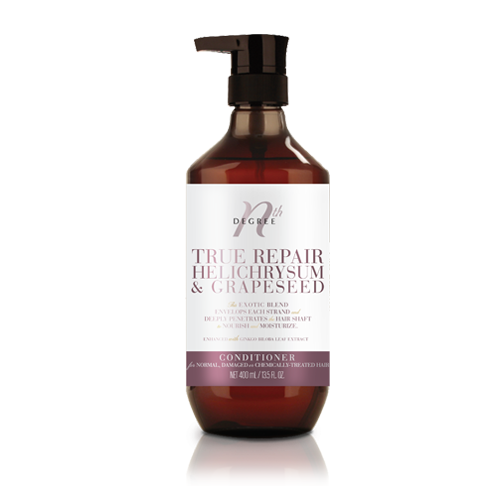 The helichrysum and grapeseed shampoo by Nth Degree is the prime example of a "no compromise" product to try. This may be a good purchase for someone who doesn't want to bother with DIY mixes but still wants the same high-quality material. Advertising their brand as "Hair to the Highest Power," Nth Degree's shampoo (and extensive grapeseed oil line) serves as a cleanser and source of moisture for your hair to revive brittle, lackluster strands into beautiful hair that you can't help but show off.
Why We Love This Product:
Works primarily as a moisturizer
Made specifically for your hair
Users have noticed much less hair loss
Very pleasant smell
Easy-access pump to make the product simple to use
Dislikes:
Not as effective in promoting hair growth as other brands
Because it's shampoo, it contains sulfates (chemicals that cause lathering)
3
Ancient Greek Remedy 100% Organic Blend of Olive, Lavender, Almond, & Grapeseed Oil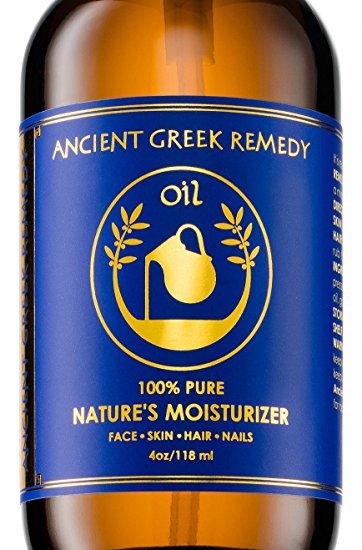 The main point that makes the oil blend by Ancient Greek Remedy so intriguing and unique is that it contains a specific blend of four different oils. Because of this, you can reap the benefits of the perfect harmony of four organic oils as opposed to one. In addition to all of grapeseed oil's nourishing qualities, you'll be able to benefit from olive's moisturizing characteristics, lavender's anti-inflammatory purposes, and almond's hair-strengthening features. This concoction works well on all hair types, especially natural hair. The thicker your hair, the more often you are encouraged to apply the blend.
Why We Love This Product:
Proven success in regrowing and restrengthening hair
Has other uses in addition to your hair
Has an enchanting aroma
Can help treat scalp conditions such as alopecia, seborrheic dermatitis, atopic dermatitis, dandruff and lice
Comes with a spray cap for easy dispersion
Dislikes:
Some believe the strong lavender smell is overwhelming
Leaves some users' hair feeling a little bit greasy
4
Premium Nature Grapeseed Oil Natural Carrier Oil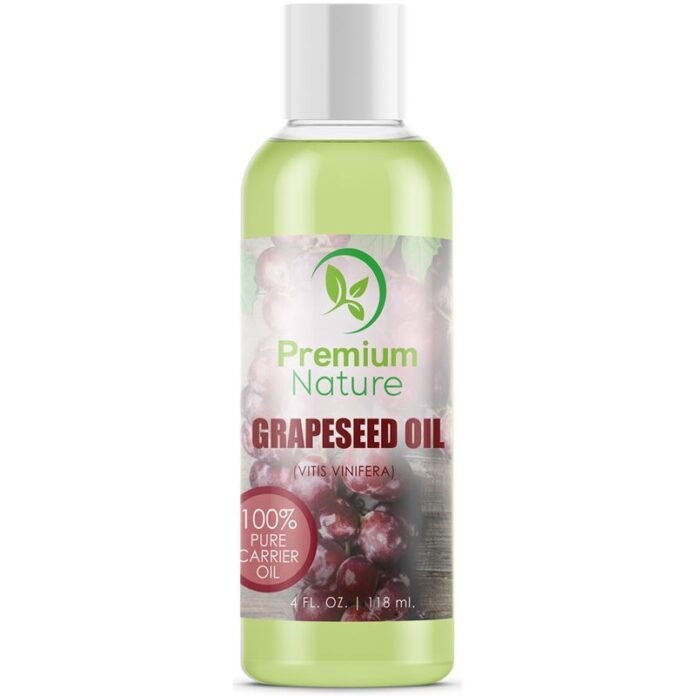 Immediately when you see This grapeseed oil product, you can't help but notice that the product is 32 ounces of grapeseed oil! This industrial-sized amount of grapeseed oil may be perfect for anyone who knows that they are going to incorporate grapeseed oil into their daily hair care routine. This cold-pressed and hexane-free grapeseed oil is well-versed in growing healthy hair, reducing dandruff, and effectively locking moisture into hair. Slam-packed with antioxidants and other helpful nutrients, this product is for the avid grapeseed oil user who still wants a bargain.
Why We Love This Product:
100% cold-pressed grapeseed oil made in the United States
Large amount of product to last a long time
Can be easily mixed in to create your own skin formula or butter
Contains 73% linoleic acid (omega-6) to stimulate hair growth
Has anti-inflammatory properties to soothe scalp
Dislikes:
Not worth it if you won't use it very often
Doesn't come with a nozzle so can be messy if you're not careful
5
Fekkai Technician Color Care Shampoo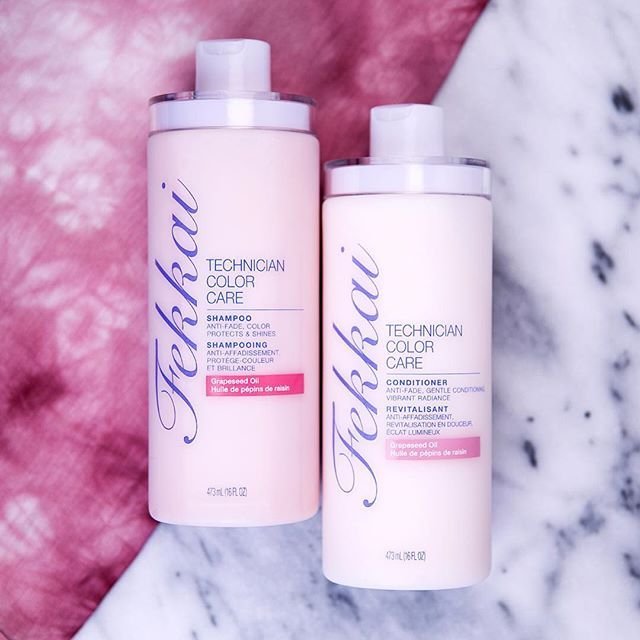 Fekkai Technicianchnician grapeseed-infused shampoo is a good idea for anyone who wants their hair to be cleansed, moisturized, and strengthened without your color fading from your hair. It is gentle enough to be used daily with no worries of the color draining. Rose-scented and rich in antioxidants, this shampoo is a simple and refreshing way to take care of your hair. It comes ready-to-use, so all you have to do is open the cap and start washing.
Why We Love This Product:
Grapeseed-infused and a beautiful rose scent
Works for colored hair—no fade
Moisturizes hair without weighing it down
Creamy and smooth texture
Very concentrated so that the product lasts a long time
Dislikes:
Does not help to grow hair
Can be an expensive product to repurchase
6
Beauty Aura 100% Pure Hexane-Free Grapeseed Oil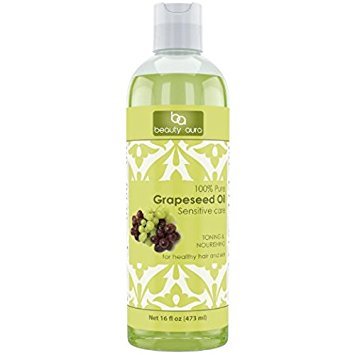 This pure grapeseed hair oil by Beauty Aura is stated to be "sensitive care," safe for daily use on hair and skin. Made in the USA, the grapeseed proteins in this product work to nourish the hair, leaving it looking healthy and happy. The grapeseed oil also protects hair from environmental pollutants through its anti-aging tendencies. This is a moderate amount of product so you won't have to refill it as often as other brands that are half the size.
Why We Love This Product:
100% cold-pressed grapeseed oil made in the United States
Moisturizes hair thoroughly
Lightweight so that your hair feels refreshed and clean
Massaging it into your scalp can reduce dandruff or flaking
The large bottle allows you to use it for a long time
Dislikes:
Some users are put off by the smell
Advertises uses for face as well, but some users experience discomfort and breakouts when using it so
7
Curls Blueberry Bliss Reparative Hair Wash & Leave-In Conditioner & Hair Oil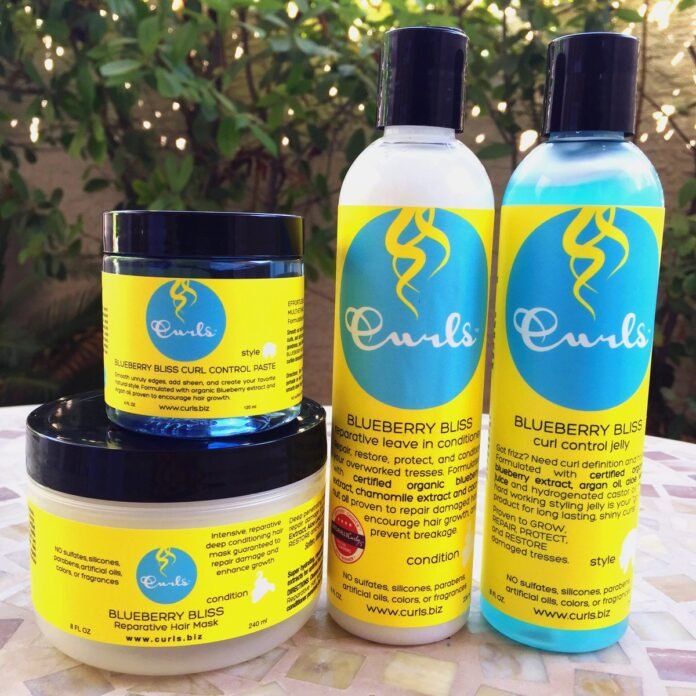 The hair care set of reparative hair wash, leave-in conditioner, and hair oil by Curls Blueberry Bliss is an effective method to making grapeseed oil a staple in your hair care regimen. Along with the grapeseed oil, you will benefit from formulated certified organic blueberry extract, coconut oil, mango butter, pomegranate seed, argan oil, and gardenia flower oil. This three-step process is designed for curly hair that claims to increase hair growth and "repair, restore, and condition" your tired hair. Nutrients in the star ingredient, blueberries, act as an anti-aging agent, slowing down the graying of hair and reducing breakage. This may be an advantageous product for anyone looking for a completely new product line that will leave their natural hair feeling soft and gorgeous.
Why We Love This Product:
Contains a myriad of ingredients such as blueberry extract, argan oil, and pomegranate seed that all work in conjunction to grow healthier and fortified hair
A three-step system that is simple to follow
Slows down hair graying and loss
Has a captivating aroma
Excellent for your curls
Dislikes:
It's an investment to take a chance on the product
Hair oil may leave stains on your pillowcase if applied right before bed
8
Fekkai Technician Color Care Hair Mask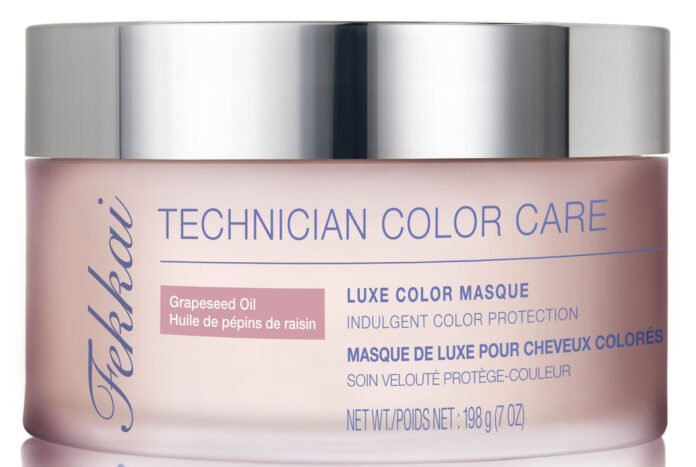 Another product from Fekkai Technician, a brand dedicated to delivering high-end grapeseed-infused hair care products, this crème rose-scented hair mask is a solid option for anyone who may only want to use grapeseed oil as a small part of their routine. This hair mask is safe for color-treated hair, describing its treatment as placing your hair in "indulgent care." The grapeseed oil in the mask serves well in reviving your hair after run-ins with over-processing or excessive exposure to heat at the salon. After using this mask, your hair will once again have moisture, texture, and shine.
Why We Love This Product:
Grapeseed oil is the star ingredient, working to strengthen and soften your hair
Specifically designed for color-treated hair
Restores damaged hair
Detangles and de-frizzes tightly-coiled hair
Has a beautiful aroma
Dislikes:
Depending on how much you use, you may have to restock rather frequently
Some hair dyes are more easily managed by the mask than others
9
Grapeseed Oil vs Olive Oil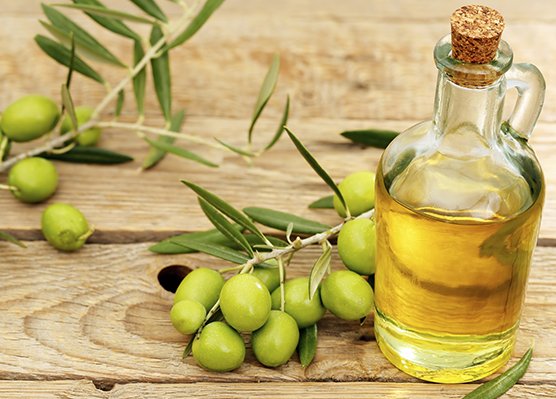 People have reaped the benefits of olive oil for many centuries, whereas they have just begun to understand that grapeseed oil can be used to achieve many of the same purposes. There is a lot of debate as to which oil, grapeseed or olive, is more favorable for hair, especially because the two have many of the same characteristics. To begin with, they are both made using the pressing method. Effective moisturizers, the two work especially well on dry, frizzy hair to restore its shine and essence. Each oil can be absorbed by the hair shaft for maximum effect.
Both oils have been scientifically proven to ameliorate thinning hair or hair loss problems.
While the two are relatively similar in their uses for hair, they have different properties that may affect how you utilize them in cooking. They vary in smoke point (olive: 320; grapeseed: 420 degrees Fahrenheit), taste (olive: distinct; grapeseed: easily masked), production, and nutritional value.
The main difference that you should take away from this is the price. Grapeseed oil does essentially the same thing as olive oil but costs 30-40% less on average (than extra virgin olive oil).
10
Grapeseed Oil Benefits For Natural Hair
Conditioner: Grapeseed oil has been determined through research a product that contains natural conditioning agents. One of the lighter oils, grapeseed oil will be able to absorb into your hair without the feeling of being greasy or heavy. In addition, grapeseed oil is easy to work through your hair, making it a more favorable option than other oils and butters on the market.
Dry Scalp Relief: Because grapeseed oil contains Vitamin E (responsible for nourishing and healing skin), it can alleviate any issues you may have with flaking or dandruff due to a dry scalp. Over time, the nutrients in the oil will work to provide a healthy environment for new hair to grow.
Hair Growth: One of the most highly praised advantages of incorporating grapeseed oil into your everyday beauty regimen is the hair growth that coincides with it. Grapeseed oil is plentiful of omega-6, an incredibly useful protein whose main job includes regulating hair growth throughout the body. Exposing your scalp to more of these beneficial omega-6 proteins (linoleic acid) will, naturally, allow your hair to thrive. This shouldn't be expected to be a quick fix, but should definitely be a top choice among your options for a natural way to get longer and healthier hair.
Strengthen Damaged Hair: With all of the beauty products and heating tools we use on our hair to get it to look exactly the way we want everyday, it's very common to be left with brittle and dry hair, split ends in all their glory, as a result. When applied from root to the end of the strand, grapeseed oil can play a major role in restoring your hair's glossiness and fortifying its roots for less breakage.
Effective Sealant: Grapeseed oil is able to lock in moisture to your hair very successfully, allowing your hair to recover its nutrients and shine all day. Many nutrients are both good sealants and heat protectants, however it's important to make the distinction that grapeseed oil is not among these. You'll be much better off settling for a commercial heat protectant or searching for another organic ingredient that has both qualities, such as shea butter.
11
Other Grapeseed Oil Benefits and Uses For Skin
Acne Medicine: Another attribute which pinpoints grapeseed oil as a top contender among the carrier oils in the hair care market today is its polyphenol content. Polyphenols are anti-inflammatory antioxidants which eliminate bacteria in your pores without clogging them up and all in all, reduce the amount of acne you have.
Anti-Aging: Polyphenols are also helpful in slowing down the aging process and prolonging the life of skin. In addition, the presence of nutrients such as beta-carotene and Vitamins E, C, and D makes grapeseed oil an ideal product for anyone hoping to reduce the appearance of wrinkles and scars. It can also reduce swelling and under-eye circles.
Skin Balancing: Though it seems a bit backwards to put oil on oily skin, using grapeseed oil as a toner will balance out your skin by evening dry and oily patches. By applying the oil to your skin, it will open up your pores and make your skin appear soft and glowing.
Collagen Restoration: Grapeseed oil has been found to be abundant in oligomeric proanthocyanidins, otherwise known as OPCs, which expels free radicals and stimulates collagen restoration. Using grapeseed oil on your skin can take a couple of years off of your face and leave your skin with a radiant and supple appearance.
Cancer Prevention: Grapeseeds contain proanthocyanidins which have been studied to be a way to prevent skin cancer or reduce its severity. Regular consumption of grapeseeds may even be linked to triggering self-destruction in cancer cells.
Speeds Up Wound Healing: According to a study published in Free Radical Biology and Medicine, grape seeds are considered a "feasible and productive approach to support dermal wound healing." This is due to the grapeseed oil causing the increased production of a compound that regenerates blood vessels, as well as the increased supply of free radicals, which in this case are helpful, aiding the wound by eliminating potentially pathogenic bacteria.
12
How To Apply and Use Grapeseed Oil For Healthy Hair
1. To begin with, you should make the choice about what mixture or recipe you want to use. The oil can be used by itself or along with an essential oil. Remember that the correct ratio between the two should be 4 tbsp grapeseed to one drop essential oil. Mix the solution well in a plastic bag.
2. Heat the mixture by placing it in a sink of hot water (not too hot to melt the bag). Leave the bag to absorb heat for several minutes.
3. While waiting, wash your hair with whatever shampoo you normally use.
4. It's now time to apply the oil. Check the temperature to see that it's hot, but not too much so to where it would burn your scalp. A simple method of applying it is to gather your hair into a ponytail and start adding at your roots to the end of the strands. Be patient with it and ensure all of your hair is covered along with your scalp. Massage the oil in.
5. Let your hair absorb the oil for 20 minutes, letting your hair air-dry or wrapped up in a warm, damp towel.
6. After the time has passed, rinse your hair with warm water, then repeat with cooler water.
7. This hot oil treatment is most beneficial when done twice a week. Allow your hair to dry fully before brushing so that it can rest.
13
How To Choose The Right Product For You
As you've read all of this and are wondering how grapeseed oil can add glamour to your hair, how can you ensure that you're choosing the product that will give you the best chance of success?
Have a set of standards. How much does it matter to you if it's cold-pressed grapeseed oil or if it's refined? Grapeseed has many benefits but not all products focus on all of them. Is hair regrowth important to you? Or do you really only care about moisturization?
Know your hair type. Some products specify which hair types that they're most effective for. Understanding which types of products will work for you will lessen the amount of wasted time and money you spend to achieve a desirable result.
Read product reviews. There are so many options to choose from and even more people who have tried them. Read about why a product is absolutely amazing, or learn from other people's mistakes. There are a lot of credible comments that can help you make your decision.
14
What To Look For In Grapeseed Oil Products
Cold-pressed grapeseed oil
A variety of uses
Combined with other beneficial oils
Omega-6 and Vitamin E
Well-reviewed and resilient products
15
What To Avoid In Grapeseed Oil Products
Refined grapeseed oil
Excessive chemicals
Products that have to be restocked often
16
Things To Consider Before Buying This Product
While grapeseed oil is safe, there are some healthcare professionals that advise against using it in treatments for more than 12 weeks at a time. This is because there is a slight chance you may experience side effects such as dizziness, high blood pressure, headaches, or nausea. Anyone who takes an anticoagulant, cholesterol, or blood pressure drug should be sure to consult a physician before using grapeseed oil in their treatment.
You should also consider any allergies you may have before using this product. Though it may seem straightforward, a grape allergy would be detrimental to the use of grapeseed oil.
17
 Our Conclusion On Grapeseed Oil
Grapeseed oil is an organic and all-natural way to enhance hair growth and leave your hair looking healthy, gorgeous, and strong. It is also advantageous to use it as a hair sealant and conditioner. For the most effective results, make sure your product uses cold-pressed grapeseed oil in their recipe.
For those on a budget, a product such as the Cold-Pressed Grapeseed Oil by Maple Holistics is a good choice to get you affiliated with grapeseed oil to see if you like it and because it's not specifically a hair product, you can use it for your skin as well. This product is easily mixed into DIY recipes.
If you're looking for a ready-to-use hair product at any expense, the Nth Degree True Repair Helichrysum & Grapeseed Shampoo works incredibly well as a moisturizer and left users with less hair loss. It isn't, however, designed to affect hair growth.
Another product worth mentioning is the Ancient Greek Remedy 100% Organic Blend of Olive, Lavender, Almond, & Grapeseed Oil, which combines a perfect blend of oils paramount to your hair to inspire hair growth, strengthen follicles, and lock in moisture.