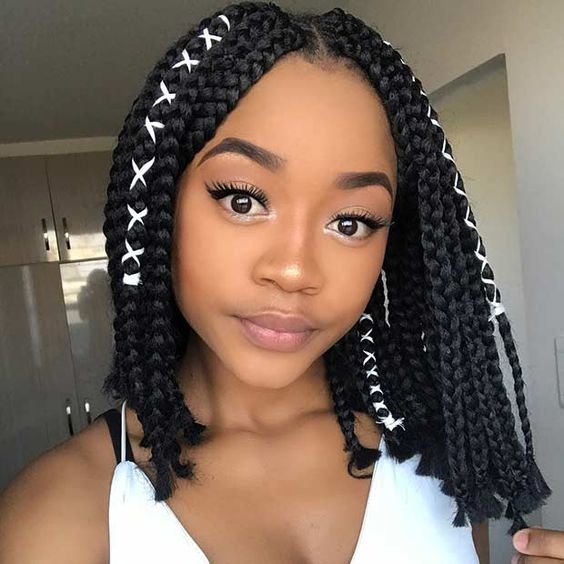 Medium Box Braid Styles
Lightweight, urban and sexy can be three perfect adjectives to describe medium box braids. A protective style favorite has evolved through the decades providing more versatility and convenience. Box braid hairstyles require a good amount of time investment to be set up but in exchange, they can offer up to 8 weeks of styling with little maintenance.
You don't have to go for run of the mill classic box braids (if you don't want to) if you're looking for new styles to update your hair from season to season or to adjust to your new sense of radiance (YES self-care!). We've selected this gallery of medium box braids hairstyles to keep you inspired!
There are three basic steps to achieve a gorgeous medium box braid hairstyle. First, select the right size hair extensions to save time with cutting or fixing longer than necessary hair package. You can also create a medium box braid style using the crochet technique, go over to the search bar to find out how.
Medium box braid hair extensions go from 14" to 18" inch hair. You can play with the lengths to create asymmetrical bob styles or any other that your heart fancies. You can use textured Kanekalon hair and even Marley hair to create thicker braids. Our recommendation is to check out X-Pression and Marley hair for a fuller look

The second step is cleansing thoroughly and deep conditioning your hair to guarantee long-lasting results. Cleanliness will minimize build-up and subsequent itchy scalp (palm scratching our heads has to be one of the LEAST favorite black hair caveats) and deep conditioning reduces the chances of frizzy braids and lay-ways.
Part b of this step is cleansing your hair extensions. Most brands of synthetic hair coat the strands with chemicals for preservation from humidity, mold and mildew and your scalp skin may react to those once on permanent contact. To avoid this, rinse all hair packages in a slightly warm water and vinegar solution and let it air dry before beginning to braid.
Third is a good braiding technique. Secure extensions at the root of your hair with a looped knot and begin braiding with a tight pattern that is traditional for box braid styles. The thicker the braid, the tighter it must be to prevent frizz and unraveling. You must keep your own hair detangled at all times, as braiding in a knot will cause come major headaches when you are bound to take down your style.
Finish up any braided style with extensions with a hot water soak. The ends of your braids need to be properly finished or your style will fall apart very soon. Medium box braid styles are particularly in need of this step as your hair ends will be facing mayor rubbing with your shoulders, hang bag straps, jackets, etc. The soak can even be repeated every week or so to keep the style in top shape.
Another maintenance tip is to use a thick flexi rod to wrap your braids ends at night before you put on your satin scarf (or lay your head on your satin pillow case). The flexi rod can help you keep a nice tucked-in ends braid style.