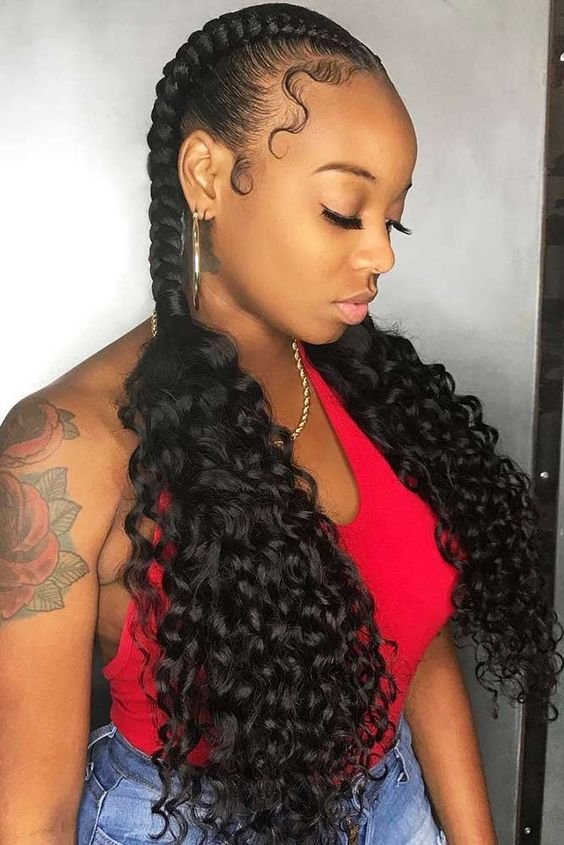 Braids with Weave
Weave hairstyles don't have to be only about wavy and straight. Braids can bring a fabulous dash of texture and extra care to you hard earned tresses. Braid hairstyles with weave are more durable, full of play and showing your best from multiple angles!
From simple crown braids to elaborate french braids and half ponytails, there's a lot of styles to choose from to renew your passion for protective styling with weaves. Braid hairstyles can also reduce the amount of hair and – AHEM- weight from wearing weave for several days or weeks.
Braid hairstyles with weave work almost in infinite ways! Our gallery curates the best hairstyles online, from single braids, boxer braids, two braids french and ponytail. There's so many to choose from! From extravagant to simple and classy, this hairstyles is as diverse and adaptable as it gets.
Our advice is to explore with a good set of 4 to 5 hair packages. You can start with Brazilian and Peruvian remy hair to achieve wavy and curly look, and reach for Marley or Havana hair for voluptuous results!
Are braid hairstyles with weave for you?
This is a perfect choice for anyone looking to take hair off from their face. Half or full up-dos highlight features in a way we use to keep for especial occasions but there's no need for that anymore. Braid styles with weave are elegant and playful at the same time, enough to be considered a slay all day every day look.
The combination of textures is the real winner here. From laid edges and bay hairs to full wavy Afros, braid hairstyles with weave can be created with short to long hair lengths without much variations needed.
Two braids and french braids with weave might require a blowout prior to braiding, to make sure your weave matches in with your hair texture (and color, especially when you're going for a single colored look).
As with any weave style, the skills of your hairdresser will be a major component in the final results. Once you get back home, it's important to take care of your weave following the manufacturers instructions. Proper care of any type of quality hair will allow you to re-use it in multiple sets.
Maintenance with braid hairstyles follows the same basic rules of any weave style. Be very mindful of friction in laid styles and braids on the crown of your head. To put it simply: don't go for any of these styles without a satin scarf or pillowcase waiting at your pillow. Neglect can throw off your hairstyle and waste your money in no time.
Oil your scalp every 3 to 5 days –a shorter time in colder climates- to prevent itchiness and buildup. Your style should last from 4 to 6 weeks, so consider investing in a dry shampoo to keep it sparkly.
Take down is just as important. Make sure you use a proper detangler that won't damage the weaves material and that lets you unravel your braids with as minimum friction as possible. Take care of your used weave hair as your would your own: shampoo and do an ACV rinse –unless instructions tell you otherwise-, air dry, comb and store it properly wrapped for reuse.