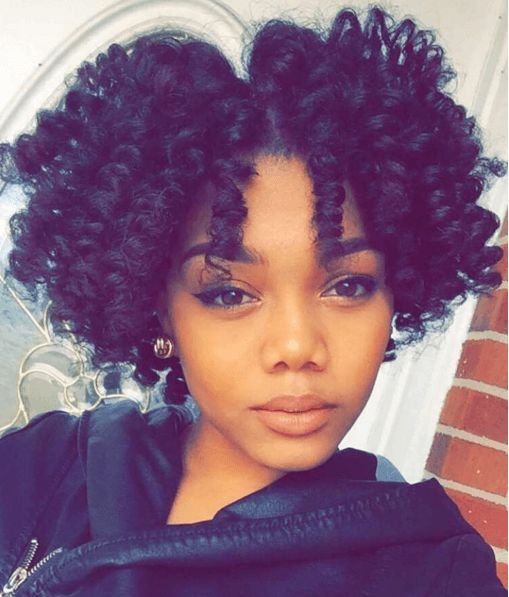 Perm Rods Styles On Natural Hair, Relaxed and Synthetic Hair
There's no curl like the one a perm rod can give you. From the tightest to the mightiest, perm rod styling can bring natural, relaxed or natural extension hair to curly heavens.
An old technique has been reinvented to create fabulous looks for most hair lengths. Perm rod setting is characterized for using a trademark style off roller with a narrow center and an elastic secure band.
How do you know if a perm rod could work for you? A set can be worked on any type of curly or chemically straightened hair starting from 2 inches down to any length. Check out the latest and the best in perm rod styling.
Perm Rod On Natural Hair
No matter what's your current hair type, the starting point is always the same: clean, deep conditioned hair. Spend a good amount of time detangling (preferably using a tangle teezer or a fine tooth comb) as this is the ultimate base for great looking curls.
Use our selected hairstyle gallery as a guide to purchase your perm rod set rollers and keep in mind the space limitation. Perm rods are designed to coexist better than regular rollers, but there's still limited space in your head to hold them all. Perm rods are supposed to sit on your scalp while setting, especially if you have natural or relaxed hair.
Set using a top quality setting lotions or mousses for lightweight and bouncy curls. Especially when you're planning to air dry your hair, heavy creams and oils can render your curling efforts useless.
Rods can be used for over and under curl wraps, just make sure to use the same time of wrapping all around your hair for it to curl out evenly and fully shaping your style. Use oil in your fingers to unravel each rod.
Styling can be done with the bottom tip of a fine tooth comb to get some volume going. For maintenance, use setting sprays and reset when necessary.