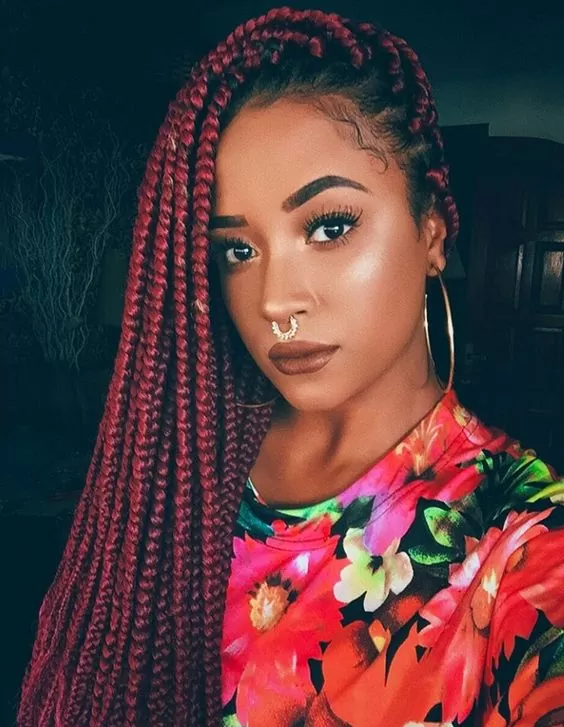 Red Box Braids
In the realm of protective styling there's barely any other favorite that compares to box braids. Hair extensions are used to thread with natural hair into so. Many. Options. Most run-off-the-mill box braid options vary in length, hair part and braid thickness, however we are devoted to COLOR today.
Red box braids are a phenomenal show stop. No single shade of red fits all so we've rounded up for you the best color choices in red box braid styling. Take out your favorite brand color palette and start dreaming of your next red box braid style.

Box braids are a marvelous choice from hot or cold weather months. Their protective capacity isn't diminished unless you decide God forbid to neglect your hair. Protective styling begins on your wash day prep. Use clarifying or deeply moisturizing shampoos (depending on your particular needs) and deep condition using a butter-heavy creme or mask.
Detangle thoroughly starting with your fingers and section your hair into four, six or eight parts to use a finer comb or a tangle teezer. Pin them down to be chair ready, whether you're doing your own hair or it's time for your appointment.
Red box braids are made by matching your skin tone to a shade that compliments you. Most brands carry basic choices, but we wanted to do a special mention of Janet Collection color chart that offers hair for braiding in reds in ombre, balayage, two tones, fantasy and many more.
After braiding, the most important steps is sealing your ends with hot water and steam. This is a cornerstone for making your braids last. You can also repeat it every week or so at home to recover your braids for tear and frizz due to friction and weather conditions.
Which styles have you pinned? Let us know in the comments!