All You Need to Know About Red Hair Color
Whether you're a natural redhead or are thinking about becoming a ginger, it is undeniable that red hair is having a moment! Back in the olden days, people with red hair were often subject to negative treatment based on superstitions about having red hair (for example, being a witch!) but today it couldn't be cooler to rock a bold red mane. Statistics suggest that only 1-2% of the world's population is lucky enough to be a natural redhead, so odds are that a lot of people you see working the ginger look are actually natural brunettes or blondes. In fact, one of the most iconic red haired celebrities Christina Hendricks is actually a natural blonde! The good news is that the popularity of dying your hair red means that you have a ton of color options when you color your hair. Whether you want a deep burgundy red or a bright strawberry blonde, there is an awesome red hair color for everyone.
A Few Tips
When dying your hair red, it is important to keep in mind that red hair dye fades and changes between touch-ups more rapidly than other hair colors. For this reason, people who prefer a more low-maintenance hair regimen may be better off choosing a more neutral red shade or avoiding red hair at all. Having said that, nothing makes a statement like red hair, so the extra trips to the salon may be worth it if you want to rock a very unique hair color.
Red brown hair color

Blonde red hair

Dark brown red hair color

Light brown red hair

Dark blonde red hair

Purple red hair color

Strawberry blonde hair

Dark red hair

Copper red hair

Fuchsia red hair

Ruby red hair

Light red hair

Red Violet hair color

Auburn red

Deep red hair color

Bright red hair

Chestnut red hair

Red hair with highlights

Red ombre hair

Red velvet hair color
How to Tell Which Red Hair Color Will Look Good on You
Like all hair colors, the most flattering red shade depends on your skin tone and overall coloring. Generally speaking, red hair pretty much always looks good on people who have pale skin tones and light eyes. People with this coloring make up most of the population of natural red heads so it is not surprising that people with similar coloring can pull off many shades of red hair pretty easily. The darker your skin tone, the darker your red hair color should be in order to avoid looking washed out. For example, a copper red on someone who is very tan would look kind of strange since the hair and skin color would blend into each other. However, deep bold shades like burgundy red look awesome with darker skin.
Having said all this, many times people will dye their hair red regardless of how flattering it is. Few people who are not natural red heads look best with red hair, so more often than not, someone will dye their hair red for the experience of having red hair rather than thinking it is their most flattering hair color. When you decide to experiment with red hair, don't be surprised if you begin to give off a different first impression than you did with your original hair color. A lot of people assume red heads are feisty and bold, so be prepared to experience some stereotyping when you work your first red look!
If you're hoping to rock a retro look, a bright strawberry blonde or copper red hair color is always a good option. If you want to give off a sultry and mysterious vibe, a deep red or chestnut red is a good option. And of course, if you are dying to channel Ariel from The Little Mermaid, a bright fiery ruby red will do the trick.
Trendiest Red
 Hair Colors

 2016
Dark red hair color: 

Medium Copper Red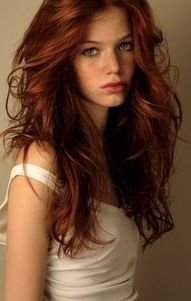 Copper red hair color is super trendy right now, and perfect for natural blondes who want to experiment with reddish hued hair! This shade is similar to strawberry blonde, but darker and with more red, although it can have a blondish depending on the lighting. Copper red hair is most flattering on lighter complexions, but it can also look good if you are tan as well.
Deep red hair color: 

Fiery Ruby Red
Fiery ruby red is an awesome way to make a statement with your hair color! This color definitely doesn't look natural (think Arial from The Little Mermaid) but it is a fun way to rock a bold hair color that isn't quite as unnatural looking as green or blue. Fiery ruby red hair is a popular choice amongst well-known female musicians including Florence Welch (from Florence + the Machine), Hayley Williams (from Paramore), and Rihanna.
With her distinctive voice and incredible stage presence, it's no surprise that Florence Welch can totally rock a daring shade of red! We love this ruby red color on her because it totally captures her fiery personality and creative lifestyle. This is not a shade of red that you could convince anyone you were born with, but for girls like Florence it is a natural fit!
Auburn Red (R

ed brown hair color)
Auburn red hair is probably the most universally flattering shade of red hair since it has a lot of brown in it, and brown is a neutral color that looks good on most skin tones. Auburn red hair also fades nicely so you don't need to worry about the color turning brassy over time. Most people who are experimenting with red for the first time will opt for an auburn shade, so you are in good company if you do!
Red Hair Color Shades: 

Best Red Hair Colors and Shades
Have you thought about violet red hair color or maybe purple red hair color as your next hairstyle statement? The best red hair color for you depends as much on the statement you want to make as it does your skin tone and coloring. Very few people are born with natural red hair, so choosing to rock a red shade is usually more about making a statement and a change than it is about deciding that red hair flatters you more than more neutral shades. Whether you just broke up with a boyfriend or just want a fresh start, dying your hair red is a fun way to make a symbolic change. As we said before, red hair dye fades more quickly than other hair colors, so it may not be a bad idea to ask your hair colorist about what you can expect between salon visits before you select your new red shade.Although many women who wear medium length haircuts opt for safer hair colors, medium length haircuts are also great for experimenting with ombre looks, so don't be afraid to have fun with your hair! Looking for red hair dye colors ispiration? Check our red hair color chart below.
Red hair color chart
Celebrity Inspired Red Hair Color Ideas 2016
Emma Stone: B

rown red hair color

 hair color

Why we love this Red hair color: Emma has experimented with a lot of shades of red over the course of her career, but we particularly love how this medium/dark copper shade works with her coloring. This color contrasts nicely with her green eyes and complements the pink undertones in her skin. We like this hair color a lot because it is very versatile and an understated red hair color. Depending on the light, it can range in how red or brown it actually appears.
Isla Fisher: L

ight red hair color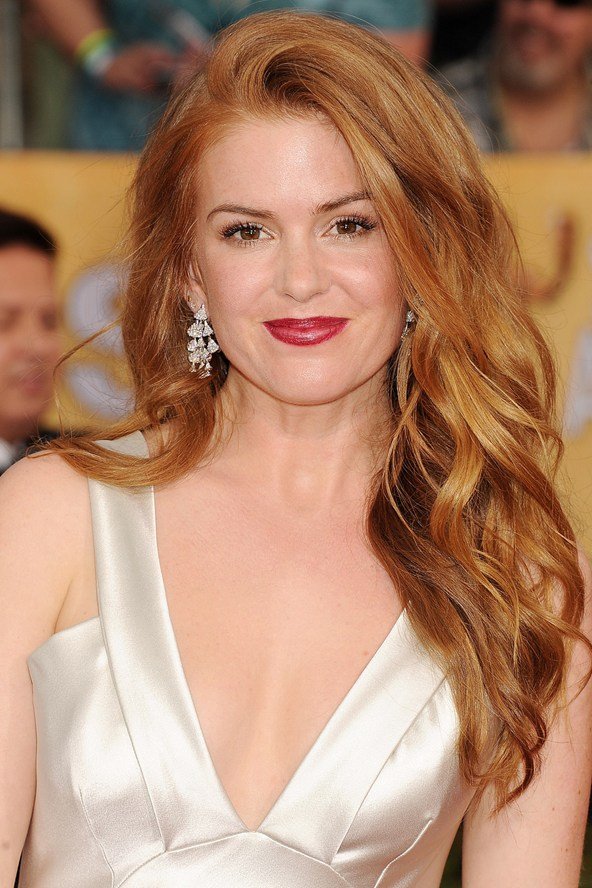 Why we love this Red hair color: In addition to the gorgeous waves and windswept texture of her hair, Isla's hair color is totally killing it! This color is fresh and sun-kissed, but still spunky! This hair color will look best on you if you have very light skin like Isla because it has the potential to make you look washed out if you have darker coloring. As Isla demonstrates, this hair color looks absolutely smashing when paired with a bold red lipstick color!
Amy Adams: Light Brown Auburn Hair Color

Why we love this Red hair color: Amy's light brown auburn color looks absolutely beautiful with her eye color and skin tone! This shade is a lovely neutral reddish color that is perfect for girls who want to experiment with red hair without wearing a super bold color.
Cheryl Cole: Burgundy red hair color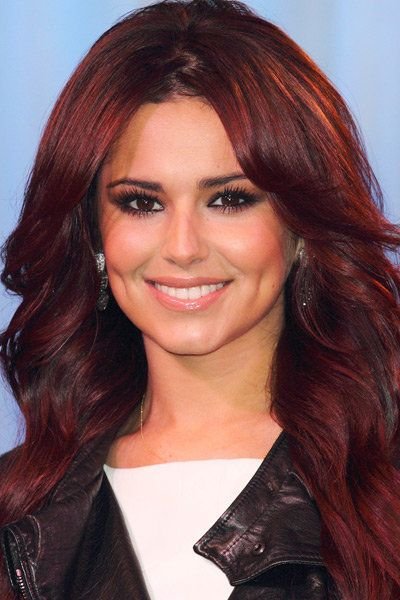 Why we love this dark red brown hair color: Burgundy hair is all the rage right now and it looks awesome on girls who have a darker complexion and very dark hair naturally. While Cheryl's tan complexion would look washed out with a lighter shade of red like strawberry blonde, this deep burgundy hue makes her eyes sparkle and frames her face magnificently. Burgundy red hair is also a fun color to play around with if you are interested in a unique ombre look. Pink ends look awesome on burgundy hair!