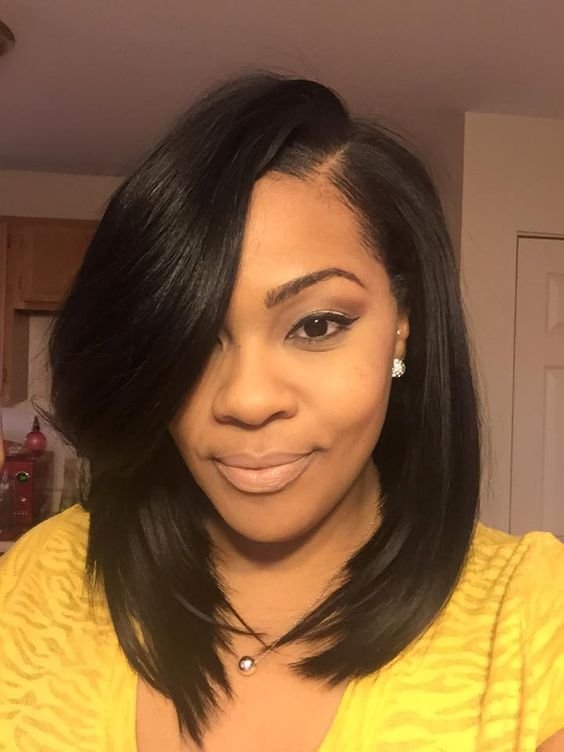 Sew in Bob Hairstyles

What's a sew in bob? This protective hairstyle gathers the technique used for decades in crochet braiding to create beautiful layered and sleek looks than lets your natural hair breathe. A great alternative for natural to glued in or full lace part weaves, sewn in hair can be worn for longer periods of time while allowing to hydrate your natural hair.
Sew-ins aren't a DIY type of protective style per se. It's important to choose a hairdresser with verifiable work that has great skills in braiding, sewing, cutting and create color layers. A real all-round artist!
Scroll next to find our favorite best sew in bob hairstyles.
What did you think about our pics? Let us know in the comments! Sew in bobs are one of our top choices for protective styles that provide straight and sleek looks. We love the capacity to play with hair length, color and layers to create versatile and low maintenance styles.
If it's your first time trying a sew in bob we recommend you invest in classic looking hair, one that you can wear all the way to shoulder length long and sleek. Black, brown or any color of your liking that you can later layer into new styles if you want to.
Consider buying top quality hair that can handle moisture, heat and friction properly to get a long lasting result. Black hair forums rave about Remy human Hair, with top mentions of brands Premium Now and Premium 2. As it is meant to last for several sets, invest in quality!
Same goes for the rest of the materials needed for this hairstyle. New and clean hair threads and needles, edge tamer and if you feel like it, a sheen spray.
Part choice
This is not to be taken lightly: have a clear idea of what type of hair part you want. The braiding and sew in technique your hairdresser plans and execute may allow for one or two, but make sure you discuss it before getting started with the process and avoid getting stuck with a less favorable look.
Color choice
As noted above, get you hair pieces started with classic colors that build a foundation for your style so you can mix and match later with other hues and lengths. Our selection clearly states our favor for the ombre look but feel free to go full out with a full blue, purple or red style.
Length choice
This is also part of the discussing and creation process. Pick a hair length to build layers upon. Most bob styles stay within collarbone length so up to 1X inches, but make sure to buy hair pieces one or two inches longer than your desired length so that your final cut has the perfect amount of body and sharpness.
Maintenance
What happens after? Get a sew in bob that draws attention and has you feeling fabulous, how do you make that feeling last? Invest in a couple accessories to keep your bob in top shape.
Hair nets are a great alternative to sleep or protect your extensions while at home. Silk and satin scarfs work wonders to prevent frizzy extensions and wear out.
Keep your natural hair in mind at all times. Depending on your moisture needs, oil your and gently massage your scalp every 3 to 5 days and invest in a dry shampoo to keep odor from moisture and sweat at bay.
Do you have any other sew in bob maintenance tips? Tell us in the comments below!