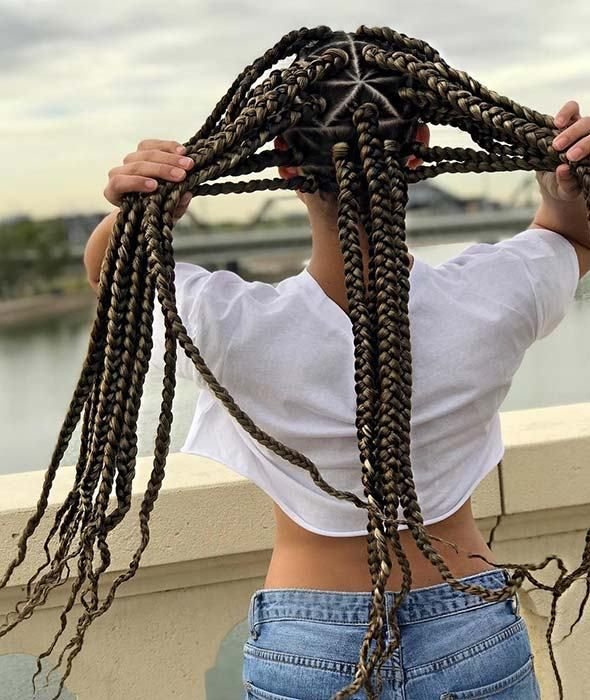 Triangle Box Braids Styles
Triangle box braids became an instant and trendy protective hairstyle. Well made box braids provide durability, definition and a full range of length (Although let's face it, the longer the better).
Box braids require a top-notch braider, a minimal set of tools and your loving care and maintenance for gorgeous long lasting results.
A nice way spice up your box braid set is to play with the way your parts are created to incorporate patterns and an extra layer of kick to your hairstyle. So if you're looking to to create triangle box braids on your hair, or by using extensions, take a look at these gorgeous triangle box braid hairstyles.
So, what do you need to achieve this wonderful box braids look? First of all, a vision. As you can see not all triangle parts are created equal. There's even triangles, flat triangles, concentric and eccentric patterns to use in your crown or nape.
You will have to decide on the type of part you want to create, the thickness of your braids and their length prior to your day at the hairstylist. Try to always get one or two extra packs of hair as a precaution. Tangles and miscalculations can happen and it's best to be ready for anything.
Triangle box braids parts are created just as regular parts, using a fine tooth comb and just a little extra bit of your twisting creme to preserve them.
Just as you would with any other protective style: rinse your extensions the day before your appointment, deep condition your hair and detangle thoroughly.