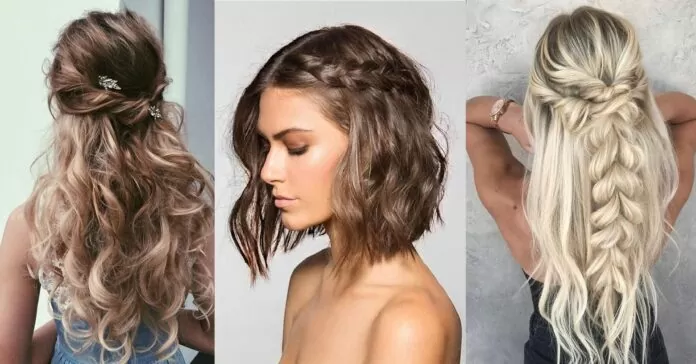 Advertisement
Stylish Half Up Half Down Prom Hairstyles
Prom season is almost upon us, which means many young women will be frantically searching for the perfect dress and shoes, to make them feel as beautiful as they deserve on this special night. Hair and makeup are also a big deal on prom night – picking the perfect shades of lipstick and hairstyle to complement the dream dress. We can't help with the dress or the make-up but we can suggest some stunning half up half down prom hairstyles for all different hair lengths.
Advertisement
In the weeks running up to prom, experiment with a few different hairstyles and see which ones best suit your face shape and hair texture. See how they work with your dress, to be sure that the hairstyle doesn't hide a standout detail. You want your hair to perfectly complement your dress. So, if you have a relaxed, flowing dress, choose a hairstyle that has the same effortless vibe. If you have a structured dress that is rather form-fitting, go for a more polished and sharp style.
If you would love long flowing curls, or chunky and messy braids, but your hair is short or fine, invest in some tape-in or clip-in extensions. They aren't too expensive and they can completely transform your hair for your special night. You can take them out once the night is over, and pop them back in whenever you feel like it.
Perhaps you aren't so skilled with updos but would love a really elegant hairstyle for prom. If budget allows, head to your favourite salon and ask a skilled stylist what magic they can do for you. If budget it a little tighter, learn a new styling technique by binging on YouTube tutorial videos. Once you have that skill, you have it for life.